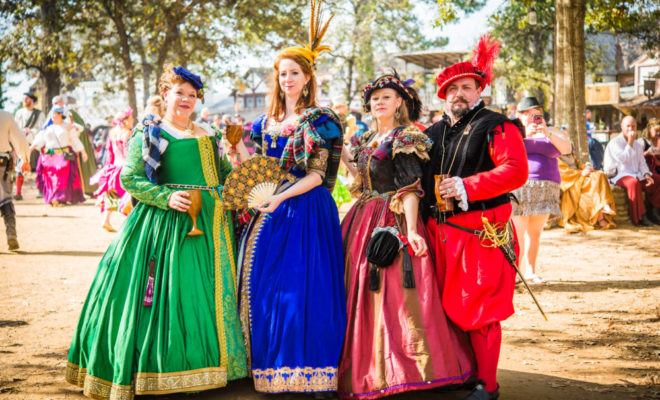 Events
Texas Renaissance Festival Announces 2019 Themed Weekends
By |
The Texas Renaissance Festival will celebrate its 45th season in the fall of 2019, with nine themed weekends beginning Saturday, October 5th and running through Sunday, December 1st. In 2018, the Festival welcomed over 640,000 guests and anticipates an even larger attendance this year as people from Houston and around the region join in the festivities to celebrate its sapphire anniversary.
On Thursday, March 7, the King of the realm himself made a special announcement, that the Texas Renaissance Festival had revealed the nine themed weekends.
One new theme, titled "Return to the Renaissance", is a nod to the days when every weekend at the Festival was set in 16th century England during the reign of King Henry VIII.
"For the first 30 years we were a traditional Renaissance Festival set in Tudor England," says Entertainment Director Jeff Baldwin. "In 2005, we added a specific theme for each weekend, based on the characters and costumes we saw our patrons wearing as they came through the gates."
In the early days of the themed weekend experiment, some weekends didn't seem to connect with the festival fans. A theme based on French romance didn't catch on, but within a couple of seasons, there was a solid lineup of popular themes including Oktoberfest, Pirate Adventure, All Hallows Eve, and Celtic Christmas. In 2017, the festival expanded from eight to nine weekends, adding Heroes and Villains to the theme schedule.
In order to make room for the new theme in the event's nine-weekend calendar, the Roman Bacchanal themed weekend has been put on hiatus for 2019. The new theme will feature a host group representing the courts of England, France, and Spain as well as a Renaissance themed costume contest and other theme related events.
The 2019 themed weekends include:
October 5 & 6 – Oktoberfest
October 12 & 13 – 1001 Dreams
October 19 & 20 – Pirate Adventure
October 26 & 27 – All Hallows Eve
November 2 & 3 – Return to the Renaissance
November 9 & 10 – Heroes and Villains
November 16 & 17 – Barbarian Invasion
November 23 & 24 – Highland Fling
November 29, 30 & December 1 – Celtic Christmas
The festival will be releasing more information regarding ticket sales and other news in the coming months. Learn more about the 9 themed weekends at the 2019 Texas Renaissance Festival at https://www.texrenfest.com/themed-weekends/.
The Texas Renaissance Festival is the nation's largest and most acclaimed Renaissance themed event. Established in 1974, the event attracts over half a million visitors each year to its 55-acre New Market Village and Fields of New Market Campgrounds in Todd Mission, Texas. This immersive experience features world renowned live entertainment, works by master artists and craftspeople, award winning food and drink, hand-powered rides and games, and over 100 interactive characters during its nine themed weekends from October 5 through December 1, 2019.
For more information about Texas Renaissance Festival, visit www.texrenfest.com.