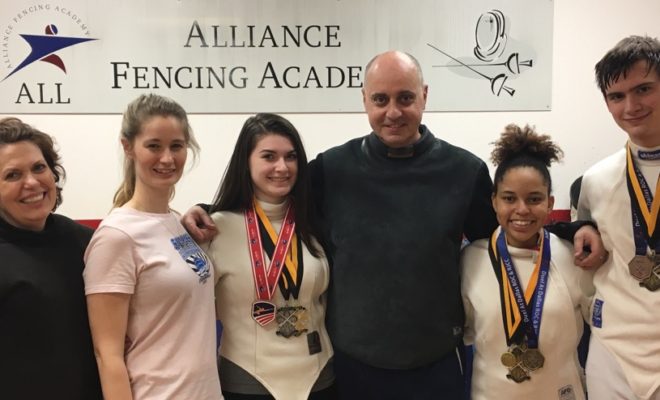 Fitness & Sports
Alliance Fencing Academy brings home 42 Medals
By |
Fencers from Alliance Fencing Academy brought home 42 medals in last month's USFA-sanctioned National, Regional and International events.
At Alliance Fencing Academy's Woodlands facility, 3 local fencers McKenzie Moton, Will Smith and Jessica Thow garnered a total of 10 medals in October.
At the most recent North American Cup National competition, held in Anaheim, California, local fencer Jessica Thow brought home the Bronze medal in the Women's Div1 competition, competing against 176 other fencers. Jessica (age 17) is a senior at Oak Ridge High School. Over the 3 days of competition in Anaheim, 3000 fencers competed in 25 separate events.
At the Regional Duel at Dallas competition in late October, Will Smith (age 16), brought home two medals; a Bronze in Junior (under 20-years-old) Men's Epee and a Bronze in Cadet (under 17-years-old) Men's Epee. Will is a junior at Woodlands High School. McKenzie Moton (age 15) earned a medal in Junior Women's Epee. McKenzie is a sophomore at Harmony Advancement School.
At the Crescent City Open Regional Tournament in New Orleans in late October, Alliance fencers brought home 19 medals, with local Alliance fencers earning 6 medals. Jessica Thow brought home the Gold in Junior Women's Epee, while teammate McKenzie Moton also earned a medal with a 7th place finish. Jessica also earned a Silver in Div1A Women's Epee. McKenzie earned two bronze medals; one in Cadet Women's Epee and one in Div1A Women's Epee. Will Smith earned a Bronze medal in Junior Men's Epee. In early November, Will will represent the United States at the World Cup competition in San Salvador. Only the top fencers in the US, based on earned competitive points, qualify to travel with the US team to International events.
Fencing in a United States Fencing Association (USFA) sanctioned event give fencers an opportunity to qualify to compete in the Junior Olympics and Summer Nationals events as well as earn fencing ratings. Alliance Fencers earned 4 new ratings during events in October. The United States is divided into 6 regions for Regional fencing Competitions. Texas fencers compete in Region 5, which includes four states.
In each event, fencers compete in pools of 6-7 athletes. Athletes fence one another in 5-touch bouts. Based on their performance in pools, fencers advance to lengthier Direct Elimination bouts to ultimately determine the winner of the competition.
Alliance Fencing Academy was founded in 2004 by United States Olympic Coach, Andrey Geva. Geva led Team USA's Women's Epee Team in the 2016 Olympics in Rio. Alliance Fencing Academy is the largest epee fencing club in the United States with over 350 students at its two locations in Houston and The Woodlands.   It is also a top producer of collegiate fencers, with many students receiving athletic and academic scholarships to universities such as Columbia, U Penn, Penn State, Notre Dame, Northwestern and Stanford.
For more information on classes or camps, visit Alliance Fencing Academy's website at www.Alliance-Fencing-Academy.com or drop by to watch the fencers in action. Classes start as young as 5. Alliance Fencing also offers Homeschool and evening classes, birthday parties and Off Campus PE Credit for multiple local school districts.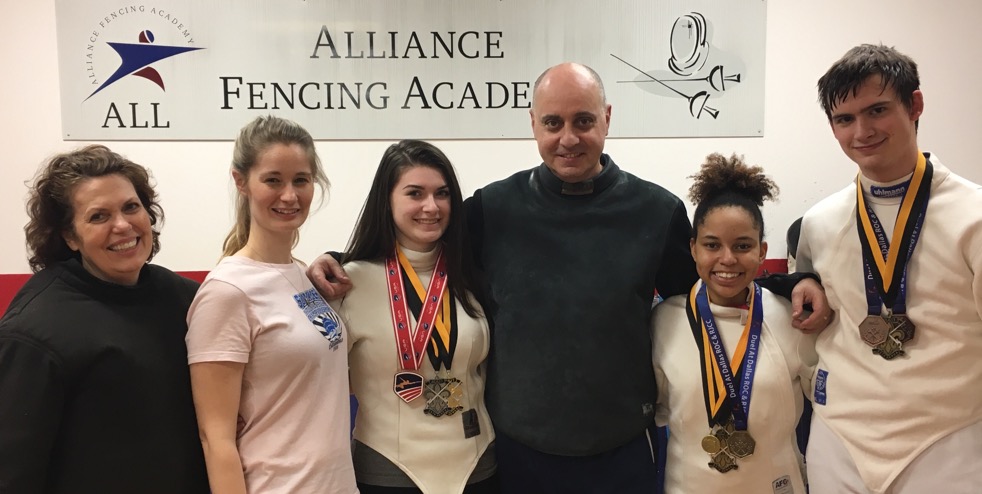 PHOTO: Coach Suzette Wheeler, Coach Bethlehem Witte, Jessica Thow, Head Coach Andrey Geva, McKenzie Moton and Will Smith