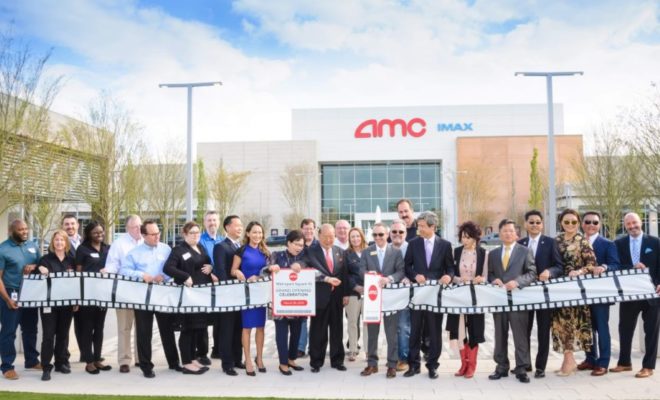 Business
AMC Metropark Square 10 celebrates Grand Opening in Shenandoah
By |
SHENANDOAH, TX – Sam Moon Group painted the town red for AMC Metropark Square 10 during a grand opening celebration and unique ribbon cutting on March 29, 2019. The brand new movie theater is the first tenant to open in their newest and highly-anticipated mixed-use development, Metropark Square.
Kicking off the celebration on Friday afternoon, Vice President of Construction for Sam Moon Group, Shane Williams, welcomed the crowd to Metropark Square's central event lawn. Throughout the official ceremony, speakers commended the new theater with words of recognition and praise for the theater's success to date. Construction and engineering teams, architects, project managers and AMC representatives were praised for their hard work and dedication in bringing the project to completion.
Speakers at the celebration included: The Honorable Ritch Wheeler, Mayor of Shenandoah; Domenick Barone, Operations Director of AMC Theatres; Hyung Gil Kim, Consulate General of the Republic of Korea – Houston; Helen Chang, Past President of Korean American Society of Houston; David Moon, Chief Executive Officer and Chairman of Sam Moon Group; Samuel Moon, President of Sam Moon Group; and Daniel Moon, Vice President and General Counsel of Sam Moon Group.
"Sam Moon Group is very excited to officially welcome the new AMC movie theater to Metropark Square," said Daniel Moon. "AMC Metropark Square 10 would not be possible without the talent and resources from everyone involved. We had a vision for this development several years ago and we are eager to bring more entertainment and upscale experiences to Shenandoah, The Woodlands and Conroe area."
After speaking commenced, representatives gathered for an unconventional ribbon cutting using a large, specially-designed movie ticket that they tore down the middle. The movie theater "ticket tear" was accompanied with ribbon designed to look like a movie reel for an authentic tribute to AMC Metropark Square 10. After the ribbon cutting, guests were invited to join the Moon family for light snacks and refreshments as well as an opportunity to view the new theater.
The 41,500-square-foot AMC Metropark Square 10 opened to the public on March 1, 2019. The newly built state-of-the-art AMC has 10 theater screens including the latest in Dolby Cinema and includes an IMAX with Laser to take moviegoers beyond the standard cinema experience. The theatre also offers power recliners and better food and drink options through AMC Feature Fare and the AMC MacGuffins adult beverage concept. AMC Metropark Square 10 is the newest AMC movie theater in the Houston area in over 20 years.
"AMC Theatres is thrilled to celebrate the completion and opening of AMC Metropark Square 10," said Domenick Barone, operations director of AMC Theatres. "AMC is excited to offer a movie-going experience with incredible features and innovations to the greater Houston area and is honored to be a part of Metropark Square."
With a vision and strategy for Metropark Square having been developed many years ago, the Moon family thanked AMC Theatres, the City of Shenandoah, Kimley Horn and Associates for civil engineering, CRTKL for architecture and design, VCC for construction, The Retail Connection and NewQuest Properties for leasing, and JLL for project management. All organizations were greatly instrumental in the planning, design, construction and opening of Metropark Square's first tenant. City of Shenandoah officials and local business professionals from Shenandoah and surrounding cities attended the celebration and shared their excitement for the development throughout the event.
"City of Shenandoah officials and myself extend congratulations to all involved in the completion of AMC Metropark Square 10 as the first movie theater in our city," said The Honorable Ritch Wheeler, Mayor of Shenandoah. "Shenandoah takes great pride in always offering our citizens and visitors a great experience, products and services. We believe Metropark Square will offer our city wonderful new family-friendly options in entertainment, dining and shopping. We can't wait to watch the development continue to grow."
Metropark Square is an upscale, mixed-use development in Shenandoah, Texas, in The Woodlands trade area of North Houston. The development will consist of retail, restaurants and entertainment including a fun-filled Urban Air Adventure Park, a Dave & Buster's, a Hyatt House as well as residential multi-family housing, restaurants and retail. The development's central lawn area includes a pavilion that will host various public events throughout the year.
Source: Raquel Henry, Sam Moon Group