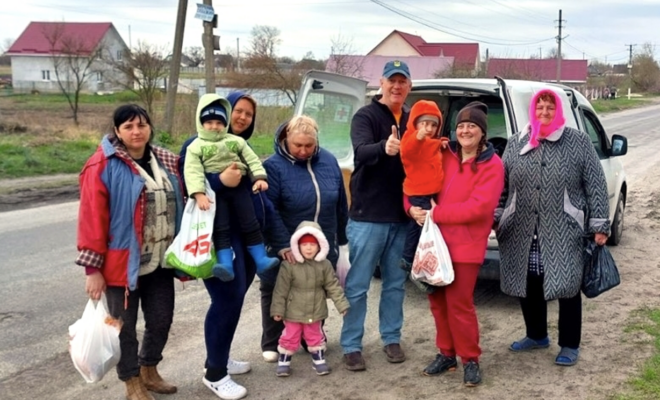 Photo courtesy of Craig Ludrick
People
Answering God's Call: A Local Man's Story of Refugee Relief in Warsaw
By |
The day begins early, usually before 6:30, but the sun rises very early in Eastern Europe, about 4:30 as summer is approaching. Three guys emerge from the apartment they are renting together, strolling every day across the residential street to the coffee shop where they indulge in good, strong coffee and chocolate croissants. Warsaw, Poland, is bright, modern and alive with the sounds of cars, taxis, trains, planes. As they sip and the coffee cools, the plan for the day unfolds: where do they need to go? What needs to be done? Much of the plan is reactive, the result of what didn't get finished yesterday. Many Westerners would feel completely at home, enjoying European coffee culture and people watching. But for Craig Ludrick of The Woodlands, Texas, this is not a vacation, but his ministry to Ukrainians, born of the Russian invasion in February of this year.
Can one man make a difference?
Ludrick served in the Army from 1988 to 1992, advised by a family friend to try linguistics as a specialty. He chose Russian and became proficient in that language, but as his stint in the Army drew to a close, he sought God's guidance to use that skill.
In answer, he felt God calling him into ministry, and went to Trinity Seminary in Chicago to begin his journey. In partnership with the Temple Bible Church in Texas, he began to assist with their missions program. He had the idea to partner with a church in Ukraine, adopt it as a sister church. He went on a visioning trip there, thinking it would be just once – but laughs now about how quickly his passport filled up with stamps. It was there in Ukraine he met pastor Pavel Marchuk, and a lifelong friendship ensued – one that has taken him to the edge of a battlefield, using the same language skills he honed in the Army.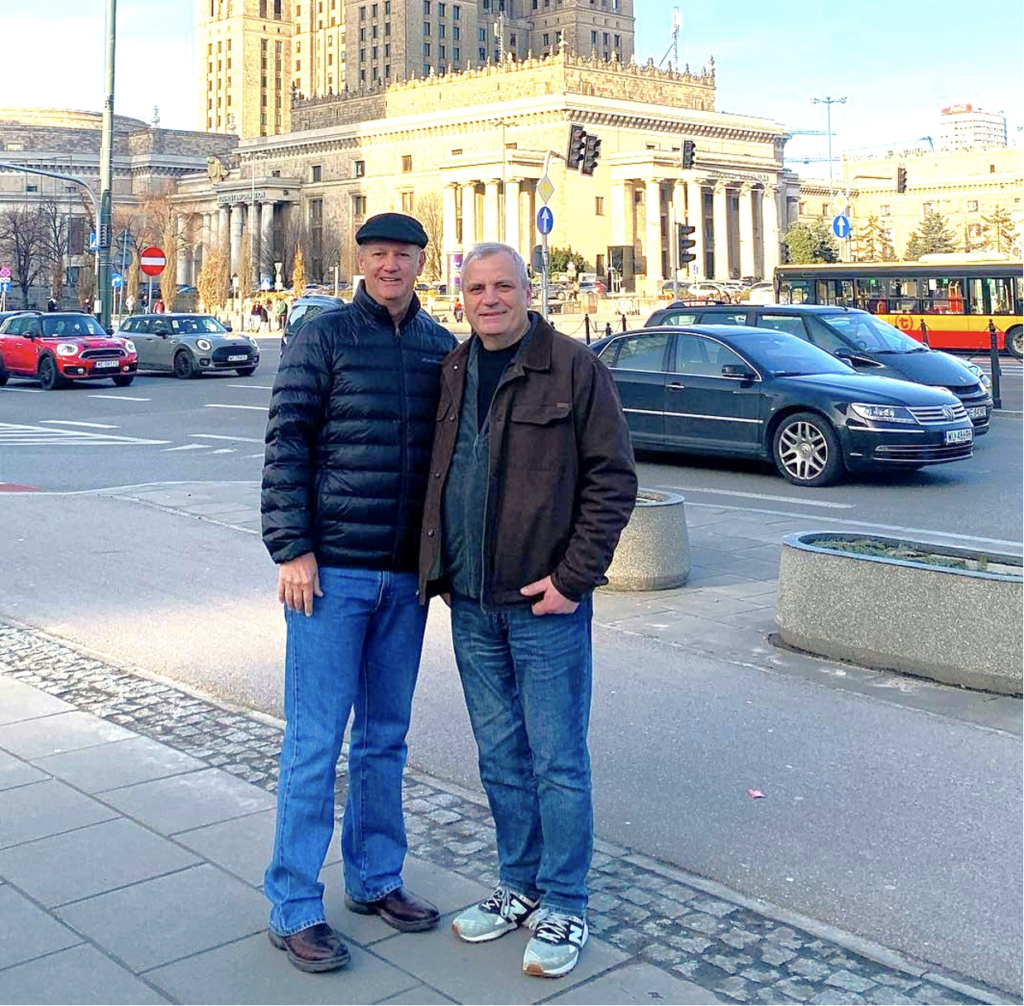 Back in 1994 when the friendship began, Ludrick asked Marchuk what his dream was. "I want to see churches filled, to see stadiums filled with believers." Toward that end, the two men decided to hold an evangelism event that summer in the town of Bila Tserkva, Marchuk's hometown. Ludrick invited one of his seminary mentors to be a speaker at the first event, knowing such an important speaker would draw local pastors. As the event drew closer, Ludrick and Marchuk realized they needed to train pastors to pray with those who would attend, and a pastor's training was devised. And those trainings settled into a twice a year pattern, but more importantly, they built a network that is active today in the midst of the war. Those same pastors, plus new ones added along the way, receive the 20-ton trucks that come into Ukraine each week, and deliver food and supplies to those who need it in the villages. Pastors, working together, are another result of the campaign 30 years ago.
Food is just the beginning of ministry opportunities. Along the way, Ludrick set up his own ministry, called CLDI in 1996, and has helped develop teams in Rwanda, India, Georgia, and central Asia. When bombs started to drop in February, Ludrick was on the ground in Warsaw, and it all came together, no experience of the last 30 years wasted.
Ministry was not always easy. Amid the trips to exotic places, Ludrick worked a variety of jobs to support his family and the ministry. As the most recent job came to an end in 2021, he began to feel God had put him on a shelf – he had no purpose. It was a difficult time. Then, a job offer in Waikiki – who wouldn't want to ride his bike (Ludrick's favorite exercise) on the beach? But as the weeks went on, he heard this niggling voice, an echo from a friend in Central Asia: "the King is coming!" Did he want to be on a beach in the sun when that happened? An offer came for another job, and he accepted with the caveat, "I've just got to run over to Warsaw for a few days…" A few days have turned into a few months. This trip back to the States in May, with the purpose of renewing his visa, has been his only one since the war began.
Invasion
"When the Russians invaded on February 24th, it was just shock. Just a day or so in shock," he recalls. "Then we realized we had to do something to help." Once again, Marchuk and the pastor network got to work, going to the border to help get Ukrainian refugees into Warsaw and beyond, setting up food centers, and taking food into Ukraine so local churches could distribute it. Most all of the people evacuating were women and children, since men had to stay behind to help with the war efforts. "We were sleeping only about three hours a day, back then," he says, then laughs. "That seems so long ago, but it has only been a couple of months." Ludrick and Marchuk were able to find others doing relief work and they forged the Warsaw Coalition for Ukrainian Relief. At first, the focus was food and moving evacuees, but then the enormity of the psychological effects of the situation caused them to seek trauma counseling providers. Childcare was also important, to free up mothers who needed to stand in line to get the aid they needed.
Wartime worship
What is worship like there now, in Marchuk's church and others? "Worship is great!" Ludrick says. "The church is absolutely full every week. Hearts are open in new ways." Most Ukrainians identify as Orthodox Christians, though Ludrick thinks most are nominal believers. "Most have never held a Bible, or read it, most have never met real believers," he said. Yet, he also sees a spiritual component to the war. "Back in the day, Ukraine was the Bible belt of the USSR. More missionaries were sent from Ukraine than from any other region. As hard as the USSR has tried to stomp out the church, the Ukrainian diaspora strengthened and spread throughout Europe. And I'm excited to see where God will go!"
One man… but not alone
What's been hardest for him? He closes his eyes and leans his head back before answering, "I just wish I could do more. I have such a sense of my own limitations – of any one person's limitations. It is overwhelming to realize there are thousands of people in all the refugee centers – how do we help them all?"
Even now, back at home in shorts and Hawaiian shirt at one of his favorite local hangouts, the situation still spins in his mind. "I have daily chats with Pavel and his son, Sasha, who is also in ministry with us. I'm trying to stay connected with all that's going on."
Has compassion fatigue become an issue? "No, fortunately, people have not tired of helping," he answered. "We're still taking in money that is going to good use. And the road to recovery in certain areas of the country will be long and costly."
Where is the truth in the news?
Recent news stories show Ukraine successfully pushing Russians back to the border; yet there is also the issue of fighters pinned down by Russian soldiers in the steel mill near Mariupol. Which is true? "Well, both are true. As we have traveled around the country, delivering bread and supplies, I have spoken with locals who have seen the trash left behind by the enemy – lots of liquor bottles. The enemy soldiers must be drunk. They're not getting paid, they didn't know where they were going or what they were going to do, they have no discipline, morale is very low." In his opinion, the ethnic soldiers within Russian ranks, the Chechens and those from the Asian/Russian area of Buryatia, there to keep the regular Russian soldiers from retreating, are particularly cruel. "The women have told me stories of the atrocities," Ludrick continued. "They are real." While the news today says the injured Ukrainian fighters inside the Mariupol steel mill are being evacuated, Ludrick says they are being carted off to Russia through forced resettlement, following a pattern Stalin began: resettle to destabilize.
The price of propaganda
Perhaps even more disturbing and difficult for Ukrainians, especially Christians, is the vicious propaganda campaign inside Russia, even coming from its churches. How can Russian priests and leaders be on the side of Putin and the war? "The propaganda is complete," Ludrick said. "Perhaps only a little truth trickles in, one phone call to a relative at a time. And even then, that truth is met with great skepticism." Insult on top of injury.
When will it end?
For Ludrick, Marchuk and family and all the partners in the Warsaw Coalition for Ukrainian Relief, the work continues with no end in sight. Two 20-ton trucks of food and supplies go into Ukraine each week – over 320 tons so far. They are still moving people from the border into Warsaw and then out to family members throughout Europe. Counselors help with trauma, knowing the effects of the war will be long-lasting.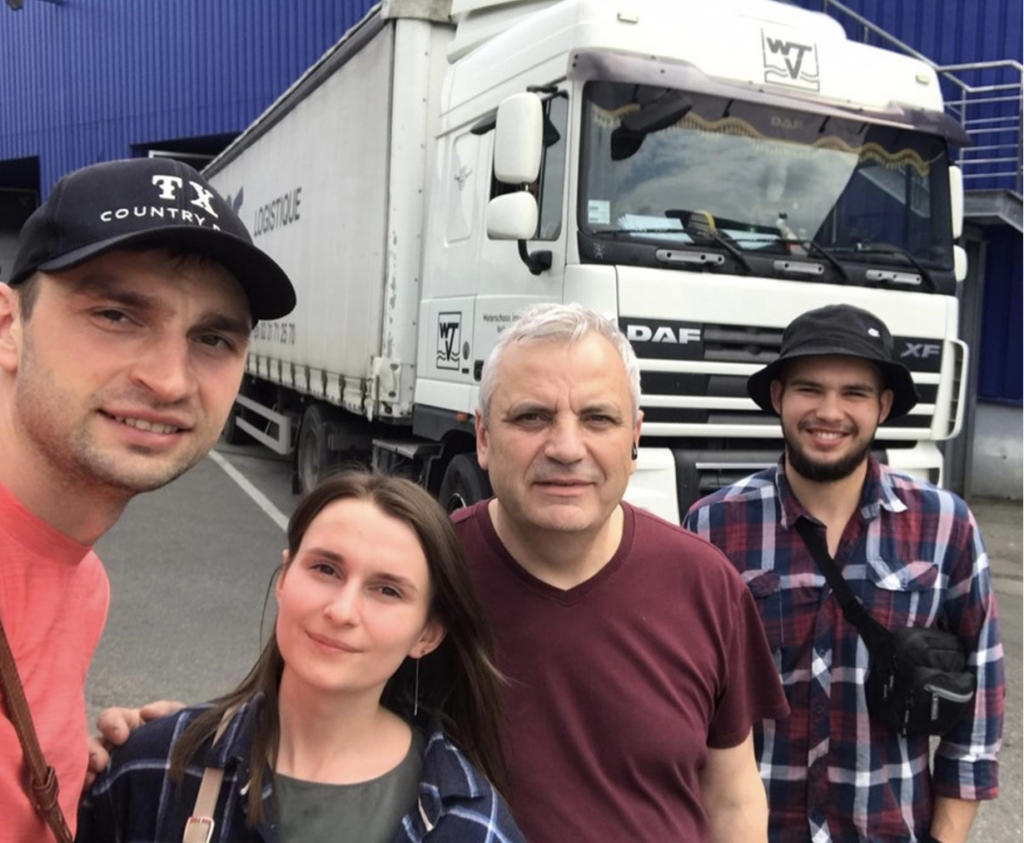 What does mission look like?
Just in the week before Ludrick left Warsaw, he and Marchuk went to a refugee center that held over 3,000 people. But Marchuk had been praying God would lead them to one person they could really help. They found a refugee, chatted with him and prayed with him before moving on. But moments later, they found themselves going back to him. He is from a town in eastern Ukraine where the fighting has been fierce. He is married to a Russian woman whose father lives in a major city. He made it there with his wife, but a neighbor told him she would report him to the police if he didn't leave. He left at once so his wife's family would not be in danger. And somehow, he ended up in a refugee center with these two men of God, thinking it was random. Ludrick and Marchuk knew it was the Spirit, not random at all. As the days went on, they simply took the refugee in, treating him like family. He was surprised, then so moved that anyone would care for him like that. As Marchuk said, "Our friend decided to place himself under the authority of Jesus Christ." The refugee, with his new faith, has been moved now to a safe space where he can wait until the end of the war and then reunite with his wife.
Maybe mission also looks like this: partnering with the Spirit to rescue one at a time. As Mordecai said to Esther in the Bible book of the same name, perhaps you were born for just such a time as this.
---
How can I help? 
"Please don't hop on a plane and come over here. Then we would have more people to try to house and feed," Ludrick says, smiling.  "What we need most of all is prayer.  Prayer for safety and protection, for provision of food and supplies, for energy to keep relief efforts going.  We also need people to share the stories coming from the field so that people here at home understand all that's going on." 
For further information, or to follow Ludrick on Facebook, he suggests you visit his ministry website at CLDI.org.