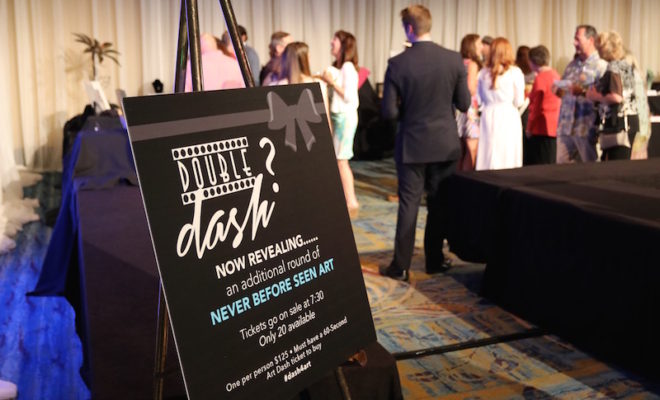 Calendar
Dashing for Art in The Woodlands
By |
On the first evening of The Woodlands Waterway Arts Festival, artists, The Woodlands Art Council members, and art enthusiasts gathered at The Woodlands Waterway Marriott for the Art Dash Party.
The event kicked off at 7 p.m. with live music, a Magician, John Cooper School Dancers, delicious bites and beverages. Art Dash Party attendees had the opportunity to view artwork donated by festival artists and participate in a 60 second "dash" to get their favorite piece. The "Double Dash," a new feature this year, was held after the first Dash and a small, but lucky bunch, dashed for "secretly stored" items. The artists were also on hand to discuss their work.
Watch a clip of the guests (5 at a time) dashing for their favorite pieces of art in only 60 seconds:
Get an inside look of the Art Dash Party with Jenny Kelley of Hello Woodlands, Holly Boss or WoodlandsHits.com and The John Cooper School:

Key leaders of The Woodlands Art Council (TWAC) and the Art Dash Party included Master of Ceremonies Nick Wolda (TWAC board member), Amy Lecocq (TWAC President), Deb Spiess, Mike Bass, Susan Vreeland-Wendt (Executive Board), Dragos Tapu (Owner, Glade Gallery  and Art Dash Event Chair), Advisory Board Members David and Brenda Gottlieb, Nancy Martin, Tim Welbes, Festival Director Kayleen Barton, Artist Relations Coordinator Heather Joy Puskarich, Development Director Wendy Paynter, Dignitaries Gordy Bunch (Township), and Dr. Ann Snyder (Township and TWAC board member).
The Woodlands Waterway Arts Festival and the Art Dash Party makes it possible for The Woodlands Art Council to bring art experiences to others through education and outreach throughout the year. Learn more about The Woodlands Art Council and purchase tickets for the Art Festival April 7 to April 9 at www.thewoodlandsartscouncil.org.
View photos and videos of the event on the Hello Woodlands Facebook page!