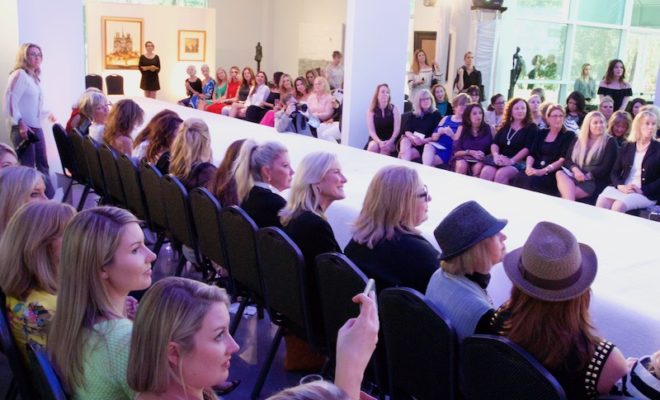 Art & Culture
Art N Fashion benefits Local Charities at Glade Cultural Center
By |
The Glade Cultural Center, the new home of Glade Arts Foundation and Glade Gallery, opened its doors on Thursday, March 29, 2018 and hosted the premier event called Art N Fashion.
Art N Fashion brought together art and fashion enthusiasts, local nonprofit organizations and supporters, and members of the community for an afternoon of fashion, food and fun – all for a great cause. Proceeds from the event benefited Canopy Cancer Survivorship Center, CASA Child Advocates of Montgomery County, Glade Arts Foundation, Interfaith of The Woodlands and the Montgomery County Women's Center.
As guests arrived in their best party chic attire at the newly remodeled space at 2000 Woodlands Parkway, previously known as The Woodlands Information Center, they were treated to hors d'oeurves, martinis, and champagne as they mingled and participated in a raffle and giveaways before the show.
VIDEO: Continuing a Legacy at the Glade Arts Foundation
The New York-style fashion show was orchestrated by Kashay Mendes, owner of Designer Divas, where community leaders walked down a beautiful white runway in the latest looks inspired by fine art at Glade Gallery. DJ Manny Patel set the tone with upbeat party hits as each model showcased their style and personality before a panel of judges and the cheering crowd. At the end of the show, the judges recognized Kashay Mendes and all of the models for their dedication and support in giving back to each local charity that the models represented.
Watch the full fashion show captured by Hello Woodlands:
View photos from Art N Fashion on the Hello Woodlands Facebook page!
Art N Fashion is the first event to be held at the Glade Cultural Center before the Grand Opening scheduled for April 20, 2018. The celebration and open house is open to the public and will continue throughout the weekend.
The Glade Cultural Center is the new home of the Glade Arts Foundation, the fine arts museum, and Glade Gallery. The Glade Arts Foundation is a 501(c)(3) non-profit organization that will provide a unique and accessible fine arts experience with programs focused on art education, scholarships, community based public art projects and curated museum-like exhibit center showcasing local and international artists and acclaimed private and public art collections.
Learn more about the Glade Arts Foundation and updates at GladeArtsFoundation.org.