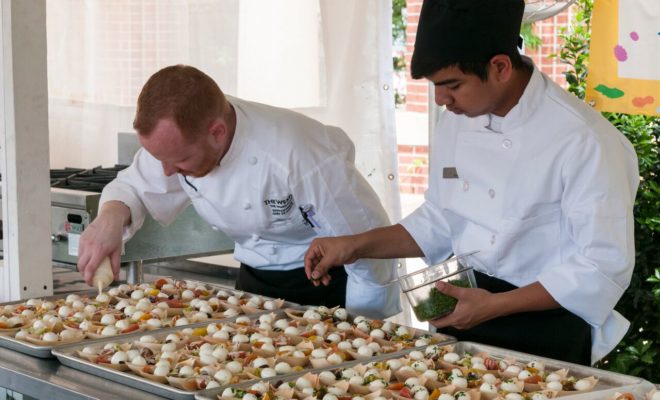 Food & Drink
Art of Food to bring Chefs, Demos and Samples to Festival
By |
THE WOODLANDS, TX – The Woodlands Waterway Arts Festival is a feast for the eyes, with the original work of over 200 fine artists forming a scenic outdoor art gallery along The Woodlands Waterway and in Town Green Park on April 7 and 8. But it's also a feast for foodies at the popular Art of Food tent. At this exciting venue in Town Green Park, top local chefs will demonstrate their culinary skills and craft mouth-watering samples for guests to try.
On Saturday, April 7 beginning at 11 am, seven chefs will cook up their favorite dishes, beginning with Chef Travis Cooper of Morton's Grille creating his Cajun Ribeye with Blue Cheese Butter. At 12 pm, Chef Hilda with Broken Barrel will mix up a batch of her scrumptious Zucchini Bread, followed by Chef Amanda from Baby Cakes making her famous Cupcakes. Amanda was a winner of Fakers vs Bakers, a Food Network show. Chef David Morris with Robard's Steakhouse at The Woodlands Resort, Chef Edel Goncalves with Fieldings and Chef Christian with Grotto will craft some surprises for all at 2, 3, and 4 pm, respectively. The final Saturday demo will feature Chef Barry Lofton with Black Walnut Café cooking up some delicious Risotto Style Cauliflower with Blackened Salmon.
Sunday's line-up brings more fun with a variety of dishes and a grand finale! Chef Justine Santellana with Nick's Fish Dive & Oyster Bar will begin the day's festivities with some taste-tempting Ceviche. And who doesn't love chocolate? Next up at noon will be Chef Danny Kamkhagti of Mostly Chocolates making a batch of bonbons. Chef Sue from Edible Designs/Ploy Restaurant brings some Asian flair with Carving, a Thai Dish and a Red Curry Dish at 1 pm. The finale takes place at 4 pm, when Chef Brandon Ortega, Executive Chef for Chef B will concoct Liquid Nitrogen Ice Cream with Dripping Springs Vodka! The weekend demos will be hosted by Debbie Kline, a personal chef and co-chair of the Art of Food with Natalie Sweeck.
"We really had fun putting this program together showcasing the wide variety of wonderful restaurants and eateries available in The Woodlands," said Natalie and Debbie. "The chefs all have great showmanship and truly enjoy sharing the culinary arts with others. We are looking forward to sampling their delectable dishes along with our festival guests."
And for those who are still hungry after sampling all this deliciousness, there are plenty of eateries to choose from on the festival grounds, including Nick's Fish Dive & Oyster Bar, Russo's NY Pizzeria, Kic Pops, Fielding's, Cool Runnings Jamaican Bar & Grill, Churrasco's Food Truck, Cousin's Maine Lobster, Taqueria Gomez and Smoothie Strong. Don't forget to visit the Craft Beer Garden featuring fine craft beers from Stella Artois, Karbach, St. Arnold, Eureka Heights, Cycler's Brewing and El Hefe Weizen. An assortment of fine wines is also available throughout the festival site.
Major sponsors of The Woodlands Waterway Arts Festival include Market Street, Visit The Woodlands, Stella Artois, Howard Hughes Corporation and Sunny 99.1 Radio.
Don't miss this fun-filled weekend dedicated to the arts in our community! Hours are from 10 am – 6 pm on Saturday, April 7 and 10 am – 5 pm on Sunday, April 8. Tickets and more information are available online at www.thewoodlandsartscouncil.org. Weekend passes are $15 online, or $17 at the gate. Seniors may purchase discounted tickets, and children 12 and under are admitted free.
The Woodlands Arts Council provides regional cultural and educational enrichment opportunities that encourage, support and promote the performing and visual arts in our community. From the award-winning Woodlands Waterway Arts Festival to the year-round community and educational outreach programs of Because Art Matters, the council has one primary goal making our community better, Because Art Matters! www.thewoodlandsartscouncil.org.
PHOTO: Top local chefs will demonstrate their culinary skills for festival guests at the Art of Food tent in Town Green Park during The Woodlands Waterway Arts Festival April 7 and 8.