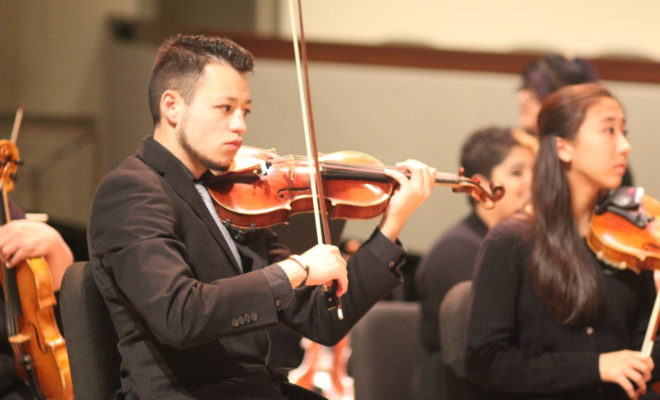 Events
Audition dates set for The Woodlands Symphony and Youth Symphony
By |
THE WOODLANDS, TX – The Woodlands Area Youth Symphony (W.A.Y.S.) and The Woodlands Symphony Orchestra are adding a special new-members-audition for this semester. The auditions will be held on January 15th, 2018 between 5pm and 9pm at Lone Star College – Montgomery. There will be three concerts, a program on March 1 at Lone Star College, Side-by Side "Guitar Heroes" Concert with the Woodlands Symphony on April 22 and a spring program at Lone Star College on April 26th. Rehearsals are every Monday evening from 6:00 PM to 8:30 PM at Lone Star College Montgomery Campus beginning January 22, 2018.
Both The Woodlands Symphony and W.A.Y.S. are full orchestras with a common goal to create a culture of multi-generational love for the classical arts. The Woodlands Symphony is dedicated to honoring musicians in the area that are professional musicians, educators, and members of the community with a passion for creative classical music. W.A.Y.S. was birthed to give young musicians an environment to participate in a high level full orchestra on a consistent basis. For complete audition requirements, fees and eligibility please visit: www.WoodlandsSymphony.org and navigate to the W.A.Y.S. tab.
W.A.Y.S.'s purpose is to create an environment for students to participate in a high level full orchestra on a regular basis. Students will have fun and challenging music, professional level teaching, outreach opportunities and sectional coaching along with three formal concerts per semester. W.A.Y.S. is a component of the Woodlands Symphony to further the orchestra's commitment to education in the arts and to mold future generations of classical musicians.
Darryl Bayer is the Principal Conductor of W.A.Y.S. and will be assisted by specialists from The Woodlands Symphony and Lone Star College that direct sectionals during the semester. Mr. Bayer is in his fifth year as Artistic Director of The Woodlands Symphony while the orchestra marches forward with their fourth season: CREATE.
The Woodlands Symphony Orchestra has performed two Shakespeare Festivals, backed up Christian artist Wayne Watson, performed live video game soundtracks, re-enacted the entire second side of The Beatles Abby Road album, Mahler's First Symphony, Stravinsky's Firebird Suite and Dvorak's New World Symphony. This spring, The Woodlands Symphony Orchestra will release a new sound for all ages with a concert called "Guitar Heroes" with music by John Williams, Vivaldi, Beethoven and Carlos Santana.
Source: Darryl Bayer, The Woodlands Symphony Orchestra