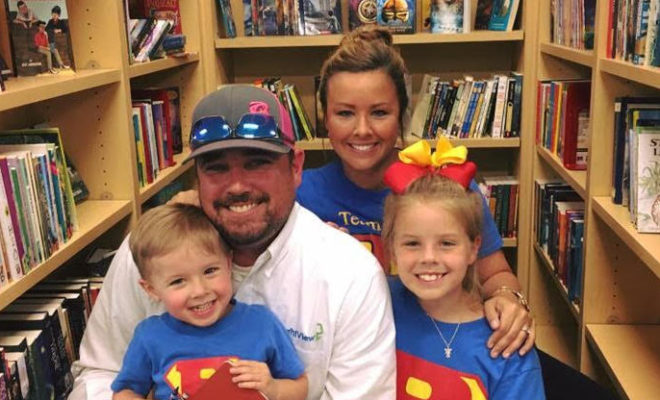 Events
Belcher Family to flip switch at "Market Street in Lights" Celebration
By |
THE WOODLANDS, TX (November 6, 2017) – The Belcher family of Montgomery, known for donating "Parker's Packages" in memory of their youngest son, has been selected to light up Market Street and its 70-foot Christmas tree as part of the "Market Street in Lights" holiday spectacular to be held in Market Street's Central Park on Thursday, November 16 at 6:00 pm.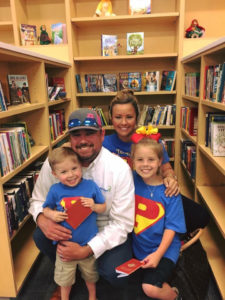 The Belcher family: mom, Kristen; dad, Zach; and children Addison and Chance will flip the switch to officially kick off the holiday season and start Market Street's three-minute holiday light show, a dazzling display of flashing, multi-colored lights synchronized to holiday songs. The Belcher family suffered the loss of their newborn son Parker in March 2015 due to multiple heart defects.
Sewell and Texas Children's Hospital – The Woodlands are the official sponsors for the 2017 Market Street in Lights. Market Street has honored a deserving child or family to start the holiday season at the shopping and dining destination since 2004.
The "Market Street in Lights" synchronized holiday light performance will continue evenings during the holidays, every hour on the half hour, from 5:30 p.m. – 9:30 p.m. Market Street is located in the heart of The Woodlands Town Center at the corner of Six Pines Drive and Lake Robbins Drive.
Sarah Trout, a former colleague of Kristen's, nominated the Belcher family. She recalls how the family learned that Parker would not live long after birth due to his heart defects and are now turning their tragedy into countless acts of service to their community in his name with "Parker's Packages."
During the opening of Texas Children's Hospital – The Woodlands, the Belcher family, hosted a "Blankets and Books Drive" to provide much-needed blankets for patients and books for the library at the campus.
More recently, during Hurricane Harvey the family reached out to the community to ask for personal hygiene items and created care kits that were donated to Oak Ridge Baptist Church for flood victims throughout the region. So many donations were taken that several 18-wheelers were needed to transport them.
Each December, they host a toy and stocking drive for the patients at Texas Children's Hospital Main Campus as well as helpful items for expecting mothers and their new babies at the nearby Pavilion for Women.
They plan to continue this December tradition at the Main Campus, as well as a drive for The Woodlands campus each April.
"Through hearing about Parker's Packages, several schools and people across various states have reached out to us wanting to contribute. Their support has helped us have a bigger impact and be able to reach more people," said Kristen Belcher, who is Assistant Principal of CISD's Lamar Elementary School.
Addison Belcher has been asked to speak at Texas Children's Hospital and helped create a video for young children who are also dealing with grief or the loss of a loved one.
"The Belcher family really helps to connect members of our community to a need," said Sarah Trout. "They are a generous, loving family who continues to band together as a team after such great adversity."
After the debut of "Market Street in Lights," families can enjoy musical entertainment and holiday carriage rides available on a first-come, first-served basis.
Source: Market Street The Woodlands