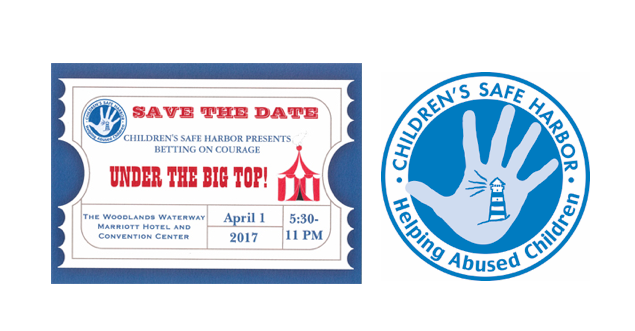 Calendar
"Betting On Courage Under The Big Top!" Gala To Benefit Children's Safe Harbor
By |
Children's Safe Harbor will host its 11th annual fundraiser gala themed "Betting on Courage – Under The Big Top!" Over 500 sponsors and guests are expected to attend on Saturday, April 1 from 5:30 p.m. to 11 p.m. at The Woodlands Waterway Marriott Hotel and Convention Center.
Children's Safe Harbor's mission is to protect and enhance the life of every child who has the courage to battle sexual or severe physical abuse. As a nationally-accredited nonprofit organization serving Montgomery, San Jacinto and Walker counties, it is part of a nationwide effort to heal the trauma of abuse and facilitate justice for children ages 2 through 17 and their families.
Children's Safe Harbor offers specialized services to traumatized children and their families on a centralized campus facility. Children are able to share their experiences of abuse through a unique narrative investigation process called a forensic interview. Specialized medical evaluations and weekly individual, family and group counseling services are all available at no cost to the child victims and their non-offending family members. Volunteers and prevention programming services are central to the mission of this children's advocacy center.
This year's special guest speaker will be childhood sexual assault survivor Erin Merryn, who is an author, activist, speaker, wife, mother, and the force behind Erin's Law, which requires sexual abuse prevention education in schools in 26 states to date. She is the feature in the TLC documentary "Breaking the Silence" and author of Stolen Innocence, Living For Today, and An Unimaginable Act. Merryn was named Woman of The Year by Glamour Magazine in 2012 and has been named by People Magazine a HEROES Among Us and one of 15 women changing the world.
The gala will also feature an exciting casino, live music by the band "Johnny and the Spinsations," a wine and liquor pull, a raffle pull by Kendra Scott, and a silent auction of fabulous items.
According to Victoria Constance, MSPH, PhD, Executive Director and CEO of the Board of Directors for Children's Safe Harbor, central to the 2017 gala is the capital campaign which will fuel the construction of a critically-needed larger, new facility as they have outgrown their current facility.
Leading this worthwhile charity fundraiser is event chair and CSH board member Mary Neskora along with event co-chair and CSH board member Sally Toppe.
Sponsorships are available at various levels ranging from $1,000 up to $20,000. To purchase individual tickets at $150 each or table sponsorships, please visit Children's Safe Harbor's website: www.childrenssafeharbor.org or contact Mary Neskora via email at mary.neskora@gmail.com or call 713-203-4002.
A gala kick-off reception will be held Thursday, January 26 at 6:30 p.m. at Vintage Creek Centre at 23901 Gosling Road in Spring, Texas.