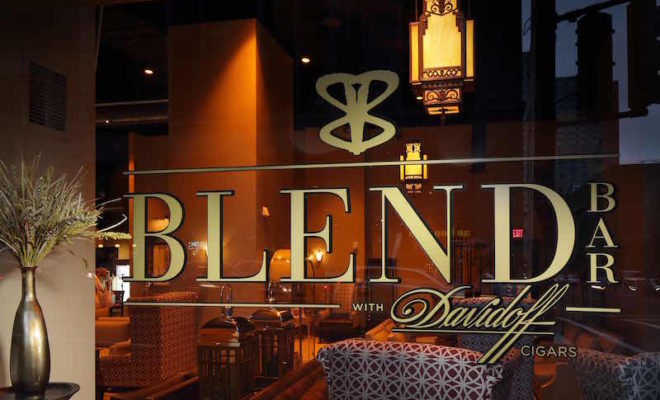 Business
BLEND Cigar and Bourbon Bar coming to The Woodlands
By |
BLEND Bar with Davidoff Cigars (BLEND) announced today that it recently signed a lease for approximately 4,500 square feet of space located at 1701 Lake Robbins Dr., The Woodlands, TX (same building as Fidelity Investments and previously Kim Son Cafe).
BLEND is an award-winning, proven concept that was recently named one of five finalists for "Best Cigar Lounge in the World" by Cigar Journal magazine. BLEND was the only cigar lounge in the U.S. to be named a finalist for the Cigar Journal's Cigar Trophy, regarded as the most highly respected accolade in the trade.
Commenting on the announcement, Corey Johnston, President, stated "We are very excited about the opportunity to take our BLEND concept to The Woodlands.  We have found an excellent partner in The Howard Hughes Corporation to work with in making this happen.  The Woodlands is an ideal market for our upscale cigar and bourbon bar experience."
"We are pleased to bring the BLEND concept to The Woodlands Town Center," said Paul Layne, Executive Vice President – Master Planned Communities with The Howard Hughes Corporation. "BLEND offers guests an exquisite experience to please the most discerning tastes."
The BLEND concept is built around a complete sensory experience.  "We will offer customers unparalleled selections of spirits, wine and cigars from around the world in a luxurious environment featuring a state-of-the-art ventilation system.  In addition, customers will be able to sample select gourmet fare for lunch and dinner" Johnston added.  "Customers will enjoy their BLEND experience free from the typical smoke filled surroundings found in most lounges."
BLEND will offer a unique and upscale environment for adults who want a great atmosphere where they can network, socialize or unwind.  An upscale cigar and bourbon bar, BLEND is a professionally designed, upscale entertainment experience featuring exotic fabrics, leathers and wood surfaces, custom built premium furniture and a proprietary entertainment network, the BLEND Entertainment Network (BEN) which encompasses the latest audio and video technology.
Top-of-the-line offerings will include premium cigar brands such as Davidoff, Fuente and Diamond Crown, as well as sophisticated spirits including Balvenie, Blanton's, Pappy Van Winkle, Johnny Walker Odyssey and Fuzzy Vodka.  Additionally, BLEND works with its cigar and spirits partners to offer rare blends that are handpicked and created specifically for BLEND.
Walker Ryan, Principal with Colliers International agrees that BLEND has found an exceptional location. "BLEND has been committed to finding the right location in The Woodlands. It was more than a two-year process evaluating options that would meet BLEND's expectations.  Throughout this process we always had our eyes on 1701 Lake Robbins and through the collected efforts of Howard Hughes Corporation and BLEND, we were able to secure the location as the next home for BLEND Cigars."
The concept originated in Indianapolis, IN during 2013 and expanded to Nashville, TN and Pittsburgh, PA in 2016.  In October 2015, BLEND announced a strategic partnership with Davidoff of Geneva USA. The partnership is the first of its kind in the United States incorporating the "Davidoff of Geneva – since 1911" look and feel. BLEND will use the same materials as the current "Davidoff of Geneva – since 1911" global retail concept for the walk-in humidors, but retain the unique look and feel of a BLEND elsewhere throughout the venue. The concept prominently features Davidoff of Geneva USA brands, in addition to other premium cigars. Patrons of BLEND locations are offered premium cigars, spirits and wines in a social-friendly nightclub environment. For more information, visit www.blendbarcigar.com.
BLEND is owned and operated by CKM Entertainment, LLC (CKM).  Headquartered in Indianapolis, IN, CKM is a leading developer and operator of upscale cigar, spirit and social-friendly nightclubs throughout the United States.  CKM currently has BLEND locations in Indianapolis, Nashville and Pittsburgh, with plans to grow to other major markets throughout the country, including The Woodlands.