Photo by Nick Rama
Food & Drink
Brazilian Joe's brings Brazilian American food to Spring
By |
With all of the new restaurants popping up all over Spring, Texas, Brazilian Joe's, located at 19640 Kuykendahl, sets itself apart with their original menu featuring traditional Brazilian fare. The restaurant gets its distinctive name from owners Jordan and Aline Fowell desire to honor their late friend Joe, who always inspired Jordan and Aline to follow their dreams, even going so far as to encourage Jordan to marry Aline, while she was in Houston learning English as a foreign exchange student.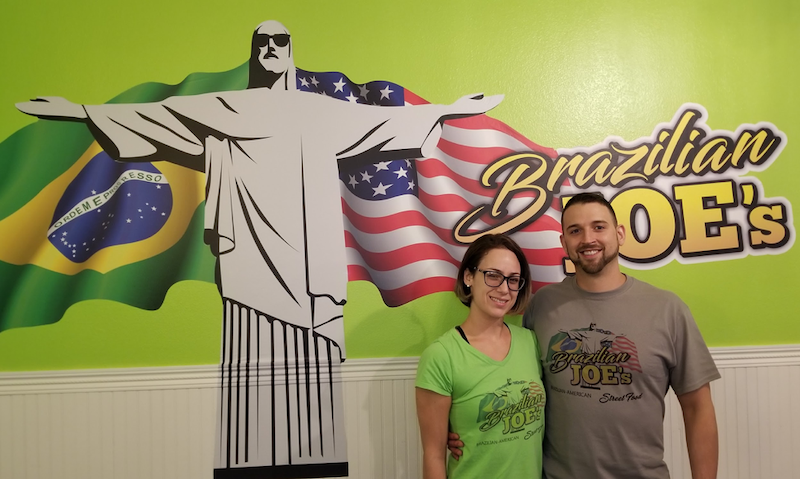 Aline was only three months into the exchange program, when she met Jordan and he proposed just six months later. They got married and went to Curitiba, Brazil for their wedding where Jordan had his first hands-on experience with Brazilian cuisine and fell in love with food and culture of Brazil. Joe, who attended the wedding in Brazil, encouraged Jordan to bring back Brazilian street food to the Spring area after eating a Brazilian hot dog.
In 2016 the couple opened their first food truck and brought Brazilian-American Fusion to the Houston area. The original menu offered five items, including the one that started it all buzz about this food truck, the Hotty Beef Slider – BJ's Brazilian cheese bread bun, gourmet beef patty, provolone cheese, candied jalapenos, grilled onions, fresh basil leaf and mayo.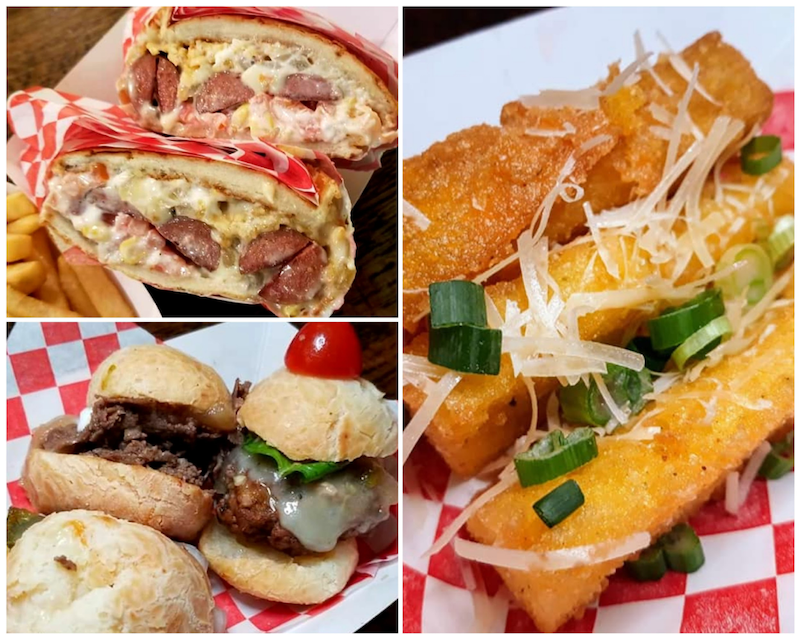 Also offered on the original menu and the items you can still find today include original Cheese Balls (Brazilian cheese bread served with a delicious butter-honey-basil dipping sauce),stuffed Cheese Balls – with Requeijão (Brazilian cream cheese) Loaded Yuca Fries (yuca fries topped with BJ's signature queso, chives, candied jalapeños, tzatziki sauce, sriracha ketchup, and bacon bits) and of course a Brazilian Hot Dog (panini pressed extra-large hot dog bun, stuffed with 2 beef dogs, American cheese, Requeijão, sweet corn, grilled onions, tomatoes, potato sticks and mayo).
In February of 2019, after some long hot summers on the food truck, the couple opened the first brick and mortar Brazilian Joe's. Bigger kitchen and staff meant newly expanded menu of appetizers, salads, soups, entrees and desserts. Aline told us that many of their Brazilian-American menu items are Gluten-free and they even have halal meat options.
Newly added small plates and appetizers include Fried Polenta Sticks topped with parmesan cheese and chives, Coxinha (soft shredded creamy chicken surrounded by soft and buttery potato dough with a beautiful crispy crust) and Coxinha with Requeijão (Coxinha with chicken and Requeijão), Bj's Nachos (tortilla chips, topped with Bj's signature queso, bacon, candied jalapeños, chives with your choice of chicken, ground beef or pulled pork).
Salads and healthier options are also available including a house salad, and a Keto plate.
Brazilian Joe's serves up two big features on the weekends. Fridays and Saturdays bring the Pichana Plate, a famous Brazilian cut of beef, served with rice, French fries, farofa, a Brazilian style pico de gallo, and black beans. Saturday is the day Brazilian Joe's brings out all the stops serving Feijoada all day while supplies last, and believe me you do not want to miss this! This is one hearty Brazilian style soup served with whole pork ribs, nice thick bacon chunks, and sliced pork sausage served with rice, farofa, collard greens with bacon and an orange slice. (Inside Tip: Request this dish with caramelized onions. I couldn't believe how much they added to the flavor of the soup when Jordan recommended it to me.)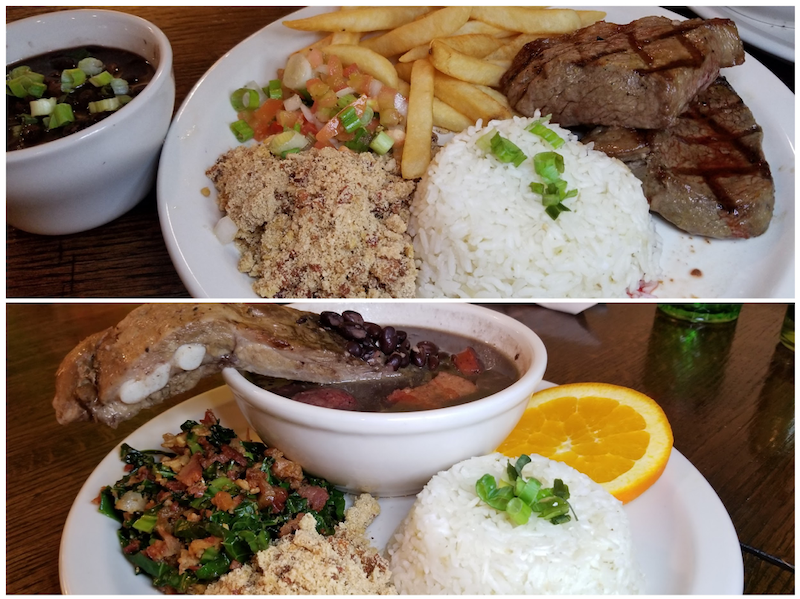 Desserts are not to be missed here! Highlights are the Romeo and Juliet Pastel (filled with Guava and Cheese) or Nutella, think a lighter version of a fried empanada. The signature dessert at Brazilian Joe's is simply called "Heaven" – Banana Pastel dusted with cinnamon sugar and served with Blue Bell Homemade Vanilla Ice Cream.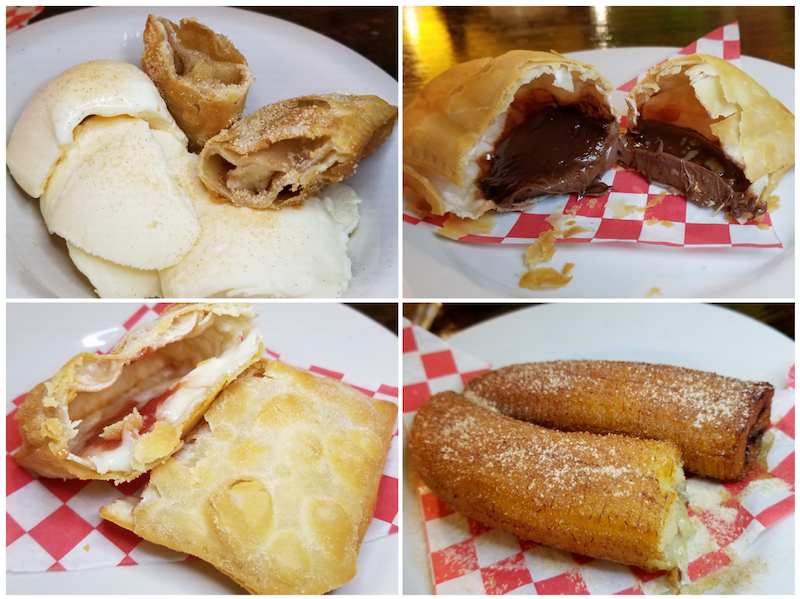 Brazilian drinks are also available, Guarana (an original Brazilian soda, made with the "mystical and invigorating" Amazonian super fruit, fresh sugar cane juice, and passion fruit juice.
THE INTERVIEW
Hello Woodlands got to sit down with Jordan and Aline Fowell to find out more about their restaurant and food.
When and why did you come up with the Brazilian Joe's Concept?
Jordan: "It was 2016 that I decided I wanted to begin with a food truck, and I was trying to figure out how to explain to the public that our concept is a Brazilian-American fusion. I was obviously influenced by the Brazilian culture after being immersed by it once I met Aline and had our wedding in Brazil. Joe Dufault was a very good friend of mine who traveled with Aline and I to Brazil for the church ceremony and was in our wedding. He was an entrepreneur in his own right, and had somewhat of a supportive influence on my relationship with Aline. He was with me for so many of the cultural experiences that had an influence on our concept. And it was Joe who got to sit and enjoy an authentic Brazilian hotdog with us on the streets of Aline's hometown, Curitiba. One day it just became obvious to me what the name of our concept should be: Brazilian Joe's."
What should someone expect for their first visit to the restaurant?
Aline: "Our guests will find a fusion of both cosines (Brazilian-American) and some very authentic Brazilian foods full of flavor and texture."
How was the transition from food truck to brick and mortar restaurant?
Jordan: "The decision to officially put effort into a transition came around June 2018, when we worked a summer event that just seemed hotter than the surface of the sun. We decided that we needed an air conditioned environment for our customers to enjoy our amazing cuisine, not to mention we wanted to serve beer and wine (a permit for which is on the way within the next 45 days or so). The transition went as smoothly as one could hope for with my wife by my side leading the charge, thank goodness. With a restaurant sized kitchen we have been able to greatly expand our menu with some really exciting dishes that just weren't feasible on a food truck, such as our fish tacos."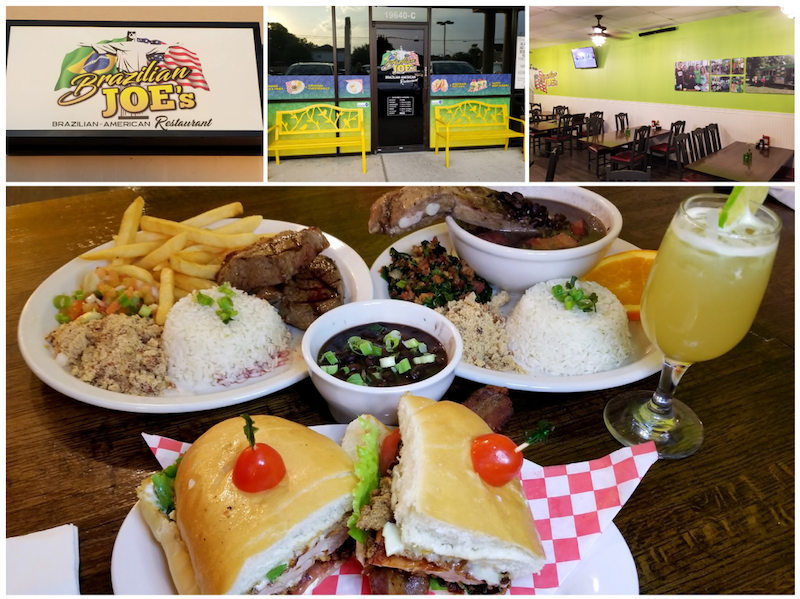 Why did you choose Spring, TX to open your first brick n mortar location?
Aline: "Spring, Texas is our home, and is also where my husband grew up. We actually moved out of Spring for about a year or so, closer to Jordan's job, but I guess we loved it so much we ended up coming back and buying our first home in Spring. And there's not really any Brazilian-style restaurants in the area, much less a Brazilian-style restaurant that has a menu with a variety of options. Most Brazilian restaurants have a strong focus on only meat, and most of the time those are the only places that you can really find pao de queijo, or Brazilian cheese bread. Now if you're craving Brazilian cheese bread, you can come to Brazilian Joe's for just that, and it's the best in town!"
Brazilian Cheese Bread is an important part of your menu, what exactly is it?
Jordan: "It's a staple of Brazilian street food that you would find in airport kiosks as soon as you get off the plane, as well as street corners, shopping centers and churrascaria restaurants. Brazilian Cheese Bread, like its name suggests, has a uniquely cheese-like texture that melts in your mouth. It is made with cheese and tapioca flour, which is naturally *Gluten-free, and therefore so are many of our menu items. For example: our sliders. I noticed that no one was making sliders with this amazing bread, and so the Hotty Beef Slider was born (still my favorite slider)."
What are the differences between cream cheese and requeijão (Brazilian cream cheese)?
Aline: "I had to look this up, The Brazilian cheese is a type of cream cheese white in color but the similarity to the American cream cheese, is it is a 'creamy cheese.' It has a mild taste and its consistency can vary from creamy solid, and had a low level of acidity. It is made from cow's milk that is mixed with sour cream, salt, and cheese cultures. It is part of the Catupiry cheese family which is a Brazilian brand of soft, processed cheese developed by the Italian immigrant Mario Silvestrini in the state of Minas Gerais in 1911. It falls into the 'requeijão' category, which is a generic term for loose, ricotta-like creamy cheese used to make cheese spreads. The name is derived from the native Tupi word meaning 'excellent'."
What is a Brazilian Hot Dog?
Jordan: "A Brazilian Hotdog is basically a meal in itself. It requires an extra large hotdog bun in order to fit all of the ingredients into this monstrous sandwich. Our bun is custom made and took several months working with our baker to develop the right consistency and texture. On that bun we put Tirolez Requeijão (authentic brand of Brazilian-style cream cheese), mayonnaise, sweet corn, diced tomatoes, (2) all-Beef franks, American cheese, caramelized onions, and crispy potato sticks for a nice crunch. The only thing I changed was the addition of American cheese, and I caramelized onions. You also have the option of adding shredded chicken, which is very traditional to Aline's home city in Brazil – Curitiba. Many of our guests request theirs with our House-made candied jalapeños."
What menu expansions have you done since you opened, do you plan to add more?
Aline: "We have added several items. We started the food truck with 5 items and now we have a 2 full pages menu. Featuring a huge selection of gluten free options and halal meat. We have added an 8 oz Ribeye that is served with 2 sides (rice, beans, fries, salad, vegetables), BJ's Nachos – my new favorite item, a house salad for the healthy eater and even a keto plate!"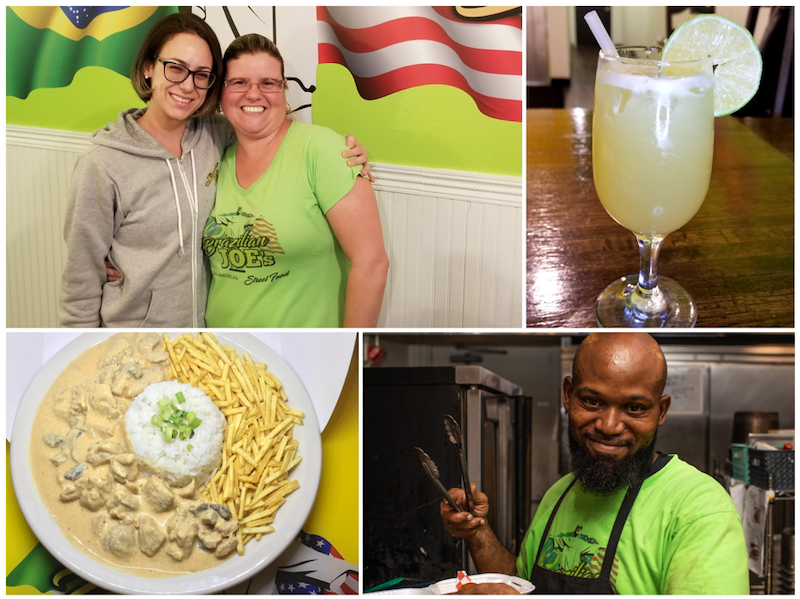 Do you still do special events and catering with the Brazilian Joe's food truck?
Jordan: "Absolutely. We get a lot of requests for private events, grand openings, and we still occasionally take to truck to breweries such as Karbach or Fortress Beerworks. There's no way I'd get rid of Big Green."
What is your favorite meal here from start to finish?
Aline: "I'd start with fried polenta (my favorite) followed by a side small house salad, Picanha plate and to finish, Heaven, out Banana cinnamon sugar empanada served with vanilla Blue Bell Ice Cream for dessert!"
Jordan: "Currently, I would start with our BJ's Mini Fried Cheese Balls and BJ's Nachos as an appetizer to share."
"For the main course, I would have to have my wife's Feijoada with onions and a sunny-side egg on the rice (our Feijoada has black beans with large chunks of bacon, fall of the bone pork ribs, and pork sausage – with grilled onions upon request). The Feijoada is served with white rice, collard greens & bacon, and farofa (blend of bread crumbs, bacon, and onions – a very common item to accompany many Brazilian dishes). It is also very common to add a fried egg to the rice, which is the only way it should be had as far as I'm concerned."
"As for dessert, no doubt I would go for the Heaven – a cinnamon/sugar banana pastel, fried and sliced in half, served over a scoop of Texas' own Blue Bell Homemade Vanilla ice cream."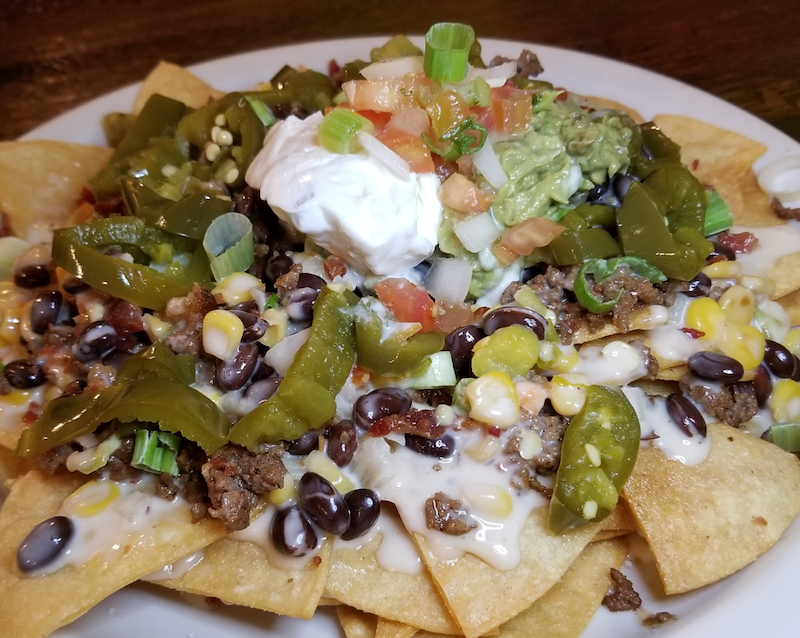 5 Words to describe Brazilian Joe's?
Jordan: "Brazilian, American, Authentic, Fusion, Mouthwatering"
Learn more about Brazilian Joe's, located at 19640 Kuykendahl Rd, Spring, TX 77379, by visiting their Facebook page at https://www.facebook.com/BrazilianJoes/ and website at brazilianjoes.com
Nick Rama is a food writer, contributor of Hello Woodlands, and shares his restaurant experiences on Nick's Local Eats at NicksLocalEats.com and the Q Up The Burgers Facebook page. Nick enjoys helping the small business owner, supporting his community with fundraising for food banks, and plans tasting events with locally owned mom and pop restaurants.