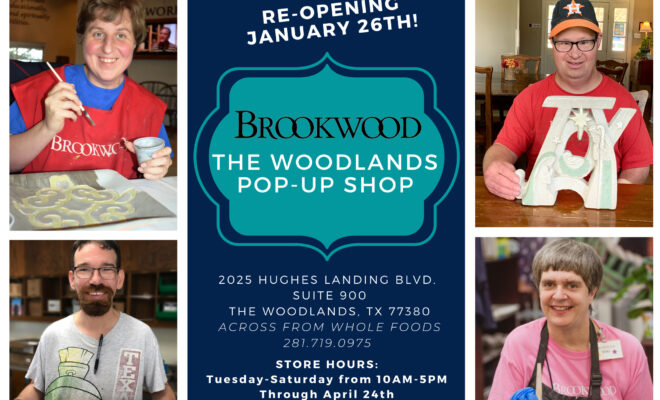 Business
Brookwood Store in Hughes Landing to Re-open Jan. 26
By |
THE WOODLANDS, TX – The Howard Hughes Corporation® (NYSE: HHC) has extended the complimentary seasonal usage of prime retail space in Hughes Landing® for The Brookwood Community, a non-profit educational, residential and entrepreneurial organization for adults with disabilities. Brookwood's store in Hughes Landing in The Woodlands® will re-open Tuesday, January 26, through April 24, 2021, to sell a variety of crafts and gifts made locally.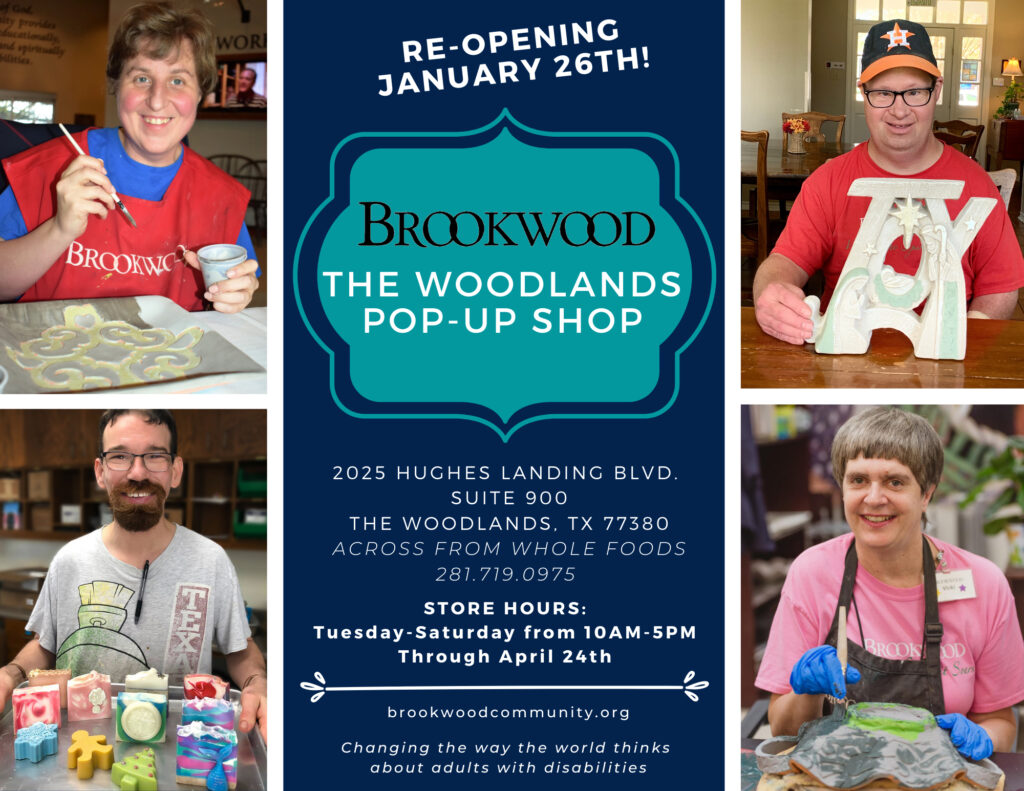 "The Brookwood store was very popular and well received over the holiday season, and we are happy to extend their presence in Hughes Landing through the spring," said Jim Carman, President, Houston Region for The Howard Hughes Corporation. "It's a win-win for shoppers and this important non-profit in our community. Our embracement of Brookwood's store is an extension of our company-wide social responsibility program HHCares, which includes community-focused philanthropy through financial donations and volunteerism." Annually, The Howard Hughes Corporation donates to over 130 causes at local non-profit organizations in the Greater Houston area.
Vivian Streit Shudde, Chief Executive Officer of The Brookwood Community, added, "We are extremely grateful to The Howard Hughes Corporation for extending this generous gift of retail space. We have been greatly affected by COVID and so have many of our families. Having a store at Hughes Landing gives us a tremendous opportunity for our enterprises to make up some of the much needed lost revenue. Our Citizens – adults with disabilities – have poured every ounce of their hard-to-learn skills into making and growing products to sell. The Howard Hughes Corporation heard about our need and shared our passion to 'speak for those who have no voice' and provided one of the most beautiful retail spaces."
The Brookwood store is open at 2025 Hughes Landing in suite 900, adjacent to the new multifamily residences, Two Lakes Edge, and Whole Foods® Market. The award-winning, 79-acre Hughes Landing is a mixed-use development and features urban walkability along 200-acre Lake Woodlands.
The store is open on Tuesdays through Saturdays from 10:00 a.m. to 5:00 p.m.
For more information, visit www.thewoodlands.com and like us on Facebook, Twitter and Instagram.
The Woodlands is a 28,800-acre master planned community located 27 miles north of downtown Houston. Throughout its 47-year history, The Woodlands has led the way among master planned communities that practice environmental preservation. It is home to over 118,000 people, and over 68,000 people work in the community. The Woodlands is one of the most successful master planned communities in Texas and the nation. The Woodlands was named "Trailblazer of the Year" in 2018 by the Greater Houston Builders Association. The community was also consecutively named "Humanitarian of the Year" in 2019, 2017, 2016 and 2007, and "Master Planned Community of the Year" in 2015, 2010 and 2007, by the Greater Houston Builders Association. For more information, visit www.thewoodlands.com. For additional details, find us on Facebook, Twitter, Instagram and LinkedIn.

The Howard Hughes Corporation owns, manages and develops commercial, residential and mixed-use real estate throughout the U.S. Its award-winning assets include the country's preeminent portfolio of master planned communities, as well as operating properties and development opportunities including: the Seaport District in New York; Columbia, Maryland; The Woodlands®, The Woodlands Hills, and Bridgeland® in the Greater Houston, Texas area; Summerlin®, Las Vegas; and Ward Village® in Honolulu, Hawaiʻi. The Howard Hughes Corporation's portfolio is strategically positioned to meet and accelerate development based on market demand, resulting in one of the strongest real estate platforms in the country. Dedicated to innovative placemaking, the company is recognized for its ongoing commitment to design excellence and to the cultural life of its communities. The Howard Hughes Corporation is traded on the New York Stock Exchange as HHC. For additional information visit www.howardhughes.com.