Business
The Woodlands Area Chamber of Commerce to Host Annual Economic Outlook Conference April 14
By |
THE WOODLANDS, TX – The time has come for the 35th Annual Economic Outlook Conference, hosted by The Woodlands Area Chamber of Commerce, to be held on Wednesday, April 14, 2021, at The Woodlands Waterway Marriott Hotel and Convention Center from 7:30 a.m. to 1:00 p.m.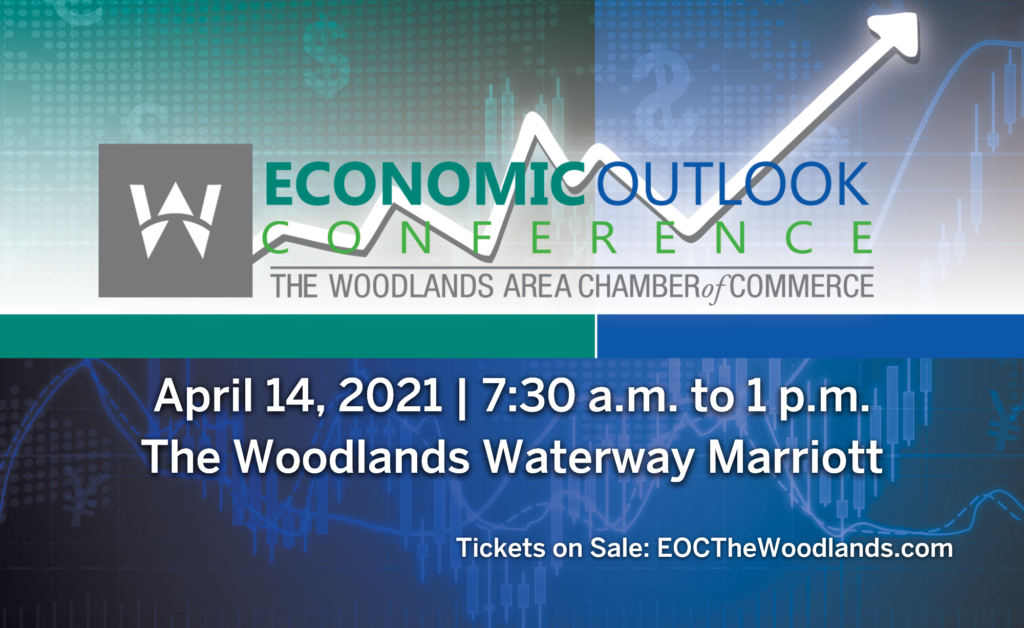 Every year, The Chamber hosts this highly anticipated conference for business leaders to gain insight and knowledge on our economy's trajectory and ways to prepare for the growth to come. National, regional and local speakers are secured to address attendees on the economy's trends and developments.
"The Chamber's Economic Outlook Conference will feature influential regional, local, and national speakers to inform and motivate businesses to continue growing for the prosperity of our economy's future," said J.J. Hollie, President and CEO of The Woodlands Area Chamber of Commerce. "The conference will also provide attendees an opportunity to engage over economic issues, especially as the economy recovers from the COVID crisis."
"We are looking forward to The Chamber's annual Economic Outlook Conference at the spacious Waterway Marriott Hotel and Conference Center," said Angela Storseth-Cooper, Economic Outlook Conference Team Lead. "Though this year will look slightly different as we work through and take extra precautions, we believe there is certainly a way to remain safe while educating our business community as we hear from an incredible line-up of dynamic speakers. As our legislators meet in Austin and Washington D.C. this year and make important decisions on behalf of the business community and our economy, now more than ever is the time for business owners to be engaged and hopeful that Texas will remain the economic engine of North America. The Chamber is proud to provide an economic forecast and policy analysis to our members and community partners at this conference. The past year we have all been challenged daily, but together we will continue to beat the odds. We hope you will join us on April 14th!"
This year's conference will look a little different from past years. A new "Port Panel" will feature speakers from important regional ports. The panelists discussing these ports' huge economic impacts will be Roger Guenther with the Port of Houston; Phyllis Saathoff with the Port of Freeport; and Sade' Chick with the Port of Beaumont. Congressman Kevin Brady will give the national economic update; Gil Staley with The Woodlands Economic Development Partnership will deliver the community update; and Jim Carman, President of the Houston Region Howard Hughes Corporation, will give the regional update. This year's Keynote Speaker, though not determined, will still provide a presentation, inspiring economic growth for attendees sponsored by Cypressbrook Company.
The conference would not be made possible without generous sponsorships. The current sponsorships include: VIP Reception: Richmond Realty Group, Keynote Sponsor: Cypressbrook Company, Wi-Fi Sponsor: Wright Technology, Lanyard Sponsor: Ikard & Company, LLC, Platinum Sponsors: Kean Miller, Office Systems of Texas, Howard Hughes, and Woodforest National Bank. Gold Sponsors: Entergy, Lone Star College, The John Cooper School, Johnson Development Corp., The Woodlands Area Economic Development Partnership, and The Woodlands Christian Academy. Silver and Bronze Sponsors: ExxonMobil, Plains Capitol Bank, San Jacinto River Authority, Toll Brothers, 5 Point Credit Union, and Blanton Advisors, LLC.
For information on available sponsorship opportunities and pricing, visit eocthewoodlands.com.
Volunteers are also a vital aspect of the conference. Thanks to the Economic Outlook Conference leadership team, attendees and speakers will feel welcomed. This year's team includes Chairman of the Board, Linda Nelson with Memorial Hermann System; Vice President of Government Affairs, Kevin Kastor with Consolidated Communications; Team Lead, Angela Storseth-Cooper with McKesson Specialty Health; and Co-Team Lead, Melissa Bochat with Entergy of Texas.
The Chamber has updated safety precautions for this year's event by requiring that attendees wear masks and spacing guest tables six ft. apart with only five per table.
The Conference schedule will go as follows:
7:30 a.m.: Registration
8:00 a.m.: Welcome
8:20 a.m.: National Update
9:00 a.m.: Community Update
10:00 a.m.: Economy Update
11:00 a.m.: Innovation Panel
Noon: Keynote Luncheon
1:00 p.m.: Adjournment
Tickets are on sale now at eocthewoodlands.com for $169 for Chamber members and $199 for non-members.
"The Woodlands Area Chamber of Commerce's Annual Economic Outlook Conference is the premier event of the year," said Margo McZeal, Director of Government Affairs. "This year we provide expert insight into the outlook of the Houston region as we motivate and bring hope to our business community from the challenges of 2020. A highlight for this year's event it is the Port Panel where three ports will participate: Port of Houston, Port of Freeport and Port of Beaumont discussing the importance of the ship channel that helps with the growth of our economy regionally. As this year will be a in-person conference, we want everyone to feel safe in attending. The Waterway Marriott and The Woodlands Chamber of Commerce will have rules/guidelines for social distancing and masks requirement for the success of the event!"
The Woodlands Area Chamber of Commerce hopes you will join us in attending the 2021 Economic Outlook Conference, where we will learn more about the state of our economy and what we can do to help it prosper, all while staying safe.