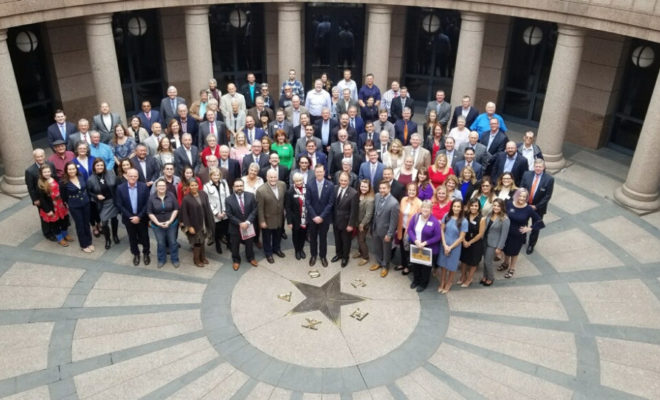 Business
Business Community Advocates for Montgomery County at Texas Capitol
By |
THE WOODLANDS, TX – With the Texas General Assembly now in session, The Woodlands Area Chamber of Commerce, along with its Montgomery County Council of Chambers partners, visited Austin on February 25-26 to ensure lawmakers understand the unique needs of member businesses and the area economy.
More than 150 business leaders were given the opportunity to explain their needs to legislators directly. Topics included transportation and infrastructure, health care, education and workforce development, and tourism.
For more than 40 years, the business community has united together to help grow Montgomery County and promote a strong business community through economic development, legislative involvement and bellowing voices at all levels of government. For members, this means that their policy concerns are joined by thousands of others making their voice more powerful.
Along with the opportunity to hear on the ground updates from key members of the Texas House, Senate and Administration, including Texas Comptroller Glen Hegar, Speaker Dennis Bonnen, Sen. Robert Nichols, and Reps. Cecil Bell, Will Metcalf and Steve Toth, The Montgomery County Council of Chambers received recognition on both the House and Senate floors.
With another successful Montgomery County Day at the Capitol, The Chamber encourages all business leaders and residents to attend monthly Transportation Education Council and Business Advocacy Council meetings to help identify issues important to their business and the area's economic vitality. The Business Advocacy Council next meets March 15 at 8:00 a.m. and the Transportation Education Council will meet April 5 at 8:00 a.m. at The Chamber, located at 9320 Lakeside Blvd, Suite 200 in The Woodlands.
To view a full list of The Chamber's 2019 legislative priorities and all upcoming council meetings, visit www.woodlandschamber.org.
The Montgomery County Council of Chambers represent thousands of companies and entrepreneurs that have joined together to promote jobs, economic growth, and strong communities in the Montgomery County, Texas and beyond. Participating chambers include The Woodlands Area Chamber of Commerce, Conroe/Lake Conroe Chamber of Commerce, Montgomery Area Chamber of Commerce, Greater East Montgomery Chamber, Greater Magnolia Parkway Chamber of Commerce and Montgomery County Hispanic Chamber of Commerce.
As the largest business association in the Houston region, The Woodlands Area Chamber of Commerce is committed to advocating for businesses, creating marketing and networking opportunities, serving as a professional and community resource and supporting charitable causes. For more information, please visit www.woodlandschamber.org.