Photo provided by Community Assistance Center
News
CAC serves neighbors in need with Drive Thru Groceries
By |
Conroe, TX – At a time when there is an absence of food staples on supermarket shelves coupled with the uncertainty of tomorrow, Community Assistance Center (CAC) is a source of hope for Montgomery County residents in need.
On Wednesday, March 25, CAC received an overwhelming response to the needs of the county, serving over 350 families in less than two hours during CAC's Wednesday Market. Groceries were distributed by CAC staff along with the hard-working volunteer support from the Ark Church and Compassion United and in partnership with the Montgomery County Food Bank. This week's Wednesday Market was set up drive-thru style where bags of food are loaded directly into the vehicles of patrons. Food assistance was available to Montgomery County residents in need.
Jennifer Landers, Executive Director of Community Assistance Center, said "CAC is standing strong with our community and faith-based partners across Montgomery County to ensure those in need of help can access services."
"Rest assured that we are here to help our community for the long haul," Landers said. "We are here to serve our neighbors in need through the COVID-19 crisis and beyond. CAC is coordinating with our partners like the Montgomery County Food Bank to continue to supply food to those who need it and we will be changing locations for our next Wednesday Markets to accommodate the surplus of those seeking our services."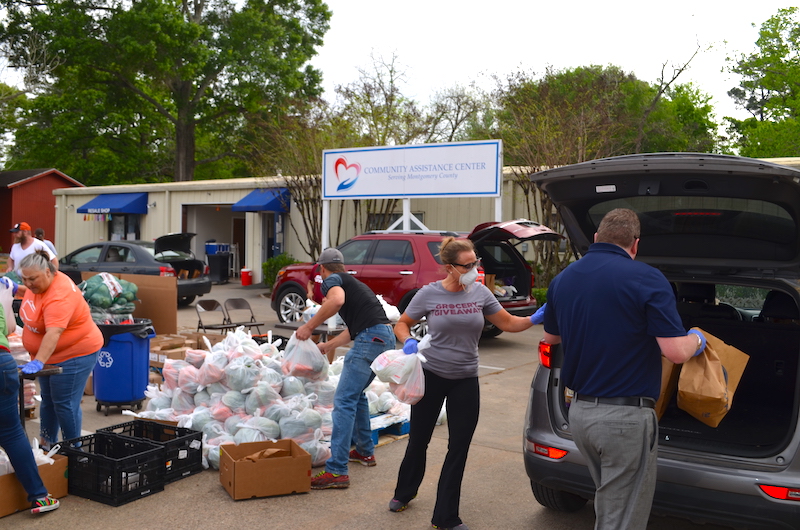 While supplies are limited, CAC's team of dedicated staff and volunteers seek to uphold the organizations mission of providing resources to meet basic needs and improve quality of life for our neighbors in Montgomery County.
Due to COVID-19, CAC has changed its current operating strategy in order to continue to serve people in need during the crisis.
"We have transitioned to No Contact services," Landers said. "What this means for our neighbors is that we are still providing financial assistance for utility bills, but we are serving people over the phone. We are still providing groceries, but instead of our Client Choice Food Pantry model, we have shifted to the Drive-Thru Wednesday Markets."
Other services typically provided by Community Assistance Center are currently on hold, but CAC is preparing for an increase in the needs for financial assistance and other various services when things begin to transition back to the new normal.
"What we need now is for people to stay safe and stay home unless it is absolutely necessary to venture out" Landers said.
Community Assistance Center is currently accepting donations of non-perishable food items, hygiene products, and cleaning supplies to help those in need, including the homeless population in the community. Financial donations are also very helpful to offset the costs of the large food distributions and monetary donations can be made online by visiting www.cac-mctx.org.
Individuals in need of financial assistance for utilities may call 936-539-9211. Wednesday Markets are currently scheduled through April 15 in partnership with The Ark Church and The Woodlands United Methodist Church. Starting April 1, Wednesday Markets will be held at a new location at The Ark Church 450 Humble Tank Rd, Conroe, TX 77304 and currently scheduled markets are sponsored by The Woodlands United Methodist Church.