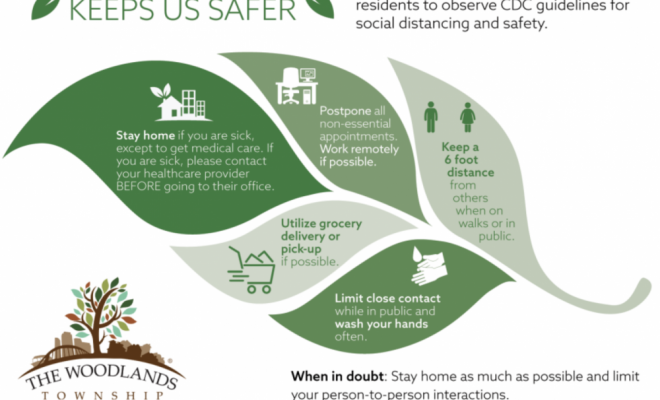 News
Social Distancing on the Pathways and Township COVID-19 Update – March 30
By |
On Monday, March 30 at 6 p.m., The Woodlands Township shared the following updates regarding the COVID-19 crisis.
Township News
The Township Board of Directors urges residents to continue social distancing and proper hygiene and cleaning with diligence in the both Montgomery and Harris County orders of Stay at Home. "The numbers are still pretty unpredictable and will be over the next several days," said Township Chairman Gordy Bunch. "While I know it's extremely difficult environment we're in, we hope to continue to see progress and all of us thank The Woodlands residents who are helping to flatten the curve of this very dangerous virus."
Guidelines for Social Distancing on the Pathways
For pedestrians using the pathways, please remain a minimum of 6 feet apart. Be sure to stay to the right, watch for other pathway users, be especially alert when running and listen for audile signals and allow faster pathway users to pass freely.
For bicyclists using the pathways, please give audible warnings when passing pathway users, ride at a safe speed, helmets are recommended and be sure to ride straight ahead.
For rollerbladers on pathways, blade at a safe speed, helmets and protective gear are recommended, blade straight ahead and listen for audible warnings and allow faster pathway users to pass freely.
County News
Montgomery County COVID-19 Case Count
Montgomery County Public Health District, in conjunction with Montgomery County Office of Emergency Management, can confirm Montgomery County now has 81 positive cases of COVID-19, an increase of 16 from yesterday. The County office also announces a total of 11 recoveries. These can be viewed on the updated case list below.
Read our article and case update here
Harris County COVID-19 Case Count
As of March 30, 2020 (3:00 p.m.), Harris County Public Health (HCPH) has 14 new cases of COVID-19, which brings the total to 254 positive cases, including the second COVID-19 related death. HCPH is also confirming that 39 of the patients have recovered. These new cases do not include those within the City of Houston. Harris County Public Health updates case counts daily at 3:00 p.m. and keeps an ongoing list of case statuses on its website. For the complete list of Harris County confirmed case information with status details, please visit https://www.hcphtx.org/Resources/2019-Novel-Coronavirus/Harris-County-COVID-19-Confirmed-Cases.
Tracking COVID-19: Local, Regionally, Nationally, Internationally
Below are the widgets for tracking COVID19.
Montgomery County Judge Keough Issues Stay Home, Stop the Spread
Montgomery County Judge Mark Keough issued a stay home order on Friday, March 27, 2020. The order will take effect for residents of Montgomery County at 11:59 p.m. and expire on April 12, 2020. The order stipulates that most businesses cease operations, aside from those on an essential list including grocery stores, pharmacies, healthcare providers, government agencies, gas stations and more. The order also instructs residents of Montgomery County to stay home except for essential errands. A curfew will be in place throughout all of Montgomery County, starting at 11:59 p.m. every night and ending at 6 a.m.
Read more about the Montgomery County order here
State and National Information
The White House, CDC and FEMA launch comprehensive Coronavirus (COVID-19) website
Visit coronavirus.gov to access important up-to-date information regarding COVID-19 including how to prepare and protect yourself, what to do if you think you are sick, a new website and app with a COVID-19 screening tool and much more.
FEMA Extends Grace Period for Flood Insurance Renewal Premiums
FEMA continues to take proactive steps to address the COVID-19 pandemic and to help serve its National Flood Insurance Program (NFIP) customers who may be experiencing financial hardships, the agency is extending the grace period to renew flood insurance policies from 30 to 120 days.
To avoid a lapse in coverage, there is typically a 30-day grace period to renew National Flood Insurance Program policies. However, due to the widespread economic disruption arising from this pandemic, FEMA recognizes that policyholders may not meet the standard deadline.
This extension will allow additional time for policyholders who may be struggling financially to pay insurance premiums and ensure their policies are not cancelled for nonpayment of premium due to circumstances beyond their control. View the entire advisory.
If you have any questions, please contact the Office of External Affairs, Congressional and Intergovernmental Affairs Division at (202) 646-3444 or at FEMA-IGA@fema.dhs.gov.
Hotlines for health questions and COVID-19
Montgomery County: 936-523-5040
Harris County: 713-634-1110
Visit The Woodlands Township COVID-19 information page for more updates from partner agencies, social distancing strategies, important links, frequently asked questions, live Twitter feeds and more at www.thewoodlandstownship-tx.gov/covid19.
Read the full March 30 update by The Woodlands Township at https://www.thewoodlandstownship-tx.gov/civicalerts.aspx?AID=2981
Source: The Woodlands Township