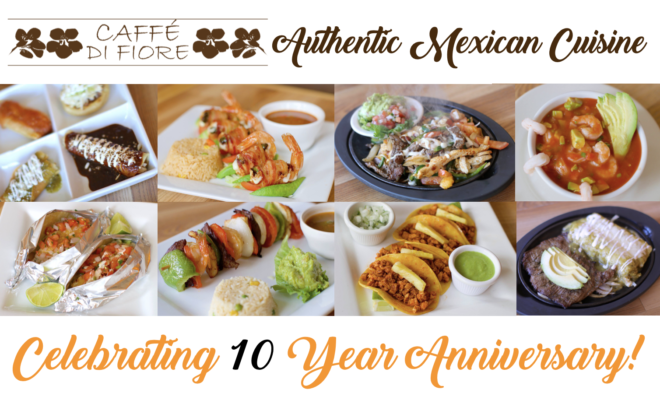 Food & Drink
Caffe Di Fiore celebrates 10 Years of Serving Authentic Mexican Cuisine in The Woodlands
By |
Caffé di Fiore is celebrating 10 years of serving authentic traditional Mexican cuisine in The Woodlands, where dishes are made in-house, from scratch, and with fresh, high quality ingredients. Located at 10110 Woodlands Pkwy Suite 900, the local favorite opens its doors seven days a week and serves breakfast, lunch and dinner to the community.
Meet Arturo and Lucy Calderon, owners of Caffé di Fiore, and hear their story in the Hello Woodlands interview below and on our Facebook page!
As you step into the restaurant, Arturo and Lucy instantly make you feel at home and part of the family. The Calderon's are not only the owners of the business, but are at Caffe Di Fiore personally serving and welcoming their customers seven days a week. The casual-dining restaurant has soothing orange, warm wood tones, artwork decorating the walls, and seats about 90 guests.
The Calderon's have enjoyed the nine years of running the restaurant and as long-time residents of The Woodlands, see the restaurant as an opportunity to become involved in a community which they have grown to love and embrace. They have always had a passion for food and their recipes originate from their families, grandmothers and personal recipes created by the couple, who first served the dishes and delights to friends and guests in their home.
Caffe Di Fiore uses the fresh ingredients and everything is homemade. The impressive menu features Authentic Mexican cuisine, signature dishes, daily specials, appetizers and antojitos, soups and salads, tacos, paninis, flatbreads, pastas, eggs and omelettes, kid's menu, desserts, gourmet cakes and cookies, coffee and cappuccino, beverages – and much more. It's difficult to choose a favorite, but the Mole Enchiladas are a fan favorite and the Tres Leches is critically acclaimed as the "BEST Tres Leches in Texas!"
Starting this October, Caffé di Fiore wil also launch an updated menu that will feature new vegetarian entrées and plant-based items including Veggie Quesadillas, Vegetarian Panini, Plant-based Burger, Vegetarian Enchiladas, Flautas di Fiore, Spagetti di Fiore, and Mexican Tacos.
Caffé di Fiore was awarded the Certificate of Excellence by TripAdvisor in 2017, 2018, 2019, and 2020 and just received the Tripadvisor's Travelers' Choice Award for 2021. Tripadvisor gives a Travelers' Choice award to accommodations, attractions and restaurants that consistently earn great reviews from travelers and are ranked within the top 10% of properties worldwide on Tripadvisor.
Open from 10 a.m. to 8 p.m. Monday through Friday, 9 a.m. to 8 p.m. on Saturday, and 9 a.m. to 3 p.m. on Sundays, customers – who quickly become close friends – can enjoy breakfast, lunch, and dinner. Caffé di Fiore also entertains large parties, offers catering, and you can even order a large tray of Tres Leches to-go. Locals can also order Caffé di Fiore for delivery to their door or order online for pickup at www.caffe-di-fiore.com.
When guests celebrate Caffé di Fiore's 10 year anniversary at the restaurant, they can receive a complimentary glass of wine with a purchase of an entrée until October 31, 2021. Be sure to mention "Hello Woodlands" when ordering to receive this special offer!
Learn more about Arturo and Lucy, Caffé di Fiore, and get directions to this local favorite at www.caffe-di-fiore.com.
Advertisement