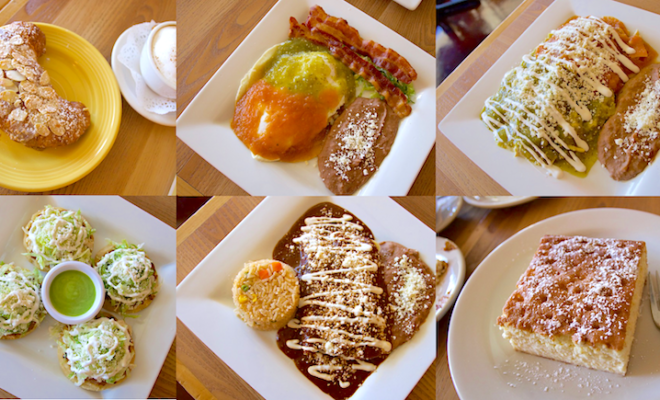 Photography by Jennifer Bruse, Hello Woodlands
Food & Drink
Caffe Di Fiore: Authentic Traditional Mexican Cuisine in The Woodlands
By |
Meet Arturo and Lucy Calderon, owners of Caffe Di Fiore, who serve authentic traditional Mexican cuisine at 10110 Woodlands Pkwy Suite 900 in The Woodlands, Texas.
Watch Hello Woodlands interview with Arturo and Lucy Calderon at Caffe Di Fiore on our Facebook page!
As you step into the restaurant, Arturo and Lucy instantly make you feel at home and part of the family. The Calderon's are not only the owners of the business, but are at Caffe Di Fiore personally serving and welcoming their customers seven days a week. The casual-dining restaurant has soothing orange, warm wood tones, artwork decorating the walls, and seats about 90 guests.
The Calderon's have enjoyed the six years of running the restaurant and as long-time residents of The Woodlands, see the restaurant as an opportunity to become involved in a community which they have grown to love and embrace. They have always had a passion for food and their recipes originate from their families, grandmothers and personal recipes created by the couple, who first served the dishes and delights to friends and guests in their home.
Arturo and Lucy are also cancer survivors – and with the support of their customers and The Woodlands community kept their doors open and the business running even during their recovery.
Caffe Di Fiore uses the fresh ingredients and everything is homemade. The impressive menu features Authentic Mexican cuisine, signature dishes, daily specials, appetizers and antojitos, soups and salads, tacos, paninis, flatbreads, pastas, eggs and omelettes, kid's menu, desserts, gourmet cakes and cookies, coffee and cappuccino, beverages – and much more. It's difficult to choose a favorite, but the Mole Enchiladas are a fan favorite and the Tres Leches is critically acclaimed as the "BEST Tres Leches in Texas!"
Open from 9 a.m. to 9 p.m. – except for Sundays when they close at 4 p.m. – customers who quickly become close friends can enjoy breakfast, lunch, and dinner. Caffe Di Fiore also entertains large parties, offers catering, and you can even order a large tray of Tres Leches to-go.
Learn more about Arturo and Lucy, Caffe Di Fiore, and get directions to this local favorite at www.caffe-di-fiore.com.