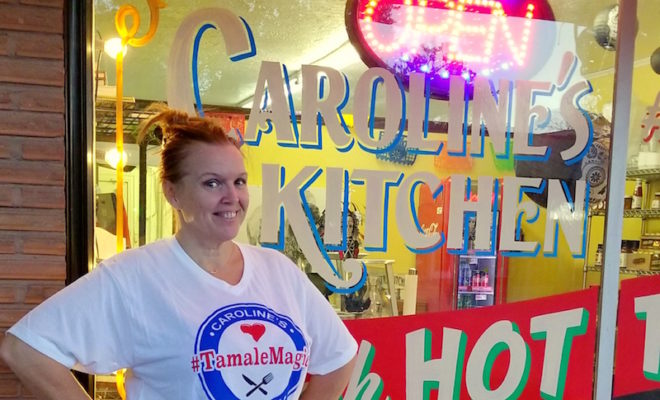 Caroline Cobell, Photo by Nick Rama
Food & Drink
Caroline Cobell: The Tamale Queen of Tomball at Caroline's Kitchen
By |
Driving down Main Street in Old Town Tomball, you'll notice a little shop with a sandwich board sign with a three Tamale lunch special. Located at 411 W Main Street, the shop at suite A is named "Caroline's Kitchen – home of #TamaleMagic" and is owned by Chad and Caroline Cobell.
The husband and wife team serve a Tamale Plate Lunch Special that features three tamales of your choice (such as pork, chicken cream cheese jalapeno and boudin tamales) and is served with tortilla chips, salsa and a drink. Each tamale is handmade with top quality ingredients, wonderfully seasoned masa, the perfect masa-to-filling ratio, and a unique delicious flavor. Caroline's Tamales are also available to take home in half and whole dozens.
Caroline's Kitchen first started with a tent at the Tomball Farmer's Market making instant fans with their stellar pork tamales and wowing customers with non-traditional, unconventional tamale flavors such as "turkey and dressing" and "pumpkin pie" tamales. Caroline's outside-of-the-box flavors plus drive and passion took tamales to whole new level; all of this leading to a brick and mortar location.
Caroline's Kitchen is a big supporter of local small businesses. Inside the shop, visitors can purchase Bravado Spice, Hot Line Pepper Products, and Chilaquiles sauces as well as local honey from Bull Nettle Ridge and jams from Brenham Kitchen. Caroline adds Tejas Chocolate + Barbecue brisket to create the "Tejas Brisket Tamale," hosts tamale tastings with Tonadas Catering and Indulge Gourmet Desserts, and supports other businesses that she believes in – a great example of local businesses supporting local businesses.
Caroline was selected out of hundreds as one of ten finalists in the Texas Renaissance Festival's Royal Chef Showdown. She competed for the King's Beard award and impressed the judges and the King with her "Queen's Croquettes," chicken with fire roasted poblano peppers and Oaxaca cheese and prime beef drizzled with a mushrooms bisque.
A community leader giving back to her community, Caroline was a major force after Hurricane Harvey devastated our area. Caroline decided to completely focus on feeding first responders, Police, EMS, fire stations, shelters, church volunteers, boat armies and disaster neighborhoods. Caroline did nothing but cook and helped feed over 22,000 people in need with volunteers and over 30 other restaurants. After her amazing efforts, Caroline's Kitchen received a "Certificate of Special Congressional Recognition" in honor of serving the community and contributing to the Hurricane Harvey relief efforts.
Caroline sat down with us to answer questions about Caroline's Kitchen, her tamales, and how she gives back to the community.
Why tamales? What about them made you say "I can build a business around this"?
"I originally wanted to open a bakery. I love to bake. Cooking in general makes me happy. It was a fluke. I did not start out with visions of being a tamale queen. We had been vendors at a farmers market for a couple of months offering sweets, and baked goods. It wasn't financially viable. My husband who I term the chief operating officer, told me very sweetly that he wanted to support my dreams but something had to change or we had to quit because it was a lot of work and was taking a toll on us. I was working a full time job, as was he and I would frantically bake on Friday nights and Saturdays to get ready for the Sunday market. About a week or two later, I was making tamales for our dinner that night.. I was sitting alone at our table diligently making the tamales and as he walked by, he absentmindedly said… I wonder if you could sell these at the market, I said I don't know but we can try…. The rest is history."
What made you choose Old Town Tomball to start your business?
"When we decided to change from baked goods to tamales, the original market we were at couldn't let us sell them there. It was across the street from the Original Ninfas. So we had to find another farmers market. We lived in Spring and the closest market with the best reviews was the Tomball Farmers Market. Michelle Bundy is the president and I approached her wanting to sell baked goods as well as tamales. She shut that down really quick. She advised me that although the baked goodies were delicious, I really needed to single out the tamales and move in that direction. Between her and my husband it seemed tamales was the direction I was headed."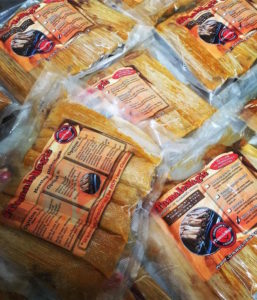 Caroline's Kitchen is a family business. How does the rest of the family fit in?
"It absolutely is a family business. My husband Chad put his career on the back burner to help me launch Caroline's Creations, which is what our name was when we started at the markets. He now is the TamaleMaster during the week at our shop in Tomball. Our sons Jacob and Israel were my main salesmen in the beginning. We now just have Jacob working the booth at the Tomball Farmers Market and I work the booth on Saturdays at Eleanora's Market in the Heights. Chad's ex-wife (Israel's Mom) has also pitched in on many occasions. She is one of my best friends. Both of my sisters have also came to work for me on a few occasions. We are the definition of a Family Business and I love it."
Where did the name #tamalemagic come from?
"I was making tamales one day, preparing a roux based chili gravy that we use in our most popular tamales. I was dancing around in the kitchen as I do on occasion and I was thinking to myself… here is what makes these tamales so good. This gravy right here, this magic. I told Chad we were going to call the gravy magic, TamaleMagic was then born. Best hashtag ever."
How much of your success do you attribute to the farmers markets you participate in weekly?
"The Tomball Farmer's Market made me what I am today period. I owe Michelle a debt of gratitude for allowing me to participate. We led with the Traditional Pork Carnitas tamale, which people loved. I was able to hone my recipes and see exactly what the customers there liked and didn't like. The Turkey and dressing tamale came next with the pumpkin pie. It was hard to get people to just try those. Once they did try them, we were off to the races. We sold out every single weekend. I like to socialize. Being at the farmers markets allows me to foster relationships with our customers as well as offer samples of our newest flavors that people may or may not have an opportunity to try. Currently we are selling out at both The Tomball Farmers Market and the Eleanora's Farmers Market in the Heights. People get to taste it and smell it and talk to the creator. To me it creates an intimate relationship between you and your customer base. You become friends.. It's a beautiful thing."
My favorite Tamale of yours is your Tejas Brisket Tamale… Where do you find inspiration for your non-traditional Tamale flavors?
"Inspiration comes to me when I drive down the freeway mostly. When I am unplugged and just driving, ideas come. I get ideas from all over the place. I wanted to do the Cheesesteak Tamale forever. I could see it and I could taste it in my head. The opportunity to make it showed itself and it was a hit. You can't force these pairings. It's totally organic and I can actually see the end result in my head. It's a gift. That's the only thing I can say about it. They are so natural and I don't even know how it happens. They just pop up and boom, I have to make it."
What are your most popular flavors and what Tamale are you most proud of?
"Our most popular tamales to date are the Traditional Pork Carnita and the Chicken Cream Cheese Jalapeno. Those are the ones people clamor for. The Traditional Pork Carnita is the original, very first tamale I made. The recipe has changed very little from the first time I made it over ten years ago. This is the one I am most proud of. We have people that come in who are skeptical of our tamales. I am, after all caucasian. Customers come in and they can smell the tamales cooking, and ask us all the time, Do you make these? We say yes we do, they taste them, and they are reminded of their grandma's tamales or their aunts tamales or even sometimes their mom's tamales. To me food is love, food is history, food is shared memories. Still to this day I can eat something or smell something from my childhood and immediately I am taken back to a memory or a place. I am proud to be able to do that for people. Give them a little bit of nostalgia. They may not be exactly as they remember but they are pretty close. We have had a couple of people actually tear up when they ate the pork tamale. Which in turn made me as well. This is why I cook, so much emotion is in food."
What separates you from the competition?
"I have no clue. Honestly, there are some good tamales out there. I love to eat tamales. Rita's Cantina has some good ones, I like to eat them there. I try and eat tamale at all sorts of places. Some are good, some are ok, and some well, I tried them. There are so many people out there trying to make it in the "Food Realm". Competition to me is healthy. It makes you strive to be better than you were yesterday. The only person I compete with is me. I just try to do my best and to do good things. Then the cards fall where they may. We have been very blessed."
Besides Tamales what does Caroline's Kitchen do?
"The better question is what does Caroline's Kitchen NOT do. We can cater events, large or small. I do party planning & event planning, and those are two very different things. My goal is to be able to expand or find another location with a larger production kitchen and a small dining room. I love to entertain and I think this is why I am so good at what I do. I absolutely love it. We also are taking special orders for holiday meals."
I heard you are starting a Tamale of The Month Club…what will that entail?
"The Tamale Of The Month Club is just that. It's a secret club. You have to be a member to be able to participate. We will have a sign up link starting in December. I will make a batch of "one off" tamales. This means that I will only make one batch and they are uber rare. I most likely will not make any more of that particular flavor again. It will be extreme fusion craft tamales. I can let you know there will be some wild game tamales, I recently found a usda distributor for game meat and I am excited about that. There will also be some indian flavors, such as masala and curries. Maybe a few sweet and spicy tamales, the sky's the limit. I think it gives our customers the opportunity to be adventurous and have something they most likely would never try. Also they are limited. I want to make so many different flavors at this point, I drive Chad crazy with ideas. This program lets me be creative and not have to worry about putting them on the menu. We currently rotate about 15 seasonal flavors. There are way more than that in my head."
Let's talk pop up dinners and special events, what have you done before and what are your plans for the future?
"I have popped up at Tapped Drafthouse with beer pairings for our tamales, I have done a crawfish boil with a lesson on how to do it at your home at the Tomball Farmers Market. I have also popped up with Native American Tacos at the East End Market in our early days. I have done mini tamale making classes at the markets as well. I love to educate people. We have a few things in mind for the future. We are going to partner with The Renewal Center in Tomball to do another Native American Taco pop up in January. We will begin to provide a Friday Lunch starting on Black Friday, also at The Renewal Center. We will be sponsoring the line soon at Tejas Chocolate and BBQ. We are also going to work with them to create a Mole Tamale using some of their amazing chocolate. We will also be hosting a shopping event with some of our Farmers Market Vendor family. This will take place in December. So many things on the horizon."
Why do you support other local businesses and work closely with some of them? What partnerships have you formed?
"I love helping. I have been driven to give from a young age. It's just there. I had a good friend tell me last year that when one rises, we all rise. That is so true. So very true. If it wasn't for people helping each other I don't think anyone could actually survive. Kindness is the best trait I think you can have. I have partnered with Cassandra Kara Abercrombie Schultz from The BombNoms many times, she was instrumental in my Royal Chef Showdown Competition. Lynn Marks from Lyndley's is another wonderful man I love to work with. He owns Lyndley's Food truck and is at 403 Eats. He uses our HellGate tamales and adds them to tacos, salads and hamburgers. I have also used his Chili and he cooked some hamburgers and helped a ton more during the hurricane. We love Scott, Michelle and Greg from Tejas. They are actually our sounding boards sometimes. They have traveled our road and know a bit more than us. They give us amazing advice and love the Tejas Brisket tamales. I really hope we make them proud with our use of their brisket. We try to build relationships with many smaller restaurants and businesses, it's just good. We all try to help each other grow. It's just the right thing to do."
What made you close your shop to help feed people after Hurricane Harvey hit our area?
"My mother and my both of my sisters lost their homes during Allison. Yes, that's three homes. We had to go down 45 on the wrong side just to pick them up. They had to float out my nephew in a rubbermaid tub through water up to their necks. We had 15 people and 3 dogs in my house that didn't flood. We had no power, everyone got on each others nerves. No one could get to work or even go to the gas station. We had to get MRE rations. It was horrible. Just horrible. I can remember the shining light was a hot meal. Something someone had delivered to the neighborhood and knew we had all those people in my house. Can you imagine the humidity, the stench and the sheer crowdedness of that house and the one nice thing that sticks out is a meal. I can't even tell you what it was or where it came from but I can tell you how it made me feel. It was delicious and for a second took my mind off of the devastation all around the city. My home did not flood during Harvey. I never lost power. My internet worked and I was able to see what was happening on TV. My husband Chad waded out into the water in the back of our subdivision looking for someone trapped on the second story blowing a whistle to try and get help. I watched parents and children being rescued in boats. I was slammed back to Allison. Someone fed me then… I knew I had to do something if my shop was still standing and not flooded. I had to do something. I cook. It's what I do. So that's what I did. I had people who volunteered to come out and help, they did. I had people wanting to help but couldn't do much but donate money and they did. We all just did what we felt we had to do. Its that simple."
How did it make you feel getting a "Certificate of Special Congressional Recognition"?
"I was shocked. I was speechless. I don't even know how that happened but I have to share it with all of the other people in the city of Houston and surrounding areas that went above and beyond because they were compelled to do so. I would do it all over again in a heartbeat and I am sure they would too. I am very grateful and honored."
What does the future hold for Caroline's Kitchen and Tamale Magic? Expansion? Another location? Franchise?
"I would love to expand. Hopefully that perfect spot comes along just like our little spot we have on Main Street. The community has supported us in such a huge way and we are still growing. I would love to franchise. We would like to see our next shop in Austin or College Station. I can't wait to see where we are this time next year. Such an amazing ride!"
Five words to describe Caroline's Kitchen #tamalemagic?
"Unique, Friendly, Grateful, Delicious, Magical"
"Thanks so much for this opportunity. Answering the questions made me feel so blessed."
Learn more about Caroline's Kitchen, the Cobell's, their menu and delicious tamales at carolineskitchen.us.