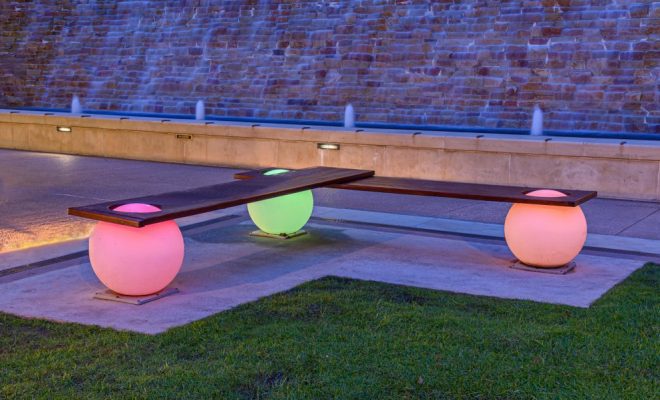 Photo provided by The Woodlands Arts Council
Art & Culture
Call for Artists: New Public Art Bench Installation in The Woodlands
By |
The Woodlands Arts Council (TWAC) invites local, national and international artists to apply for the next installation of the Woodlands Art Bench outdoor permanent collection located in The Woodlands.
Phase IV-B of this public art project will feature four (4) new art benches to be installed along The Woodlands Waterway adjacent to The Cynthia Woods Mitchell Pavilion. Through a partnership with The Woodlands Township and the funding of underwriters, twenty Art Benches have been commissioned and installed along The Woodlands Waterway and in the Hughes Landing commercial area adjacent to Lake Woodlands. Designed by local, national, and international artists, these one-of-a-kind art benches add beauty to the community while serving a practical function.
TWAC challenges the artists to conceptualize work that can highlight their own vision in conjunction with both the underwriter and these unique chosen sites.
The Call to Artists is for four (4) individual art benches in four separate locations.
Site Location #1 – Lower Basin. Grassy area just off dock between two waterfalls closest to Riva Row on The Woodlands Waterway.
Site Location #2 – Lower Town Green Park. Sidewalk leading to south side of The Woodlands Waterway (replaces existing bench).
Site Location #3 – South side of The Woodlands Waterway at Riva Row Trolley/Boat Stop, across from Cynthia Woods Mitchell Pavilion (replaces existing bench).
Site Location #4 – South side of the South Montgomery County Library overlooking the Waterway replacing an existing stone and wood bench.
Three (3) semi-finalists will be chosen for each bench location in a preliminary selection process. One (1) finalist for each location will be chosen to construct an art bench; each of the four finalists will receive $8,000 for bench selected and installed ($4,000 upon execution of Artist Agreement and the final $4,000 when Bench is delivered and accepted).
All artists, including, but not limited to, sculptors, architects, and other bench builders are eligible to submit up to three applications per location site. There are no geographic limitations and artists from any state or country are encouraged to respond to this Call to Artists. The deadline for artists to apply is March 31, 2020.
Learn more about the art bench installation and how to apply at https://www.thewoodlandsartscouncil.org/p/programs/art-bench-call-to-artists
The Woodlands Arts Council, Inc. (TWAC) is a 501(c)(3) not-for-profit corporation whose mission is to provide regional, cultural, and educational enrichment opportunities that encourage, support, and promote the performing and visual arts. Learn more at https://www.thewoodlandsartscouncil.org/
Source: The Woodlands Arts Council
Updated: January 15, 2020 8:16pm CST