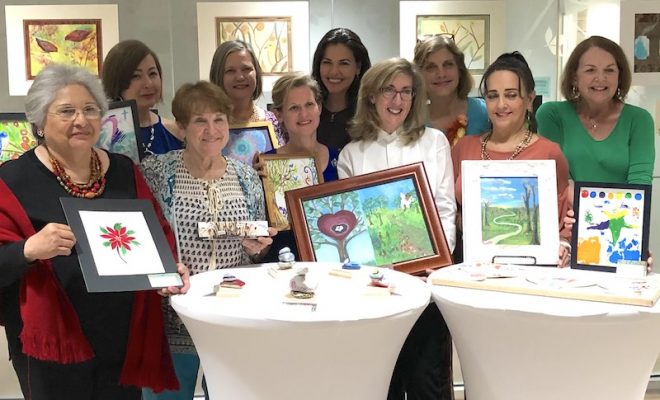 Art & Culture
Cancer Survivors share Stories Through Art at Canopy
By |
On October 24, 2019, Canopy Cancer Survivorship Center hosted "Canopy Expressions: Stories Through Art" featuring an art gallery showcasing artwork from several brave cancer patients and survivors.
The Art Therapy program at Canopy is designed to help those affected by cancer cope with the cognitive, emotional, behavioral and social changes they may experience. Under the direction of Olimpia Petzold-Rodriguez, an Art Therapy Specialist and Teacher of Canopy's Art Therapy Program, the women and men gather twice a month to paint or create pieces of art together. The art show is held annually at Canopy to highlight the beautiful artwork produced by the program.
The event also honored Lori Winston, a guest of Canopy, participant of the Art Therapy program, and "for those of you who knew her, was such a bright light and a fighter," shared Amanda Poole, Canopy's Manager.
Beverages and light bites were served while family, friends, and supporters enjoyed beautiful expressions of art. Twelve pieces of art were for sale from the showcase. All proceeds will be reinvested into the programs at Canopy.
View photos and videos from the event at Canopy Cancer Survivorship Center on our Facebook page and Instagram profile:
Canopy Cancer Survivorship Center is the first-of-its-kind cancer survivorship center in Montgomery County, offering a wide variety of programs and services to address the emotional, physical and social needs of those touched by cancer.
Watch our video to meet Olimpia Petzold-Rodriguez and learn more about Canopy's Art Therapy Program.
Canopy features a caring community of hope, healing and empowerment to enhance the quality of life for individuals affected by cancer as well as those who support cancer survivors during their journeys. Here, survivors and their supporters will find an inviting, comfortable place where staff and volunteers help survivors address issues and concerns, relax and find ways to look and feel their very best – all in one comprehensive and supportive environment.
Canopy Cancer Survivorship Center is located at Memorial Hermann The Woodlands Medical Center at 1120 Medical Plaza Drive, Medical Plaza 1, Suite 250 in The Woodlands, TX.
Learn more about Canopy Cancer Survivorship Center and the Art Healing Program by calling (713)897-5939 or visit https://bit.ly/HelloCanopy