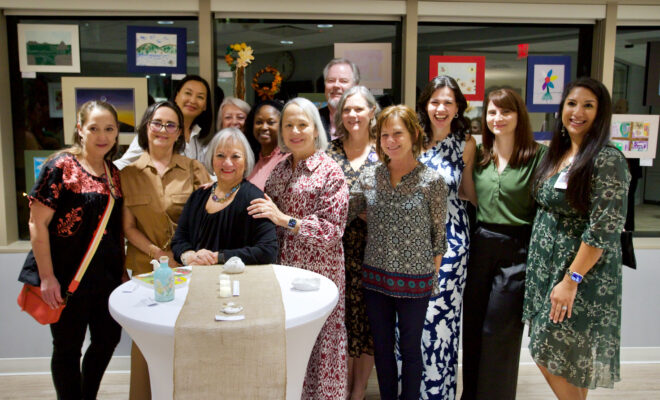 Photo Credit: Jennifer Bruse
Art & Culture
Canopy Expressions V Exhibit shares Cancer Survivors and Families' Stories Through Art
By |
Canopy Cancer Survivorship Center partnered with Wonders & Worries to host the "Canopy Expressions V: Stories Through Art" Exhibit on the evening of Tuesday, November 7, 2023. The art gallery exhibit featured works of art from courageous cancer survivors and their loved ones.
Canopy, a cancer survivorship located on the campus of Memorial Hermann The Woodlands Medical Center, presented an inspiring showcase of low, strength, and resilience. The exhibition included artwork from the Healing Art Program led by Olimpia Petzold, the Creative Reflections class led by Rowena Hayes, Wonders & Worries sessions let by Danielle Coleman and Whitney Dubuisson, and the Virtual Art Gallery organized by Veronica Diaz. Attendees could also stop and place a piece (or three!) onto the ribbon-shaped mosaic located on the Mosaics of Mercy table.
View photos from the event on the Hello Woodlands Facebook page:
Attendees were greeted by the following statement about the exhibition: "Cancer survivors and their children have engaged in a variety of artistic exercises designed to cope with the challenges of cancer, all while sharing their experiences with others on a similar journey. At the heart of this event lies the profound power of self-expression. Regardless of prior artistic experience, our participants have poured their thoughts, emotions, concerns, and hopes into their work. The result is a collection of artworks that tell stories of life during and after the battle with cancer. Each piece is a priceless narrative, articulating the profound life lessons drawn from the experiences of our survivors and their families."
Marcella Herrera, Program Manager of Canopy, shared that Canopy is open to men and women, no matter where they are treated, and for any kind of cancer. If someone's life has been impacted – whether they are the patient or the caregiver – they have a safe haven at Canopy. At Canopy, there are a wide variety of programs and services addressing the emotional, physical and social needs of those touched by cancer – at no cost.
Canopy volunteers and teachers Olimpia Petzold, Healing Art Program teacher, and Rowena Hayes, Creative Reflections class teacher, shared about the artwork of class participants, several who were in attendance with their loved ones and friends.
The Wonders & Worries team, including Meredith Cooper, Co-Founder of Wonders & Worries and Child Life Specialist, Danielle Coleman, Child Life Specialist, and Whitney Dubuisson, Child Life Specialist, and children and their families were in attendance.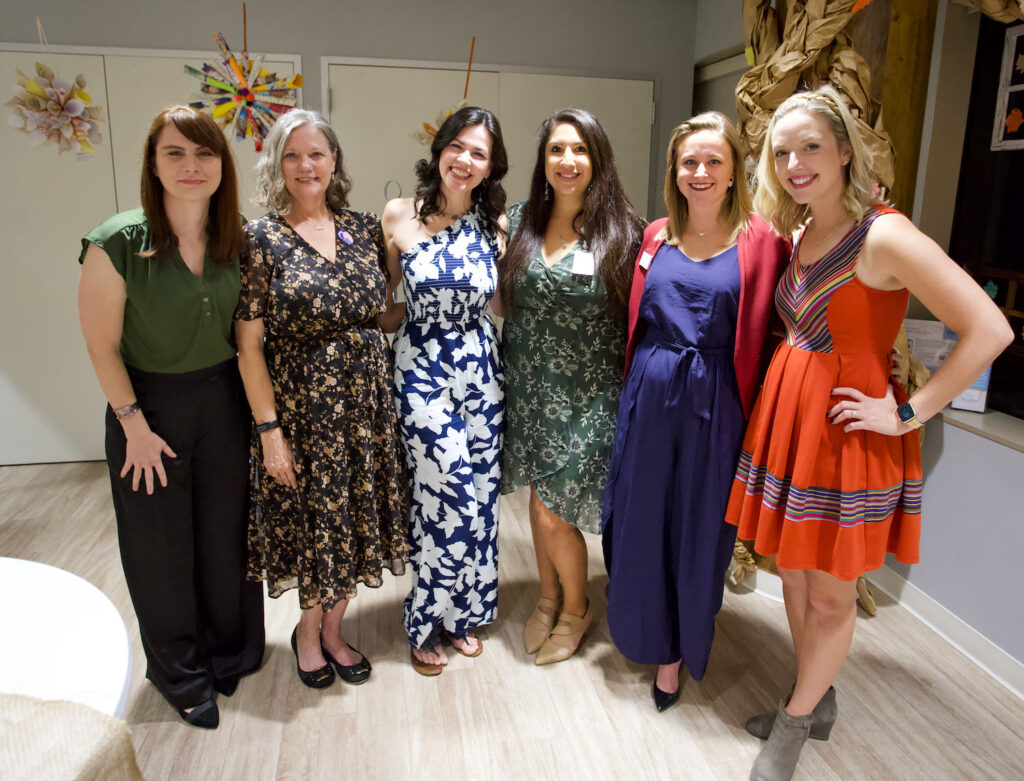 Wonders & Worries is a Texas-based nonprofit that provides free, professional support to children and teens (ages 2 to 18) throughout a parent or direct caregiver's life-changing illness or injury (cancer, heart condition, TBI, paralysis, lupus, etc.). In their partnership with Canopy, Wonders & Worries has an office and beautiful playroom located within Canopy in The Woodlands where Certified Child Life Specialists (CCLS), pediatric clinicians trained in the developmental impact of illness and injury, lead children and teens through our evidence, based and copyrighted Six-Session Illness Education and Coping Curriculum. Services are always free, regardless of income or insurance and sessions are offered in English or Spanish. In addition to a location locally in The Woodlands, Wonders & Worries also has an office in the Galleria area – both offices welcoming the children of patients who are being treated across Great Houston. Wonders & Worries has locations in Austin, Georgetown, The Woodlands, Houston – The Galleria, and San Antonio.
No matter if you are a cancer patient or a caregivers, a beginner or an experienced artist – you are invited to participate in Canopy's art sessions. You can choose from a wide range of materials and techniques, including drawing, painting, collages, clay, and more. This is an opportunity for your ideas and emotions to flow freely and to craft truly unique works of art about your cancer journey. For more information about the program and Canopy, call (713) 897-5939 or visit their website here.