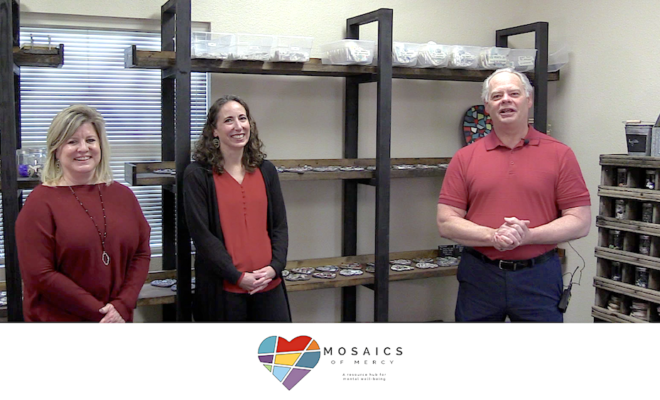 People
Nonprofit of the Month: Mosaics of Mercy
By |
Randy Lovelace of Paragon Independent Insurance Agencies introduces the Hello Woodlands Nonprofit of the Month, Mosaics of Mercy, and interviews Sherry Burkhard, Executive Director, and Paige Butler, Director of Operations.
Watch our video interview below!
About Mosaics of Mercy
Mosaics of Mercy started meeting in the garage of one of their founders in Spring 2016. They would gather together, make mosaics, and share their own unique journeys around mental health and addiction recovery. From the discussions, they knew not having the connections led to people feeling lost and alone. They desired to be the change. Mosaics of Mercy now not only has their own four walls, but the heart and spirit of Mosaics of Mercy is something that through the power of God and all of you extends beyond a physical structure.
Mosaics of Mercy's mission is to help families navigate mental health and addiction recovery. They serve our community as a hub for mental health resources, education, and hope. They have committed to sharing stories of hope and healing to benefit others. They believe connection is a remedy to the common experience of feeling isolated, overwhelmed, and alone. Internally and externally, we all experience things that impact our mental well-being. Physical illness, loss, traumatic events, mental health struggles, and substance abuse are a few examples. Mosaics of Mercy can help.
Mosaics of Mercy is a hub for:
Resources: Helping families and professionals navigate and connect to verified resources for mental health and addiction recovery
Education: Creating connections to knowledge about mental health through their Hope Pieced Together podcast, speaking events, social media, and conversation
Hope: Offering stories of hope, prayer, personal connections and their signature mosaic workshops for families and the community, tangibly showing the beauty that can be found in brokenness
By fostering an environment where brokenness can be shared and connections made, we create a sustainable shift to mobilization, empowerment, hope, and healing.
Mosaics of Mercy's vision is a united community mobilized to make a difference in their own lives and the lives of others through a renewed mindset toward mental well-being. Together we can impact lives… one heart at a time.
Learn more about Mosaics of Mercy, view resources, and how you can get involved or make a donation at mosaicsofmercy.com.
About Randy Lovelace
To learn more about Randy Lovelace, his "Referral for a Cause" program to help local nonprofit organizations, and of Paragon Independent Insurance Agencies, please call (281) 298-0440, email rlovelace@paragoninsagencies.com or visit www.paragoninsagencies.com/woodlands.
Advertisement