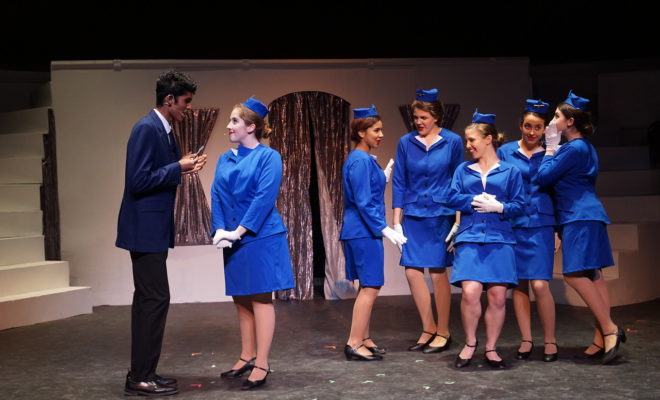 Photography by Ted Bell
Calendar
Catch Me If You Can Musical at The Woodlands College Park
By |
THE WOODLANDS, TX – The Woodlands College Park Performing Arts Department presents the "Catch Me If You Can, The Musical" directed by Valerie Roberts Labonski with performances at The Woodlands College Park Auditorium on Thursday, January 25 through Saturday, January 27, 2018.
Based on the hit film and the incredible true story, Catch Me If You Can is the high-flying musical comedy about chasing your dreams and not getting caught. Seeking fame and fortune, precocious teenager, Frank Abagnale, Jr., runs away from home to begin an unforgettable adventure. With nothing more than his boyish charm, a big imagination and millions of dollars in forged checks, Frank successfully poses as a pilot, a doctor and a lawyer – living the high life and winning the girl of his dreams. When Frank's lies catch the attention of FBI agent, Carl Hanratty, though, Carl pursues Frank across the country to make him pay for his crimes.
Starring Adithya Chunangad as Frank, Jr., Brooks Seals as Hanratty, Joshua Gordon as Frank, Sr., Arden Parker as Paula, McKenna Preston as Brenda, Grace Munger as Carol, Anthony Mireles as Roger, Hayden Odom as Cheryl Ann, Elijah Holland as Branton, Zach Bricken as Cod, Alex Oleksy as Dollar and Ian Kryer as Jack Barnes.
The cast also features: Santino Aceves, Marcelo Guzman, Aybrey Hyder, Mason Odom, Nico Hamburger, Tyler Fortenberry, Deavon Jenkins, Kacey Pharris, Deborah Amaro, Sophia Merdian, Mason Simpson, Michael Jean-Richard, Erik Castrellon, Cassidy Edens, Niya Gaddam, Dana Cadey, Sara Wintner, Riley Glaesmann, Amanda Barter, Carmen Corgliano, Maya Gordon, Sara Wojta, Erin Becker, Christina Bechtel, Miranda Marquez, Matthew Hernandez, Cameron Purcell, Yoni Garcia, Sarah Wolsky, Ginger Hardwick, Madisen Roberts, Aerin Crew, Abby Acompanado, Veronica Attar, Imani Kamdu, Nicole Campos, Taylor Jeffers, Kristienne Tenido, Johanna Unger, Andi Roberts, Caitlyn Roberts, Emily Freeman, Nicole Varughese, Cassie Atobajeun, Jillian Parks and Guin Bubier. Book by Terrence McNally. Music by Marc Shaiman. Lyrics by Scott Whitman & Marc Shaiman.
Performances at The Woodlands College Park Auditorium located at 3701 College Park Dr. Conroe TX 77384
Thursday, January 25, 7:00 p.m.
Friday, January 26, 7:00 p.m..
Saturday, January 27, 2:00 p.m. and 7:00 p.m.
General Admission tickets are $12.00 online or $15.00 (cash or check only) at the door. To purchase tickets, visit collegeparkmusical.eventbrite.com. Learn more about The Woodlands College Park Performing Arts Department at twcptheatre.com.
Source: Kara Moline, The Woodlands College Park High School