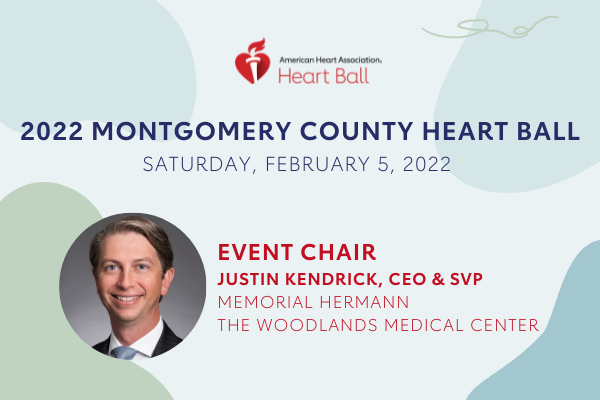 Photo Credit: American Heart Association
News
Memorial Hermann The Woodlands SVP and CEO to chair 2022 Heart of Montgomery County Campaign & Heart Ball
By |
The American Heart Association, the world's leading nonprofit organization focused on heart and brain health for all, has named Justin Kendrick, SVP and CEO Memorial Hermann The Woodlands as chair of the Heart of Montgomery County campaign.
In this role, Kendrick leads the Association's efforts driving equitable health for every member of our North Houston communities, with a special focus on nutrition security, maternal health, hypertension and congenital heart defects. The Heart of Montgomery County campaign unites supporters year-round with a shared purpose to raise critical awareness, action and funds to bring the mission and work of the American Heart Association to life.
"In my many years as an American Heart Association volunteer, I've witnessed a great deal of progress in the fight against heart disease and stroke – from research advancements that save lives every day, to improvements in the quality of care for cardiovascular disease patients which meant more years to enjoy life's precious moments, to public health policy changes that protect and inspire health," said Kendrick. "And yet, countless individuals in our community, especially those with fewer opportunities and resources, face a higher burden of disease due to conditions in which they live, learn, work and play. Our goal is to help address the social barriers that make it hard for many in our community to make healthy choices, like food insecurity, the lack of built environments and resources for physical activity and recreation, and chronic conditions like high blood pressure and diabetes."
Kendrick will lead the campaign, culminating in the 2022 Montgomery County Heart Ball, to be held on Saturday, February 5, 2022, at The Woodlands Resort. The annual Heart Ball, happening this year in-person, is the celebration of our collective success in driving change, funding science, championing healthy behaviors in the community and honoring survivors of heart disease and stroke.
"We are thrilled to have Justin's experience, conviction and passion to help raise critical funds to advance the science and the policies that will lead to longer, healthier lives for all, and make a crucial impact here in Montgomery County," said Stu Brightman, retired CEO of TETRA Technologies and now the Chairman of the Board for the American Heart Association – Gulf Coast.
The dollars raised by the Heart of Montgomery County campaign fund the mission of the American Heart Association to be a relentless force for a world of longer, healthier lives while supporting priority issues in our North Houston communities. Kendrick is working with a committee of volunteer business leaders to raise funds to support lifesaving programs, education, and clinical and nutritional support that is changing our friends' and neighbors lives for the better every day. The campaign propels work in support of the Association's 2024 Health Equity Impact Goal, reducing barriers to health care access and quality.
This year's Montgomery County Heart Ball is sponsored by Memorial Hermann The Woodlands Medical Center, Woodforest National Bank, Black Pearl Technology, US Anesthesia Partners, HCA Houston Healthcare Conroe, Methodist The Woodlands Hospital, St. Lukes Health and Waste Connections.
To learn more about the Montgomery County Heart Ball, visit MontgomeryCountyHeartBall.org or contact Mercedes.Milstead@heart.org for more information.
About the American Heart Association
The American Heart Association is devoted to saving people from heart disease and stroke – the two leading causes of death in the world. We team with millions of volunteers to fund innovative research, fight for stronger public health policies and provide lifesaving tools and information to prevent and treat these diseases. The Dallas-based association is the nation's oldest and largest voluntary organization dedicated to fighting heart disease and stroke. To learn more or to get involved, call 1-800-AHA-USA1, visit heart.org or call any of our offices around the country. Follow us on Facebook and Twitter.
Source: American Heart Association