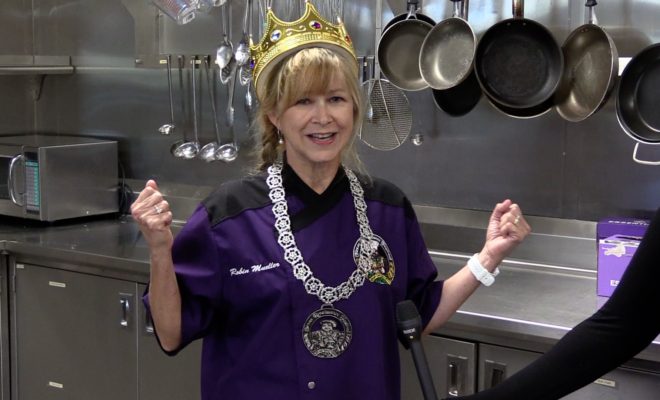 Events
Chef Mueller wins Royal Chef Showdown and $10K King's Beard Award
By |
HOUSTON, TX – After a summer long culinary duel, the Texas Renaissance Festival has awarded Robin Mueller, a chef from Round Rock, Texas, as the first-ever King's Beard Award winner, which includes a cash prize of $10,000 as well as her creation, King's Bierocks, added to the Festival's world-renowned food offerings.
In March 2017, the Festival announced the first-ever Royal Chef Showdown contest and received hundreds of applications from chefs from across the land. After a careful selection process, the Festival selected nine trained chefs who displayed a passion for the Festival to compete in the culinary battle. The chefs were challenged to curate a unique festival cuisine that would be featured in the 2018 annual season menu.
Robin Mueller has worked for 28 years as a professional cake decorator and sugar art specialists. Aside from being trained in the Wilton Method of the sugar arts and consumer education, Mueller also spends her time as a special needs personal chef, preparing gluten-free, organic, vegetarian entrees for clients with sensitives on the Autism spectrum. Mueller has been attending the Texas Renaissance Festival for nearly 20 years and says Greek Kabobs are her favorite Festival food.
Mueller prepared a savory, filled yeast roll with its roots going back to Germany and Eastern Europe. She created a modern, spicy version and filled the roll with ground beef, onion and cabbage. It pairs perfectly with a schmear of spicy mustard and a favorite seasonal bier.
"I am honored and blessed to be awarded the 2017 King's Beard Award! Competing against eight awesomely talented chefs was challenging, but in the end, I felt great about my signature dish and clearly his Majesty did too," states Robin Mueller. "I am proud to know it will be featured and served at the Texas Renaissance Festival next year. Huzzah y'all!"
The final tasting was judged by the "Knights of the Dinner Table," which included: Chef Darren McGrady, former personal chef to Queen Elizabeth II, Diana, Princess of Wales and Princes' William and Harry, Jacque Fox owner and chef of Artisans Restaurant, Gwendolyn Knapp from Houston Press, Ken Hoffman from Culture Map and Phaedra Cook from Houston Food Finder.
Watch what happened LIVE at Hello Woodlands captured moments behind-the-scenes during the judging:

As the nation's largest and most acclaimed Renaissance theme park, Texas Renaissance Festival will take place every Saturday and Sunday and the Friday after Thanksgiving, starting September 30 through November 26 in Todd Mission, Texas. This year, Texas Renaissance Festival will expand to nine themed weekends instead of eight, adding a "Heroes and Villains" weekend dedicated to assembling the mightiest of heroes and heroines and the darkest of villains and vixens from November 11 through November 12.
For more information about The Festival and the Royal Chef Showdown visit, https://www.texrenfest.com/royal_chef_showdown/                                                                            
The Texas Renaissance Festival is the nation's largest and most acclaimed Renaissance themed event. Established in 1974, the event attracts over half a million visitors each year to its 60-acre New Market Village and Fields of New Market Campgrounds in Todd Mission, Texas. This immersive experience features world-renowned live entertainment, works by master artists and craftspeople, award-winning food and drink, hand-powered rides and games, and over 100 interactive characters during its eight themed weekends from September 30 through November 26, 2017. For more information, please visit www.texrenfest.com.