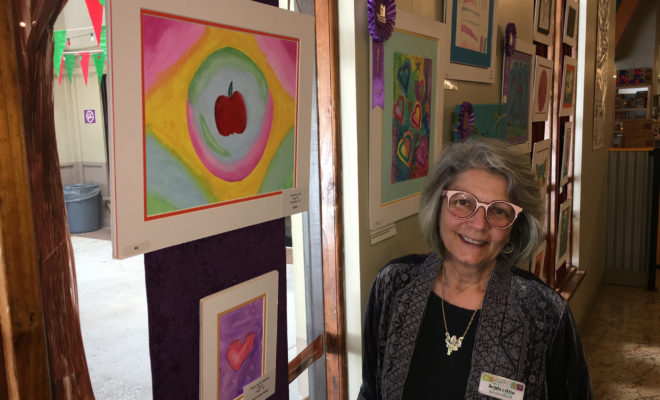 Art & Culture
Children''s Museum displays art by children affected by cancer
By |
THE WOODLANDS, TX – For children whose lives have been touched by cancer, creative expression can be a lifeline, a means of empowerment and a way to help others better understand their journey.
The Woodlands Children''s Museum is giving children coping with cancer a public forum for their art and writing by hosting a new installation of the ""Making A Mark"" exhibit. The collection features pieces created by patients at Texas Children's Cancer and Hematology Centers and their siblings.
""Making A Mark"" opened on November 24 and will remain on exhibit through the first week of January 2018, at 4775 S. Panther Creek Drive, Suite 280.
Presenting this exhibit is the Periwinkle Foundation, a Houston-based nonprofit organization that provides programs to benefit children diagnosed with cancer and other life-threatening illnesses.
""This is our third opportunity to showcase this important exhibit, and we consider it a tremendous honor,"" Angela Colton, the museum''s executive director said. ""Not only does creative expression like this augment the children''s healing, it also results in pieces that help other children learn empathy as they explore the art and writing with their families.""
Exhibit viewers are encouraged to write a postcard or two to the artists to praise their work and encourage them. Periwinkle Foundation will make sure they a're delivered.
""The exhibit is an excellent opportunity, throughout the holiday season, to help children shift their focus a bit from receiving gifts to the needs and challenges of others,"" Colton said.
The "Making a Mark" exhibit is included in the museum's regular $6 admission price for children age 1 and older. The Woodlands Children's Museum is recommended for ages 7 and younger. Children must be accompanied by an adult at all times.
For more information, visit woodlandschildrensmuseum.org or call 281-465-0955.
The Woodlands Children's Museum is a 501(c)3 nonprofit organization dedicated to educating, empowering and exciting children and their families in lifelong learning and discovery. The Museum also provides multi-ethnic and multicultural experiences encouraging children to celebrate and embrace cultural and global differences and strengthen common bonds. Year-round, hands-on activities – from reading and art to science and magic – are all intended to make a positive difference in the life of a child.
Source: The Woodlands Children's Museum