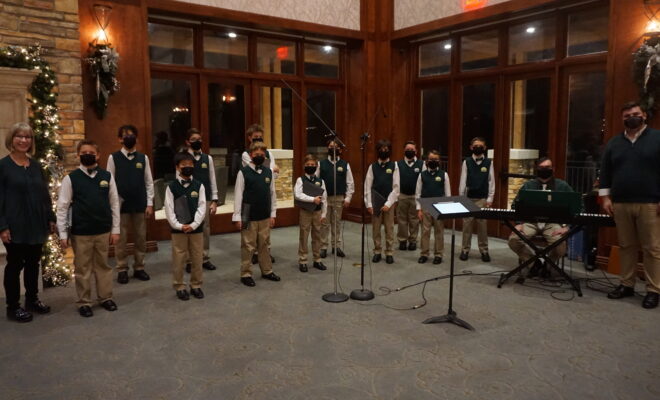 Art & Culture
Choirs Celebrate Christmas Season with 6th Annual Christmas in The Woods Lessons & Carols
By |
THE WOODLANDS, TX – HopePointe Anglican Church is ushering in the Christmas season with its sixth annual Festival of Lessons and Carols in the English tradition, featuring the Luminari Boys Choir and the HopePointe Cathedral Choir – with chamber orchestra – under the direction of Austin Hunt.
The Christmas in the Woods Lessons and Carols will place you in the English college chapels and cathedrals for the traditional lessons and carols, but with a unique and gorgeous twist each year. The concert will take place on Sunday, December 12 at 5:30 p.m. at HopePointe Anglican Church, 3333 S Panther Creek Dr. in The Woodlands.
This year, actors will bring the biblical stories to life with brief monologues and dance, along with classical art representations of the traditional Christmas lessons leading to the birth of Christ. Audiences of all ages (and many children) participate in carols and hear the choirs with instrumentalists singing gorgeous carol settings as well. In addition, the boys' choir will treat the audience to a jazz Christmas song medley during the child-friendly cookie reception.
The Luminari Boys Choir (formerly Woodlands Boys Choir), under the direction of Austin Hunt, is in its seventh season. The Tour Choir has toured and participated in choral festivals in Texas, Louisiana, Baltimore and Washington D.C. They won "Superior" and "Best in Class" awards at the 2018 Schlitterbahn Music Festival in New Braunfels.
Austin Hunt, Director of the Luminari Boys Choir and the HopePointe Cathedral Choir, is known for developing award-winning programs for young voices. His choirs sing with beauty, power, and expressive range. Mr. Hunt is also Choir Director at Grantham Middle School in Aldine ISD, which follows three years with Tom Cox Intermediate in Conroe ISD, where the choir was named "Grand Champion" of the Conroe Choral Festival and "Best in Festival" at the American Classic Choral Competition.
Mr. Hunt is also a published composer, having recently published "High Flight" with Carl Fischer Publishing.
The Luminari Boys Choir currently encompasses two choirs for boys ages 5 – 13. Talented boys aged 7 – 13 audition for coveted spots in the Tour Choir, a select group of 20 – 30 boys who participate in camps, retreats, trips and tours. TrebleMakers (unauditioned) is a preparatory choir for boys ages 5 – 8 to discover a love of singing, fun with music and develop musicianship skills.
The Luminari Boys Choir will be hosting Winter Boys Choir Workshop Invitational on Monday, January 17, 2022 (school holiday), 9 a.m. – 2 p.m., for all boys ages 8 – 13.
For more information or to schedule a brief audition (no preparation required), visit the website at www.HopePointe.org, or www.luminariboyschoir.org.