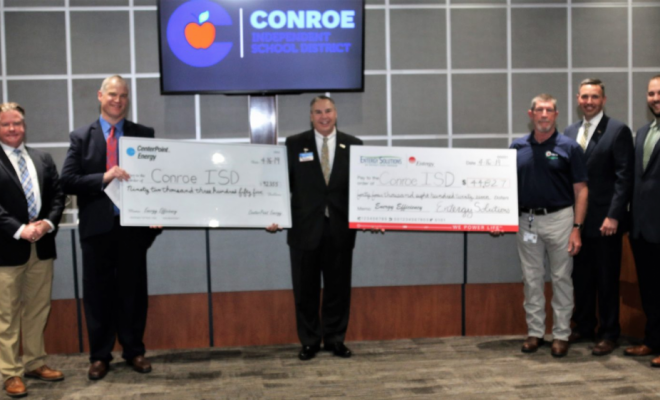 News
CISD Recognized for Excellence in Energy Management
By |
CONROE, TX – Conroe ISD was recognized for excellence in energy management for 2017 and 2018 at a recent Board Meeting.
From March 2015 to September 2018, Conroe ISD participated in the Resource Management Services (RMS) Program which helped equip Conroe ISD to make systematic adjustments and behavioral changes to help reduce energy spending. In September of 2018, Conroe ISD graduated from the program to alumni status. Over the 3-year period in the RMS program, Conroe ISD was able to save 11,674,155 kWh and 2865 kW, which is approximately $1,050,674 in utility savings.
In 2018, Conroe ISD also participated in the Commercial Solutions program. Through the installation of new LED lighting and a more efficient chiller unit at the Natatorium along with a more efficient chiller at Moorhead Jr. High, Conroe ISD was able to earn $37,327 in incentives and save 133 kW and 827,111 kWh, which is about $74,440 in utility savings.
At the Board Meeting, Mark Delavan, Program Manager for Entergy Solutions presented the District with a check for $44,827 for 2017 and 2018.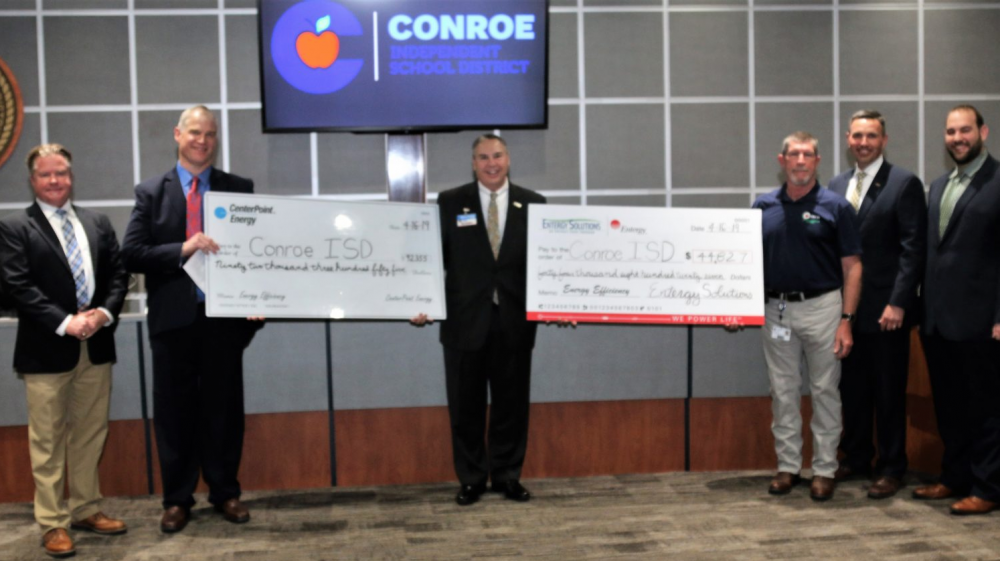 Marc Fowler with CenterPoint Energy SCORE Program also presented the District with a check for $92,355 earned through program incentives with the installation of high efficiency air conditioning and lighting equipment at Grand Oaks High School and Clark Intermediate. These projects combined will save over 211 kilowatts of peak electricity demand and over 395,000 kilowatt hours of electricity consumption annually.
Mr. Jim Kacur, Assistant Superintendent of Operations, presented the guests to the Board. Trustee Ray Sanders accepted the check on behalf of the Board of Trustees. Conroe ISD Director of Maintenance and Custodial Marshall Schroeder, Assistant Director of Maintenance and Custodial Dwight Martin, and CISD Energy Manager Roger Garvey were also on hand for the presentation.