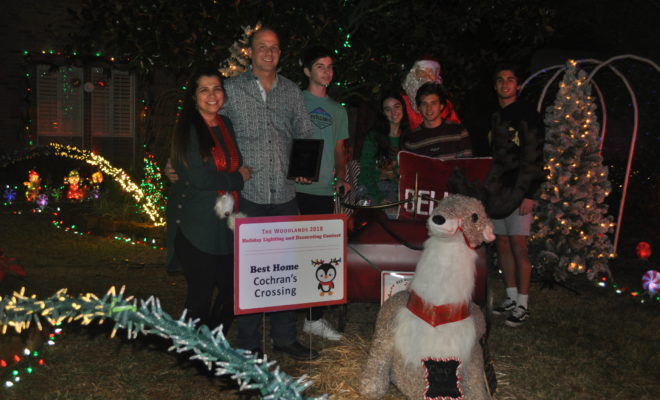 Lifestyle
Cochran's Crossing Announces Holiday Lighting Competition Winner
By |
THE WOODLANDS, TX – The Annual Holiday Lighting Competition has been a long-standing tradition in The Woodlands. The respective village associations, with support from The Woodlands Township, are responsible for judging lights within their villages. Each village association establishes its own judging criteria.
The entire village of Cochran's Crossing is divided among Cochran's Crossing Village Association (CCVA) board members and each is responsible for driving and viewing a specific geographic area. During this process, photos and videos are provided to the entire board. A list of finalists is determined and the entire CCVA board visits each of the finalist's homes on the same evening. The board makes its final decision after those visits are completed. The Woodlands Fire Department provides an escort when the CCVA returns to present the awards.
View more photos on Hello Woodlands Instagram profile:
This year, the CCVA awarded the Lyon family on N. Drift Oak Circle the winner for the best home and best neighborhood of 2018. The past winner was Edgemire Pl., having been awarded the Best Neighborhood in Cochran's Crossing for 16 consecutive years.
Source: Stuart L. Schroeder, Cochran's Crossing Village Association President