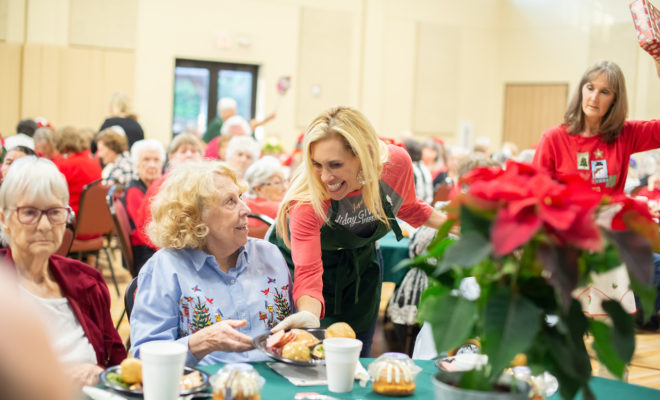 Lifestyle
Interfaith Serves over 1,300 Seniors Through Gifts for Seniors Program
By |
THE WOODLANDS, TX – Interfaith of The Woodlands (Interfaith) served over 1,300 Seniors with gifts, lunch, groceries, dinner, and holiday cheer this week through their Gifts for Seniors Holiday GIVING program.
Gifts for Seniors provides gifts to senior neighbors who are in need or alone for the holidays. Various volunteer groups hand-deliver these gifts. The culmination and highpoint of the GIVING program for seniors is the annual Holiday GIVING Dinner with Carols by Candlelight, where over 400 senior adults come together to share a meal and participate in caroling and other festive activities. This year's Holiday GIVING Senior Dinner took place December 13, 2018.
Interfaith provides a forum for everyone to help their neighbors, as even the smallest gift or donation makes a difference during the holidays for families in crisis. Businesses, organizations and individuals all came together to donate time, food, and gifts. Interfaith matched individuals and groups with a senior to provide each gift idea. For $55, a local Senior Adult was provided holiday cheer by the generosity of the community.
Interfaith is a nonprofit social service agency providing programs and services to meet the needs of The Woodlands and the surrounding area. Interfaith provides basic needs assistance and special programs to families experiencing a financial crisis, and supportive service through care and wellness programs to senior adults 62 and over, in addition to many community programs dedicated to improving the lives of individuals in need. For more information on Interfaith's programs and services or to become a volunteer, please visit woodlandsinterfaith.org or call 281-367-1230.
Sources: Jen McDonald, Communications & Marketing Manager at Interfaith of the Woodlands, Interfaith's Website, Interfaith's Facebook Page.