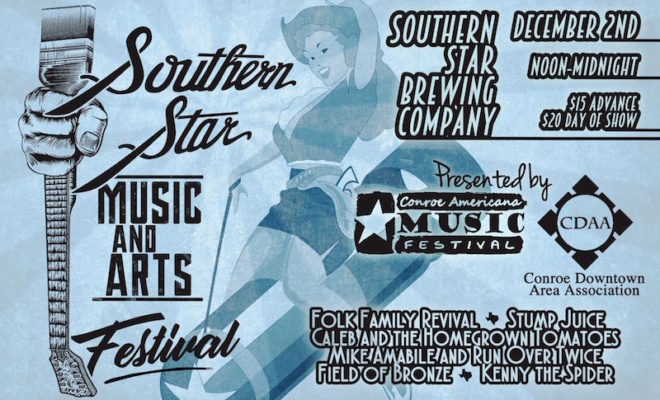 entertainment
Conroe Americana Music Festival presents Music Festival with Southern Star Brewery
By |
Conroe, TX – The Conroe Americana Music Festival is partnering up with Southern Star Brewery to have a music and arts festival featuring local artists, musicians, food trucks, fire pits, and of course Southern Star beer on Saturday, December 2 at the Southern Star Brewery in Conroe.
The Conroe Downtown Area Association is continuing the explosive music festival with a small all-day concert at Southern Star Brewery to continue to engage both local residents and out of towners with a reason to visit Conroe. Participating bands are award winning Caleb and the Homegrown Tomatoes, Folk Family Revival, The Great Trumpet, Stump Juice, Mike Amabile and Run Over Twice, Field of Bronze, and Kenny the Spider.
A wide variety of rock, folk, country blues, Americana, funk, and Texas Country will be heard from the bands that frequently entertain in many of our local venues with energetic participation from listeners.
"As a sponsor of the Conroe Americana Music Festival, Southern Star Brewery will continue to partner with the CDAA and the Conroe Americana Music Festival to offer a prime music event in our community", said Dave Fougeron, owner/founder of Southern Star Brewery. "Of course, we like providing the exclusive beer for the festival!"
The Conroe Downtown Area Association is a 501(c ) 4 non-profit organization comprised of Downtown merchants, businesses, and other interested individuals to foster, promote, maintain and encourage the civic, social, commercial, tourist, and economic welfare of the Downtown Conroe Historic community.
"This is going to be a relaxing fun event with local talent that loves our community and wants to see the Music Festival continue to grow to attract tourists", said Rodney Pool, President of the Conroe Downtown Area Association. "Southern Star has both an indoor and outdoor space with fire pits that will be perfect for a December event."
Gates will open at noon with bands playing through 11:30pm. Tickets are available for $15 in advance/$20 at the gate from the Southern Star Brewery Taproom or by going through Eventbrite on the website of www.conroeamericanamusicfestival.com Free entry for kids 12 and under.
Vendors, food trucks, and artists are encouraged to feel out the forms on Experience Downtown Conroe website managed by the Conroe Downtown Area Association at www.ExperienceDowntownConroe.com. Visit the Facebook page for additional event information at www.Facebook.com/ConroeAmericanaMusicFestival