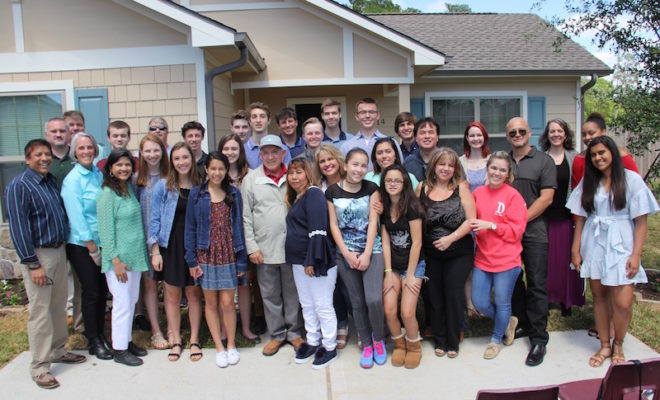 News
Cooper celebrates dedication of 19th Habitat House
By |
THE WOODLANDS, TX – For the past 19 years, The John Cooper School has partnered with Montgomery County Habitat for Humanity to help build a home for a family in need. All Cooper students have the opportunity to participate in this service project, a one-of-a-kind program.
A steering committee made up of Upper School students lead the project and are assisted by student, parent and faculty volunteers who work on construction of the home from August through March or April. Typically, Middle School students add color to the home in February and Lower School students plant and landscape as the final touches in March. The entire school community participates and supports fundraising efforts for the home.
Meet Mary Dunlap and Liz Morris, Lead Co-Chairs of The John Cooper School's Habitat for Humanity project and 19th Habitat House in the video below:
On Sunday, April 22, 2018 a special dedication ceremony took place at the new home in Conroe, Texas. The new homeowners, family and friends joined with Habitat volunteers, steering committee students and members of the Cooper community to dedicate the home.
Lead Co-Chairs of the project are Mary Dunlap and Liz Morris with Faculty Sponsors Scott Blackburn, Samir Muhith, and Deana Hines.
Source: Deb Spiess, John Cooper School