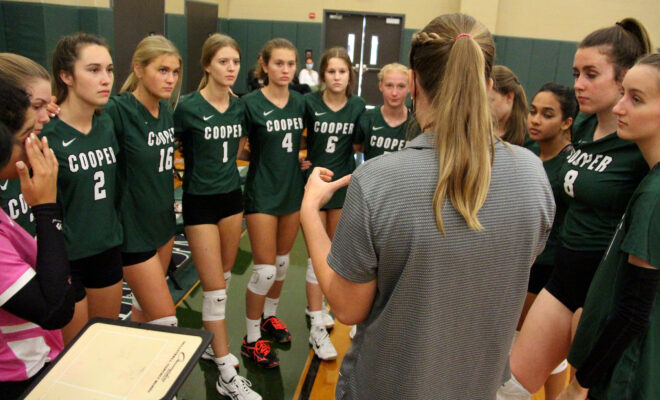 Fitness & Sports
Cooper Dragon sports results from first week of September
By |
THE WOODLANDS, TX – The John Cooper School's football team nets its first season win as its volleyball and cross country teams continue competitive play.
VARSITY FOOTBALL
9/10 at Cypress Christian • 20-14 W
"The Dragons righted the ship Friday night as they took down the top-ranked Cypress Christian Academy Warriors 20-14," said Coach Erik DeHaven. "Cooper traveled to Cypress for their final non-conference game, ready for a battle with a very strong Warrior team. Once again, the Dragon defense stood on its head holding down a disciplined Cypress offense known for pounding teams into submission. Junior LB Carson Berger had his coming-out party with seven total tackles and as usual seniors Ronnie Woodall, Gamble Reed, and Conor Dove were around the ball all night making big stops when the Dragons needed them the most."
"The Dragon offense found early success scoring on their first drive with a touchdown pass from junior QB Vaughn McKeever to junior WR Kielar Sullivan. Senior Jaxson Pierce carried the load for the Dragons, pounding for 54 yards, scoring two touchdowns and picking up crucial first downs all night. The Dragons move into SPC play this week as Cistercian comes to town Friday night at Pugh Field."
PLAYERS OF THE GAME:
Teams: William Young • 3 catches – 67 yards – Fake Punt – 1 PBU – 1 TFL
Co-Offense: Kielar Sullivan • 5 catches – 60 yards – 1 TD
Co-Offense: Jaxson Pierce • 15 Rushes – 54 Yards – 2 TD 
Defense: James Burger • 7 Tackles 
Iron Man: Owen Baadsgaard • 5 Rushes – Avg 3.6 per carry – 3 Tackles – 2 Tackles for loss – 1 QB Pressure 
Scout Team:
Offense: Cole Austin         
Defense: Joseph Bisso
Next up for Dragon Football:
September 17 vs Cistercian 7 p.m. HOMECOMING
VARSITY VOLLEYBALL
9/7 vs St. John XXIII • 3-0 W
9/9 vs FBCHA • 3-2 W
9/10-11 at FAST Tournament. The Dragons go 4-2 at the FAST Tournament, finishing fourth in the Gold Bracket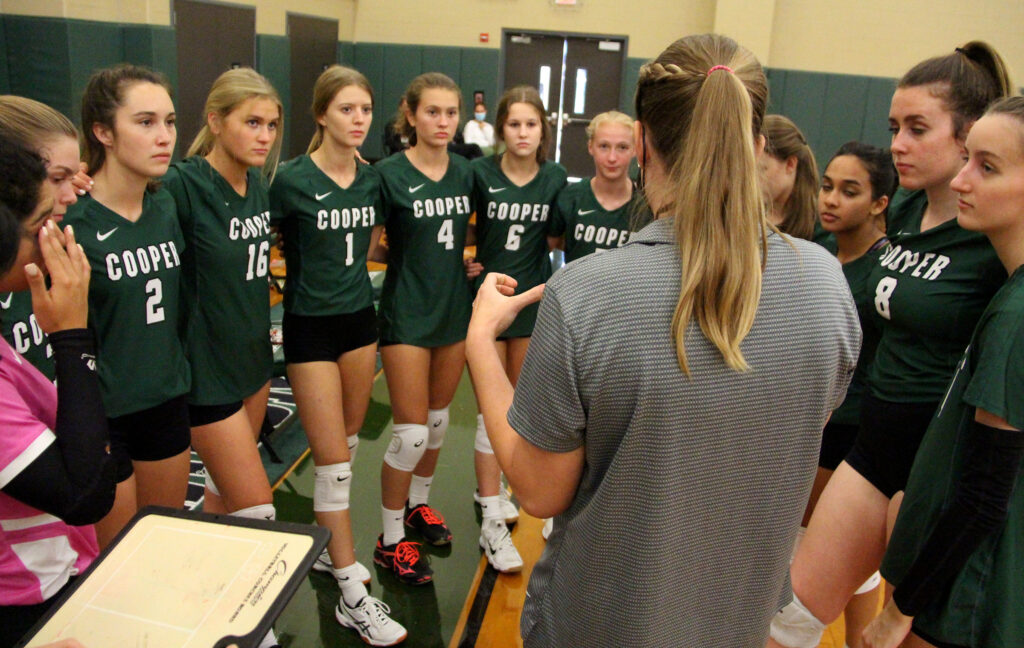 Next up for Dragon Volleyball:
September 14 at Northland Christian, 5 p.m.
VARSITY CROSS COUNTRY
9/11 at Run The Dog Pound Invitational – Girls 2nd place • Boys 3rd Place
Under perfect weather conditions at Magnolia High School, the Cooper cross country teams attended the 3rd annual "Run the Dog Pound" cross country invitational this weekend. The 65-degree temperatures proved to be energetic on the 5K course as Cooper runners posted some of their best results this season. 
First up were the girls who took second place in a talented field of mostly 5A public schools. Junior Megan Day finished in fifth place, setting a 5K personal record (PR) of 19:53. She was followed by freshman Milla Signorelli's ninth-place finish. Signorelli also broke the 20-minute barrier, posting a PR of 19:58. These were the third- and fifth-best 5K times ever posted by a female Cooper runner. Not far behind were senior Amber Navarra (13th) and junior Chloe Smith (21st). Abby Mendenhall finished out the scoring in 24th place.
"We are super excited about today's results," Head Coach George Dohner said. "We had two runners under 20 minutes, and two more under 21 minutes. This was a good meet for our girls and a great confidence booster as we move forward."
The boys too would boost their confidence with a third place finish. Led once again by senior Vishnu Swaminathan's third place finish, posting a PR of 16:20. Grey Mendenhall also ran well at 16:42 to finish in 13th  place. Running his first 5k as a Cooper Dragon, sophomore Adithya Pakal finished in 21st  place at 16:56. "Adithya has been a great addition to our program. He is a gifted runner and is going to do great things," Dohner said. Drew Wilkerson finished in 22nd , also posting a sub-17 time of 16:57. Ryan Taylor rounded out the top five Cooper scorers, finishing in 50th place. 
"We are making good strides with each meet. To have four runners go under 17 minutes at this point in the season, I couldn't be happier," Dohner said.
Girls Varsity 5K – 2nd  Place
Megan Day: 5th  • 19:53.62
Milla Signorelli: 9th  • 19:58.53
Amber Navarra: 13th  • 20:40
Chloe Smith: 21st  • 21:00.8
Abby Mendenhall: 24th  • 21:20
Darcy Wright: 31st  • 21:46
Boys Varsity 5K – 3 rd  Place
Vishnu Swaminathan: 3rd  Place • 16:20.56
Grey Mendenhall: 13th  place • 16:42.30
Adithya Pakal: 21st  • 16:56 
Drew Wilkerson: 22nd  • 16:57
Ryan Taylor: 50th  • 17:56.75
Morgan Davis: 58th  • 18:17.30
Elias Boles: 59th  • 18:19.06
Next up for Dragon Cross Country:
September 25 at Woodlands Christian XC Series #3, Woodlands Christian Academy, 8 a.m.
The John Cooper School is a PK-12 independent, college preparatory day school that has been serving The Woodlands and greater Houston area since 1988.
For more information, visit www.johncooper.org.