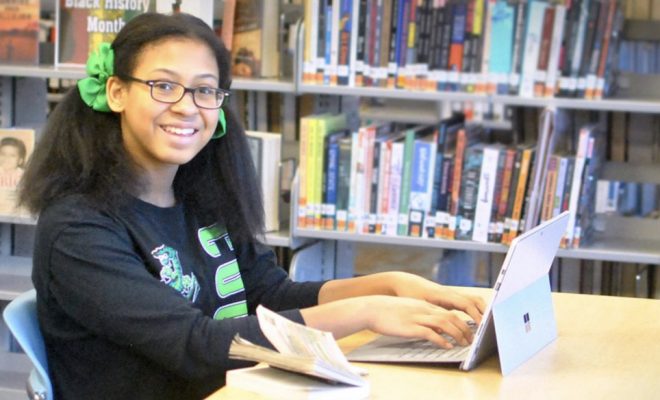 Photo provided by The John Cooper School
News
Cooper partners with Global Online Academy to Expand Educational Opportunities for Students
By |
THE WOODLANDS – The John Cooper School is pleased to announce an exciting new partnership with the Global Online Academy (GOA), an international consortium of leading independent schools that offers challenging online courses. As a member school, students benefit from additional opportunities to pursue their passions, learn with peers from around the world and expand their interests.
Head of Upper School Stephen Popp says the addition of GOA courses unites Cooper behind a common mission of "reimagining learning to empower students and educators to thrive in a globally networked society."
"This partnership represents an important opportunity for Cooper students and faculty to join a global learning community committed to leading innovation and teaching modern learners," Popp said. "GOA imagines a future where all students acquire and practice modern learning skills to become responsible citizens and leaders in the world."
As a member school, The John Cooper School is expanding the elective course offerings available to high school students, providing them with the unique opportunity to connect with students from around the world. Educational opportunities are expanded by making available the teaching expertise and excellence of 90-plus member schools.
"By banding together as a consortium, the schools that make up GOA are able to offer far more courses than any single school could offer on its own," said Cooper Academic Dean Rebecca Brady, who will be overseeing the new initiative. "GOA courses help students acquire and practice relevant and important skills that will serve them well at college, in their career and in life."
The global make-up and online format of GOA courses help students develop modern learning skills such as cross-cultural collaboration, time management, project planning, advocacy and real world problem-solving. The GOA course catalog is comprised of over 50 unique courses taught by experienced faculty from renowned peer independent schools all over the world.
Cooper faculty members also have the opportunity to participate in GOA's world-renowned professional learning programs as they seek to continuously improve their practice as educators. "As members, we can connect our faculty with colleagues around the globe who will share best practices and discuss new ideas that transform classrooms and deepen the learning experience for our students," Popp said.
Interested Upper School students are currently learning about and applying for GOA course offerings that will begin in the fall of 2020. For more information go to: https://www.johncooper.org/academics/global-online-academy
Source: The John Cooper School