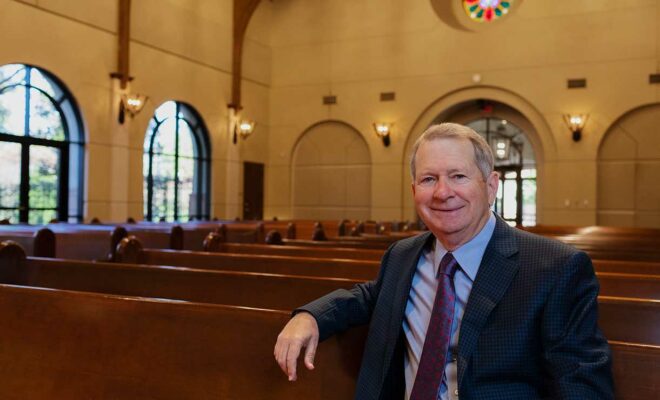 Photo Credit: The Woodlands UMC
News
Dr. Ed Robb Retiring as Senior Pastor of The Woodlands UMC
By |
The Woodlands UMC is announcing the retirement of their longtime Senior Pastor, Dr. Edmund W. Robb III, effective June 30, 2021. Dr. Robb founded the church in 1978 when The Woodlands was only a fledgling community of families. He has remained as the pastor of the church for 43 years and has overseen the tremendous growth of church membership and outreach. Bishop Scott Jones will appoint Reverend Mark Sorensen to become the Senior Pastor upon the retirement of Dr. Robb.
Ed and Bev Robb arrived in The Woodlands in 1978 after he completed his Master of Theology from Perkins School of Theology at SMU. Dr. Robb was appointed to start a new Methodist Church in this growing community. He started knocking on doors as he worked to establish the new church. Over the years it's grown from 160 members to its current status as the second largest church in Methodism with a membership of 14,000. Along the way, Ed and Bev have become an integral and beloved part of The Woodlands community. They have three children and eight grandchildren.
Not only has Dr. Robb been a successful pastor, but he has been very active in the civic affairs of The Woodlands. For 20 years he served as an elected official of The Woodlands Township and its predecessor, TCID – Town Center Improvement District.  During his tenure he led the way, along with State Senator Tommy Williams, in negotiating an agreement which allowed The Woodlands to become a Township. He was also instrumental in leading the TCID in partnering with private developers to build the Convention Center, develop Town Green Park and expand the Waterway.
He currently serves on the board of Houston Methodist Hospital and is the board chairman of A Foundation for Theological Education (AFTE) which provides fellowship grants to United Methodist doctoral students. He is a former trustee of Asbury Theological Seminary in Wilmore, Kentucky and the author of four books, published by Abingdon Press.
Reverend Mark Sorensen will become the Senior Pastor on July 1, 2021. Mark received his Master of Divinity from Asbury Theological Seminary and is the lead pastor of the Harvest community of The Woodlands UMC. He has served in the United Methodist Church for over 20 years in Texas and Louisiana. Dr. Robb invited him to join the pastoral staff at The Woodlands UMC seven years ago.
Under Mark's leadership, the Harvest worship community has grown, adding a second worship service and averaging nearly 2,000 attendees each weekend. He looks forward to continuing the mission of the church to be a light to the community and the world. He and his wife Nycki have two adult children.
The Woodlands UMC will be celebrating Dr. Robb's dedicated service to the church and its members in the months to come.
Source: Kenda McVeigh, Copywriter, The Woodlands UMC