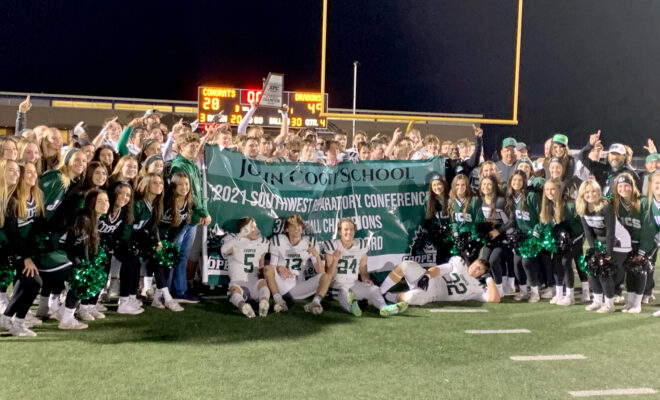 Fitness & Sports
Dragon Football Gains First-Ever Title as Dragon Fall Teams Compete At SPC Championships
By |
THE WOODLANDS, TX – The John Cooper School's football team scores its first-ever title as its Dragon fall teams compete at SPC championships.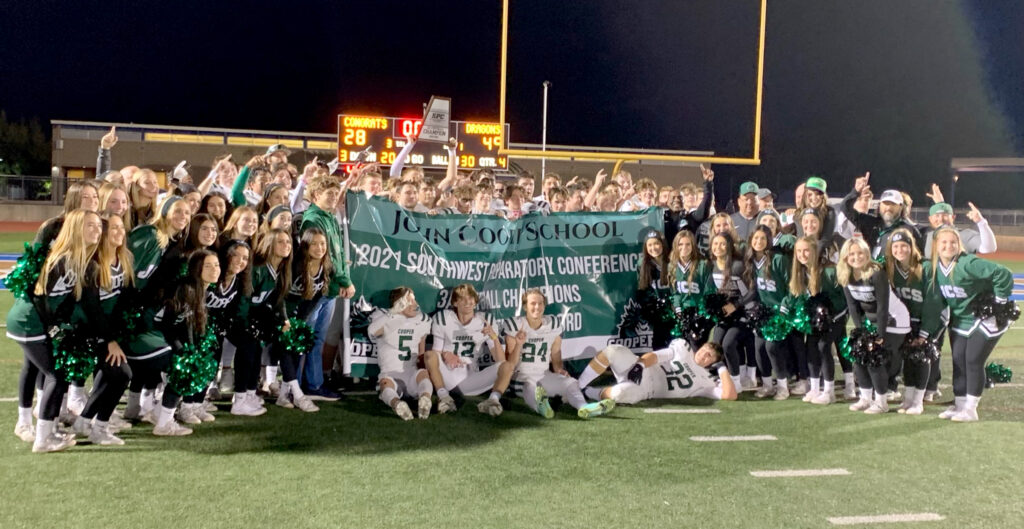 VARSITY FOOTBALL
11/6 vs. Cistercian* • 49-20 W

at Postell Stadium, Dallas
Dragons Are SPC 3-A Conference Champions
With a 49-20 triumph over Cistercian Preparatory School, The John Cooper School captured its first-ever 3-A Title November 6 at Postell Stadium in Dallas. "I am very proud of the boys," Head Coach Erik DeHaven said. "It's an unbelievable job."
"We started this thing 11 years ago and I was so blessed to be a part of this," said Scott Holland, assistant football coach and associate director of athletics, who was a part of the development of a football program at Cooper. "I am so proud of not only this group but the kids that have come before. They all have built a foundation for this championship and I couldn't be prouder of every one of them."
The Dragons finished the season undefeated in conference play and 7-2 overall.
"People don't win championships every day and they earned it," Director of Athletics John Hoye said.
VARSITY VOLLEYBALL
11/2 vs The Village School • 3-1 W at SPC Championships, Dallas

vs Trinity Valley • 3-0 W (Cooper #4 seed)
vs. Hockaday • 3-0 L (quarterfinals)
vs. St. Stephen's • 3-2 L (playing for 5th place)
Dragons: 7th place finish
"The volleyball team celebrated their seniors Tuesday, November 2 honoring Peyton Tague, Chiya Jauhari, Tatum Threadgill and Laura Weatherford," said Coach Jennifer Peyton. "The Dragons defeated the Village Vikings, 3-1."
"The team traveled to Dallas to face Trinity Valley in the SPC championships, winning 3-0 and securing a spot in the quarterfinal. The Dragons faced Hockaday next, the future SPC champion. Though the Dragons fell, 0-3, the team's defensive performance was an incredible sight. The team had a 66-dig performance, led by Laura Weatherford with 28. In the final match, the team faced St. Stephens for fifth place. Just like in the regular season match, it was a five-set thriller with the Dragons falling in the fifth. It was another phenomenal defensive performance for the team The team played the best volleyball the last three days of the season."
VARSITY CROSS COUNTRY
11/6 at SPC Championships*
Girls 5th place • Boys 5th place
The Cooper Cross Country teams competed in the season-ending SPC Championships at Norbuck Park in Dallas on November 6. With perfect cross country temperatures in the forties, both teams finished in 5th place, and had five athletes receive All-SPC honors, posting top-twenty finishes. Amongst the 19 SPC teams competing in the meet, the Cooper team more than made their presence known.
The girls team would start things off, led by senior Amber Navarra who posted a personal record (pr), in the last race of her career. "I couldn't be more proud of what Amber has accomplished this year," head coach George Dohner said. "She has led the team, both on and off the courses. Through tough workouts, gutsy races, and just team management, she is the epitome of a team leader. And for her to give a peak performance like she did today, says it all."
Junior team Co-Captain, Megan Day, also put in an All-SPC performance finishing two places and less than half a second behind Navarra in 19th place. "Megan also did an amazing job today," Dohner said. "She just races very well. She too has put in the work and it was great to see it pay off today."
All five of Cooper's team-scorers would be amongst the top 50 finishers. Milla Signorelli ran well, finishing in 35th, followed by Chloe Smith in 40th and Abby Mendenhall in 47th. Cooper would finish tied for fifth place with St. Andrew's Episcopal, which meant that the tie-breaker would then depend on the sixth runner from each team. Freshman Alexis Seymour stepped up and put in her best performance of the year finishing in 57th place with a time of 22:26 (pr).
The boys team also surprised a lot of people with their fifth place finish as they came into the race barely ranked in the top half of the talented SPC line-up. Cooper would finish in fifth place, with three athletes in the Top 20. Receiving All-SPC honors were freshman Grey Mendenhall, senior Vishnu Swaminathan, and senior Drew Wilkerson.
"These guys really stepped up today and laid it all on the line," Dohner said. "Grey and Vishnu ran tough today and ran a really smart race on a really tough course. Drew Wilkerson was determined to finish in the Top 20 and had an amazing finish to snag that last spot. We are so proud of these three for leading the team today."
Rounding out the team scoring were sophomore Aditya Pakal in 29th and freshman Ryan Taylor in 47th. "Both of these two ran really well," Dohner said. "Ryan Taylor came into the meet ranked 80th in the 150 runners competing. Ryan ran his best race of the season and helped our his team today."
"We could not be happier with how our season ended. And to have five members of the Cooper teams presenting with the All-SPC honors says a lot about the work our teams have put in!"
Varsity Boys – 5th Place
Grey Mendenhall – 14th – 16:59 (All-SPC)
Vishnu Swaminathan – 18th – 17:10 (All-SPC)
Andrew Wilkerson – 20th – 17:14 (All-SPC)
Aditya Pakal – 29th – 17:35
Ryan Taylor – 47th – 18:07
Varsity Girls – 5th Place
Amber Navarra – 17th – 20:14.42 pr (All-SPC)
Megan Day – 19th – 20:14.74 (All-SPC)
Milla Signorelli – 35th – 21:29
Chloe Smith – 40th – 21:48
Abby Mendenhall – 47th – 22:01
Alexis Seymour – 57th 22:26 pr (tie-breaker)
WINTER SPORTS
VARSITY BOYS BASKETBALL
Next up for Dragon Boys Basketball:
November 9 vs Legacy Prep, 7 p.m.
November 12 vs Frassati, 7:30 p.m.
November 13 vs Lutheran South, 12:30 p.m.
November 18-20 at Rosehill Christian Tournament
VARSITY GIRLS BASKETBALL
11/4 at Lutheran South • 49-26
Next up for Dragon Girls Basketball:
November 9 vs Legacy Prep, 5:30 p.m.
November 12 vs Montgomery High School, 6 p.m.
November 16 at Second Baptist, 6 p.m.
November 18 at St. Francis Episcopal, 6:30 p.m.
VARSITY BOYS SOCCER
Next up for Dragon Boys Soccer:
November 12 vs Concordia Lutheran, 7 p.m.
November 16 vs St. Thomas High School, 7 p.m.
November 18-20 at CLHS Soccer Showcase Tournament
VARSITY GIRLS SOCCER
Next up for Dragon Girls Soccer:
November 10, 6:30 p.m.
November 11 vs Lutheran South, 5 p.m.
November 15 vs Frassati, 5 p.m.
November 16 at Northland Christian, 5 p.m.
November 18 vs. Bay Area Christian, 5 p.m.
VARSITY SWIMMING
Next up for Dragon Swimming:
November 11 vs Duchesne & St. Thomas at Westfield High School, 6 p.m.
December 4 at Private School Winter Showcase at Westfield High School, 9:45 a.m.
The John Cooper School is a PK-12 independent, college preparatory day school that has been serving The Woodlands and greater Houston area since 1988.
For more information, visit www.johncooper.org.