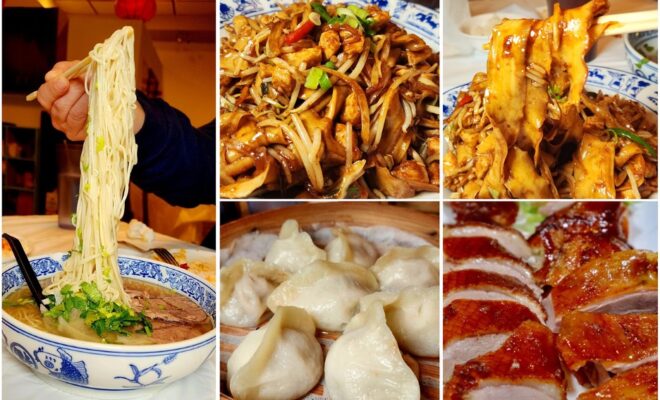 Photos by Nick Rama
Food & Drink
Eat Local: Noodle Kitchen
By |
Hand pulled noodles, scratch made dumplings, and authentic Chinese food come to Spring at Noodle Kitchen.
THE NAME
The newly opened (July 2022) Noodle Kitchen in Spring, TX, located at 18363 Kuykendahl Rd, is owned by Vasilia with help from her parents. The restaurant serves hand pulled noodles, soup dumplings, and authentic Chinese dishes. Vasilia describes the restaurant as "an authentic Chinese pastry restaurant serving noodles, bao, and much more."
THE STORY
When Vasilia and her family moved to Spring, TX, they realized there wasn't a traditional noodles and pastry Chinese restaurant anywhere near the Spring/Woodlands area. As a result, they decided to open Noodle Kitchen to fill a long-needed authentic Asian food niche, in the hopes that more people will discover the art of traditional Chinese food culture. Over half the menu has come from family recipes.
THE GOODS
In the past few months, Noodle Kitchen has gained popularity for their hand pulled noodles Lanzhou-style (or Lamian), a type of soft wheat flour Chinese noodle that is usually common in northern China. Chef Wenbing Ding became an expert in China on hand pulled noodles. The noodles are made by twisting, stretching, and folding the dough into strands, using just the weight of the dough and the chef's hands pulling at arm's length. The length and thickness of the strands depends on the number of times the dough is folded. It is an art form to watch and a unique method of making noodles that originated in China.
The hand pulled noodles are available in thin, medium thin, wide flat, buckwheat, or thin flat. Guests can order a side of noodles, or get them in their famous Lanzhou-style beef noodle soup (available spicy), braised beef noodle soup, tonkotsu ramen, black garlic tonkotsu ramen or vegetable noodle soup. Other options include hot oil spill noodles, fried noodles, or mixed noodle dishes.
Soup dumplings are king here! Chinese soup dumplings, sometimes also referred to as Shanghai soup dumplings (xiaolongbao), are a steamed dumpling consisting of a paper thin wrapper enveloping a seasoned pork filling and hot, flavorful soup. Diners can look through a window to see master dumpling maker Annie creating these masterpieces. Annie learned this traditional skill from her parents. According to Vasilia, every family has their own flavor and techniques, explaining, "Our chefs learned from master chefs in China and have since incorporated their own family flavors."
Regular dumplings are another house specialty. The dumplings are stuffed parcels made of unleavened dough and savory fillings consisting of minced ingredients like meat, egg, tofu, or vegetables. Noodle Kitchen has an impressive selection of pan fried or steamed dumplings. First time customers love the "Colorful Combo," which includes two pieces each of chicken, beef, and vegetable dumplings. Steamed pork scallion dumplings are also very popular.
The bao bun is another item that one usually has to travel to Houston or Chinatown for. Bao is a type of Chinese food made of wheat flour-based, leavened dough filled with savory or sweet fillings. It is usually served steamed but can be pan fried or baked also.
Char siu bao is a must try and traditional dim sum staple. Char siu bao is a steamed bun filled with Cantonese-style barbecue pork. The bao is filled with pork with a deep red, sweet and sticky coating. Crispy Peking duck bao is also not to be missed.
Speaking of duck, the very special Peking duck can be ordered as a whole or half with pancakes, duck sauce, green onions, cucumber and duck soup. The dish is prepared fresh every morning.
COMMUNITY
Noodle Kitchen has been active on social media, and by learning from their guests' feedback, Vasilia would like to do more and be involved with the local community in the future. "The community has been very welcoming to us," shared Vasilia.
THE FAMILY/CHEF'S FAVORITE DISHES
Vasilia: soup dumplings, beef chow mein (beef fried noodle), Kung Pao tofu, creamy custard bao
Chef Wenbing Ding: cucumber salad, Lan Zhou spicy beef noodle soup, steamed pork bao
Chef Annie: seaweed salad, pan fried bao, spicy chicken cube, creamy custard bao
WHAT THE LOCALS ARE ORDERING
Xiaolongbao (soup dumplings)
Noodle soup
Peking duck
Baos
Dumplings
WRAPPING IT ALL UP
Vasilia, her parents, Chef Wenbing, Chef Annie, and the team have put Spring, TX on the map for authentic Chinese specialty food and dishes. Noodle Kitchen also has everyday favorites like egg rolls, crispy cheese wontons, fried rice, General Tso's chicken, orange chicken, Mongolian beef and some Szechuan delights like mapo tofu and crispy spicy chicken cubes. Vasilia attributes Noodle Kitchen's success to "Using our heart to cook the food. Staying true to our beginnings."
Vasilia shared five words to describe Noodle Kitchen: "Professional, traditional, delicious, umami, comfort."
Noodle Kitchen
---
Nick Rama is a food writer, contributor to Hello Woodlands, and shares his restaurant experiences on Nick's Local Eats at NicksLocalEats.com and on the TX BBQ, Burgers, and Brew Facebook page. Nick enjoys helping small business owners, supporting his community by fundraising for food banks, and plans tasting events with locally owned mom and pop restaurants.