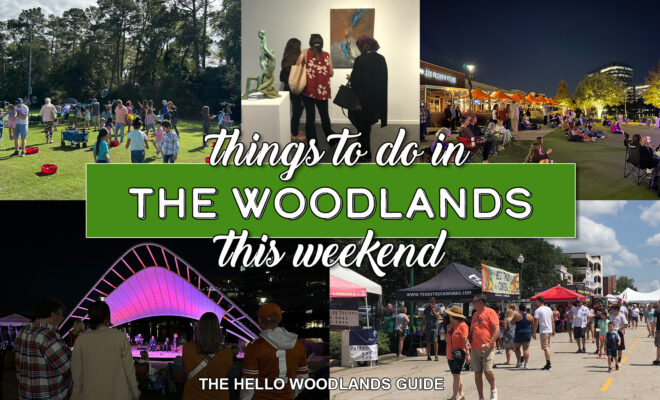 entertainment
Things to Do in The Woodlands Area This Weekend, Feb. 10-12
By |
Looking for something to do in The Woodlands area this weekend? Hello Woodlands has you covered! Here's a list of things to do the weekend of February 10-12, including a community tree planting event, a candlelight concert at Market Street, a plant and seed swap, an evening of jazz music, and more!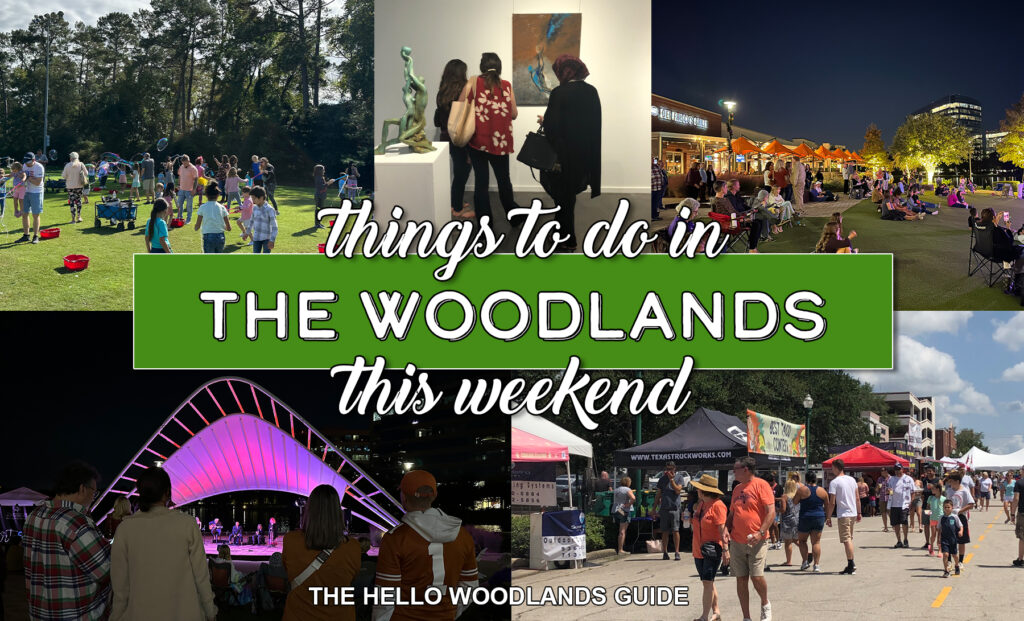 Friday, February 10, 2023
Valentine's Plant and Seed Swap
Meet in the Community Engagement Area downstairs in the Lone Star College – Tomball Community Library to swap small plants or cuttings for propagation and exchange knowledge on plant care! Attendees can bring plants and cuttings to swap and there will also be a free table to leave plants, seeds, or cuttings for people just getting started. There will be holiday-themed refreshments and a rollout of the library's new seed library for the event! No registration is required. The swap starts at 3:00 pm. Learn More
Author Visit with Andrea Bauer
Children's author Andrea Bauer will be visiting The Woodlands Children's Museum to read her book Tino Valentino: The Tale of a Puppy Dog with No Tail. This is the tale of the author's real-life adopted puppy with no tail. Tino-Valentino's story shares the important message that no one is perfect, and we're all lovable! Andrea will be read her book onstage at 11:00 am, after which there will be a meet-and-greet where she will be selling and signing books until 12:15. Learn More
Live on The Lawn
Enjoy live music on the lawn at Central Park in Market Street with Sarah Kelly Music School from 6:30 – 8:00 p.m., on Friday nights. Blankets and lawn chairs welcome. Learn More
Saturday, February 11, 2023
Pokemon Scavenger Hunt
Pokemon and their spirit animals are hiding on the trail. Search and learn about them all using a trial map, scavenger hunt and signage. The Pokemon Scavenger Hunt starts at 11:00 a.m. at the Rob Fleming Recreation Center Tree House #1. Ages 4+. Learn More
Night of Jazz & Dance
Join Jazz Connection at the Conroe Symphony Center, 1500 N. Frazier St, Conroe, TX 77301, for an evening of dancing to jazz and Big Band tunes from the 40s, 50s, and today! Tickets are $20 and include dinner. Proceeds support Jazz Connection, a nonprofit supporting young jazz musicians. The fundraiser is from 7:00 – 10:00 pm. Learn More
Free Recycle Day
Free Recycle Day returns to the Montgomery County Recycling Center from 8:00 am to 3:00 pm. Click here to find out what will be accepted. Learn More
Spring Vegetable Gardening Class: Growing Epic Tomatoes
Craig LeHoullier, tomato growing expert, author, heirloom tomato guru, and the person who named the "Cherokee Purple" tomato will share his lifetime hands-on tomato growing knowledge in this exciting class. Craig is a lifelong gardener who serves as the tomato expert for the Seed Savers Exchange and is the developer of many popular heirloom varieties. Craig is a nationally recognized speaker on growing tomatoes, has been featured on numerous national radio shows and podcasts and is an accomplished garden author. The class is free, but registration is required. This online class will not be recorded. Learn More
Montgomery County Food Bank's Fighting Hunger, Feeding Hope Gala
Montgomery County Food Bank's Fighting Hunger, Feeding Hope Gala will take place at The Woodlands Waterway Marriott Hotel & Convention Center from 6:00 to 11:00 pm. The premier fundraising event's proceeds will benefit Montgomery County Food Bank and the food insecure children, families and seniors it serves. Learn More
Valentine's Swan Boat Ride
There's something enchanting about seeing a graceful swan boat surrounded by beautiful lights under the night sky. Bring along your significant other (or best friend) and experience this special event. Swan boats fit up to four people; adults must be present. Fee (Per Swan Boat): $50. The Swan ride departs from Riva Row Boat House at 7:00 pm. Learn More
9th Annual Community Tree Planting Event
Lend a hand at the 9th Annual Community Tree Planting Event! Volunteers are invited to join the fun planting thousands of native trees and shrubs as part of The Township's ongoing reforestation efforts. The year's event will be held at the Rob Fleming Aquatic Center, and Dog Park, at 6535 Creekside Forest Drive, from 8 a.m. to noon. Registration is required. Learn More
Valentine's Day Candlelight Concert in The Park
Enjoy a free Valentine's Day Candlelight Concert in the park at Market Street featuring the classical quartet Divisi Strings from 6:00 to 8:00 pm. Learn More
Sunday, February 12, 2023
Sunday Sounds on The Plaza
City Place's nature-filled, free Sunday Sounds includes live music on the plaza from 2:00 – 4:00 pm with the Keith Vivens Duo (pop/r&b). Learn More
Marc Broussard Valentine's Dinner & Show
Dosey Doe – The Big Barn presents Marc Broussard Valentine's Dinner & Show at 7:30 pm. Ticket Price includes three course meal. Learn More
Valentine's Day is coming up this Tuesday! Check out our guide to local Valentine's Day events, brought to you by Wild Stallion Vineyards, at www.hellowoodlands.com/valentines-day-events-2023.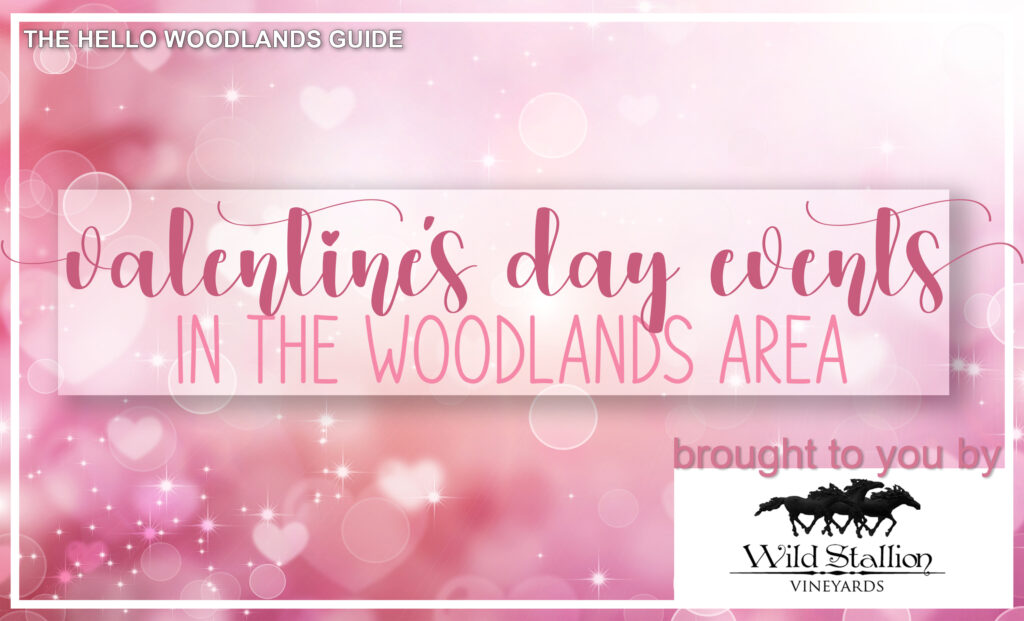 Check back on Hello Woodlands' Calendar Page and the monthly 31 Things to Do list for more events as they come up!
You can sponsor one of our weekend guides! By sponsoring a guide, your company name (organization or event) and logo will be included on the featured photo of the article published on the Hello Woodlands website. Your company name will also be included within the article along with a paragraph sharing more about your business with your logo and a link to your website. Email info@hellowoodlands.com for more information.