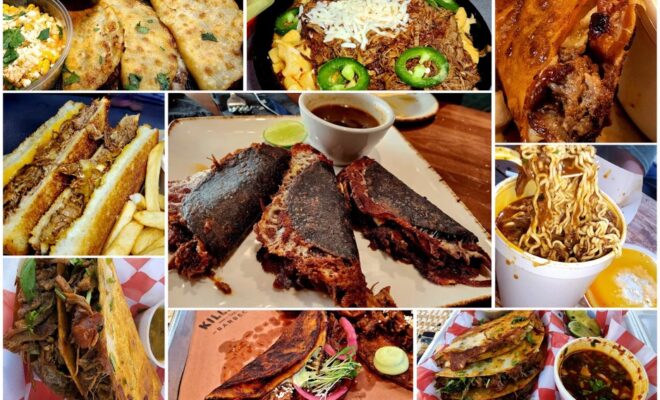 Photos by Nick Rama
Food & Drink
Eat Local: Restaurants featuring Birria Tacos
By |
Birria tacos have gained widespread popularity over the past few years, so we wanted to feature some places making these scrumptious tacos of stewed meat seasoned with chili peppers, dunked in consomé. Along the way, Hello Woodlands has found some very interesting takes on birria dishes, with chefs, cooks, and owners thinking outside the box.
If you are unfamiliar with birria, it is a popular dish from the Mexican state of Jalisco that features a stewed meat traditionally made with goat, but occasionally made from lamb, mutton or chicken; however, the most popular version in the US is generally made with beef. The meat is marinated in an adobo made of vinegar, dried chiles, garlic, and herbs and spices (usually cumin, bay leaves, and thyme), before being slowly cooked in a broth or consomé. Preparation techniques vary, but the dish is often served with corn tortillas, onion, cilantro, and lime.
One of the most loved variations on traditional birria, at least here in Texas, is the quesabirria (also called quesatacos). This version is a Mexican street food style of birria-style cooked beef folded into a tortilla with melted cheese and served with a side of consomé for dipping. The dish has its origins in Tijuana, and has gained popularity on social media and foodies. Quesabirria is usually served with optional salsas, cilantro and onions, and garnishes like pickled onions, pickled habaneros, lime, or radish.
Hello Woodlands is featuring 16 restaurants, taquerías and food trucks that are making birria tacos and some taking it to another level with their interesting new takes on birria. Here is your north side guide to everything birria.
La Cocina de Roberto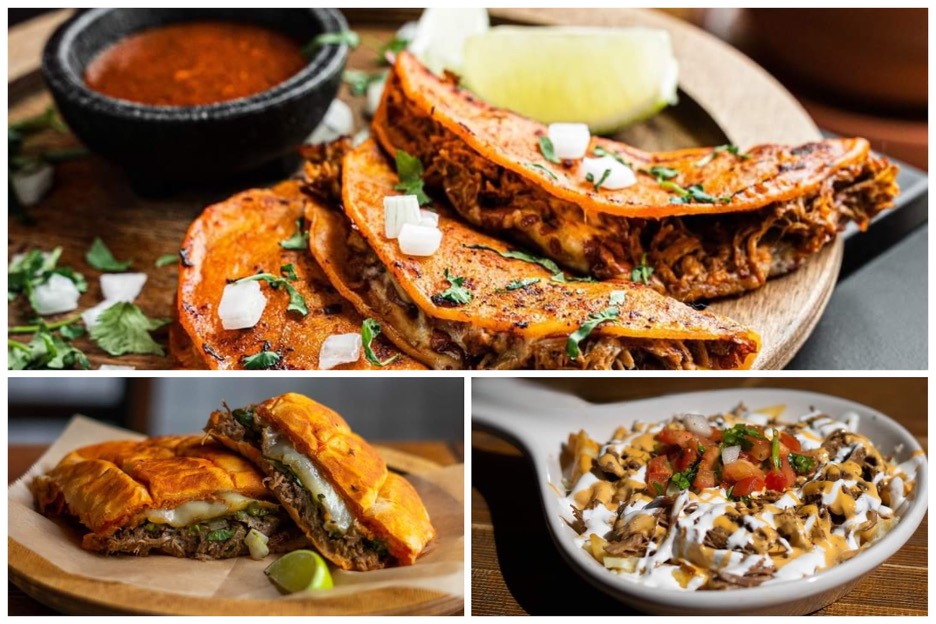 La Cocina de Roberto is serving up birria tacos at both their locations in The Woodlands, featuring slow-cooked beef in adobo, asadero cheese, and caldo de birria, served with onions, lime, and cilantro. La Cocina de Roberto's interesting takes using the stewed beef are a birria torta – fresh telera roll with asadero cheese, guacamole and caldo de birria – and a shareable appetizer of birria fries. The birria fries are topped with birria beef, asadero cheese, pico de gallo, lettuce, and your choice of sauce. There is also an option to add chile con queso for an additional charge.
El Norteño Tacos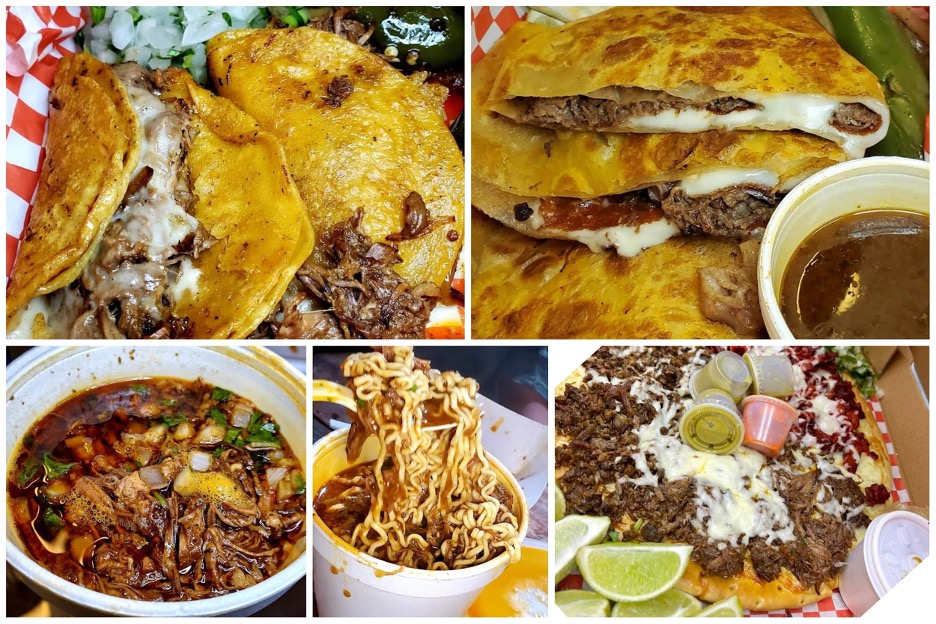 El Norteño has a few very popular taco trucks around Spring and a new one on Sawdust in The Woodlands. El Norteño Tacos was one of the first in the area to bring birria to the north side and have it available daily. Owners of the trucks saw the potential and added more birria dishes to the menu along with their fan favorite quesabirria. You can also get birria ramen, birria quesadillas, and even birria pizza.
Baja Sur Fresh Mex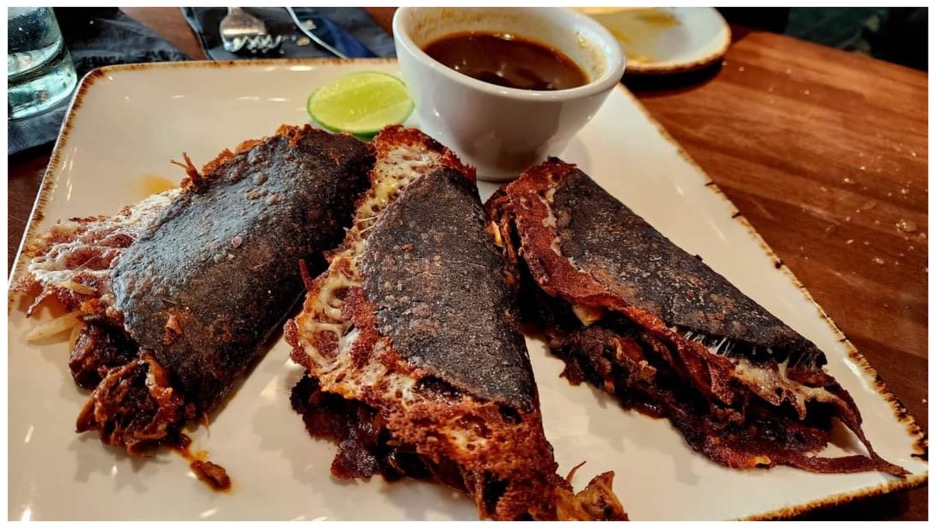 Baja Sur Fresh Mex in Creekside offers their take on birria quesatacos with a special twist, by using blue corn tortillas, all house made with tender braised beef, Chihuahua cheese, onions, cilantro, salsa roja, and consomé.
Julio's Mexican Grill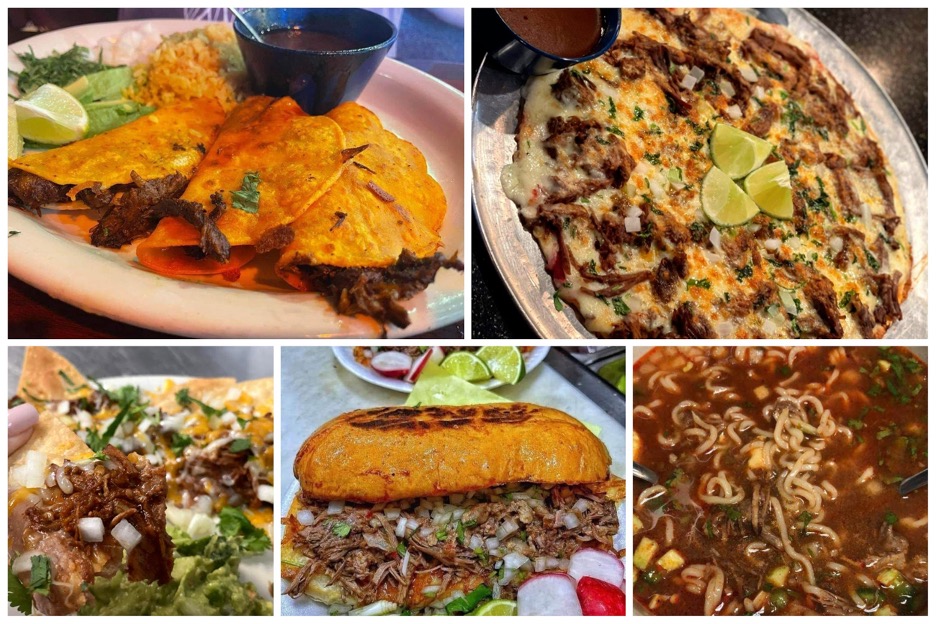 Julio's Mexican Grill has three locations, Spring, The Woodlands and Magnolia and the restaurant makes birria four ways.
Quesabirrias – Three corn tortillas stuffed with homemade beef Birria and Monterey cheese. Served with beef consomé, cilantro, onions, jalapeños, and avocado.
Torta w/Birria – Delicious beef birria served on fresh bread topped with refried beans, cilantro, onions, monterey cheese, and avocado. Served with beef consomé and grilled onions.
Pizza birria – The pizza is topped with marinara sauce, beef consomé, Jack cheese, onions, cilantro and tender beef birria on a delicious homemade thin crust.
Birria Nachos – Thick corn tortilla chips topped with refried beans, and a melted mix of Monterey and cheddar cheeses, served with tomatoes, jalapeños, lettuce, sour cream, guacamole, and consomé.
We asked owner Julio Amer, what makes Julio's birria special? He replied, "Ours is special because we used high quality meat like choice ground chuck, beef bones, and oxtails".
Mestizos Mexican Cafe
Mestizos Mexican Cafe on 242 jumped on the birria bandwagon with the addition of their birria tacos by owner Jacob Jaimes. Originally added to the menu as a monthly special, they were a hit and now one can order them anytime. Mestizo's version uses braised beef, Monterey cheese, onions, and cilantro served with consomé and rice and guacamole.
Rita's Cantina Mexican Kitchen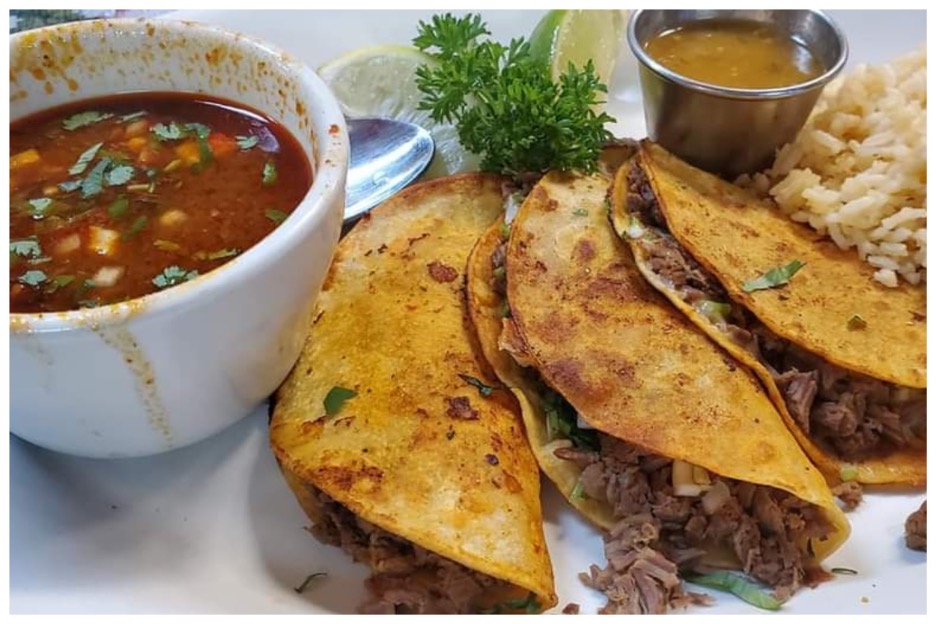 Rita's Cantina Mexican Kitchen at the borders of Tomball in Pinehurst, is well known for their authentic Guerrero and Jalisco, Mexico dishes, has added Birria to their menu after doing the dish as one off specials. Quesabirria – "a cross between a taco and a quesadilla." It comprises a corn tortilla with mozzarella cheese melted with stewed meat. Served with Mexican rice and fresh limes.
Uli's Kitchen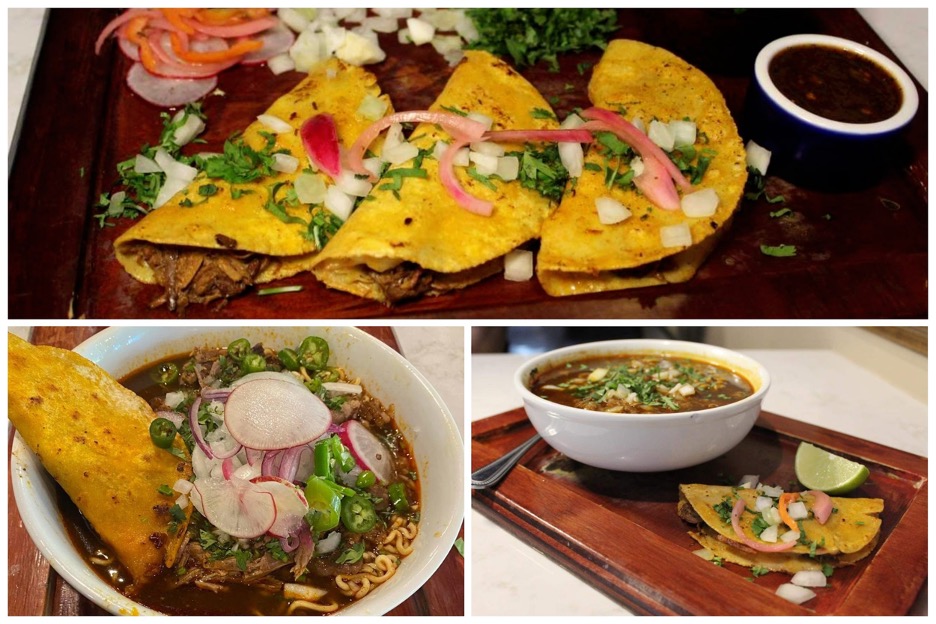 Deep in The Woodlands at Uli's Kitchen, Chef Ulises Alcaraz has brought the streets of Mexico to the suburbs. Tacos de birria (Jalisco) is tender, slow-braised beef, chihuahua cheese, cilantro, and diced onion in three lightly fried corn tortillas served with consomé for dipping. The consomé is also available as a meal. One can get a cup or a bowl of consomé de birria – a rich beefy birria broth with birria beef, topped with onion and cilantro. Or grab a ramen de birria – ramen noodles in a rich, beefy birria broth topped with tender shredded birria beef, onions, cilantro, radishes, with a side of chile de árbol salsa.
Ta' Bueno Mexican Kitchen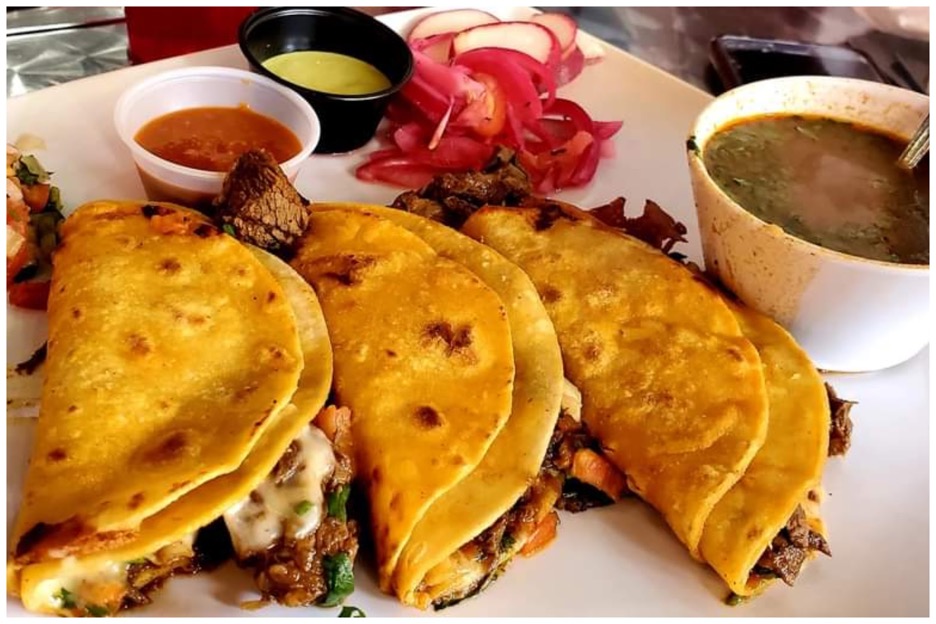 Where Tomball meets Cypress, Ta' Bueno Mexican Kitchen has been turning heads with their version of tacos de birria – doing it up authentic and taking the tough cuts of beef cooked until tender and juicy all with flavorful chiles and Mexican spices. The birria is served with pico de gallo on a lightly toasted corn tortilla with cheese, and served with a side of consomé, grilled onions, and salsa.
Mega Meltz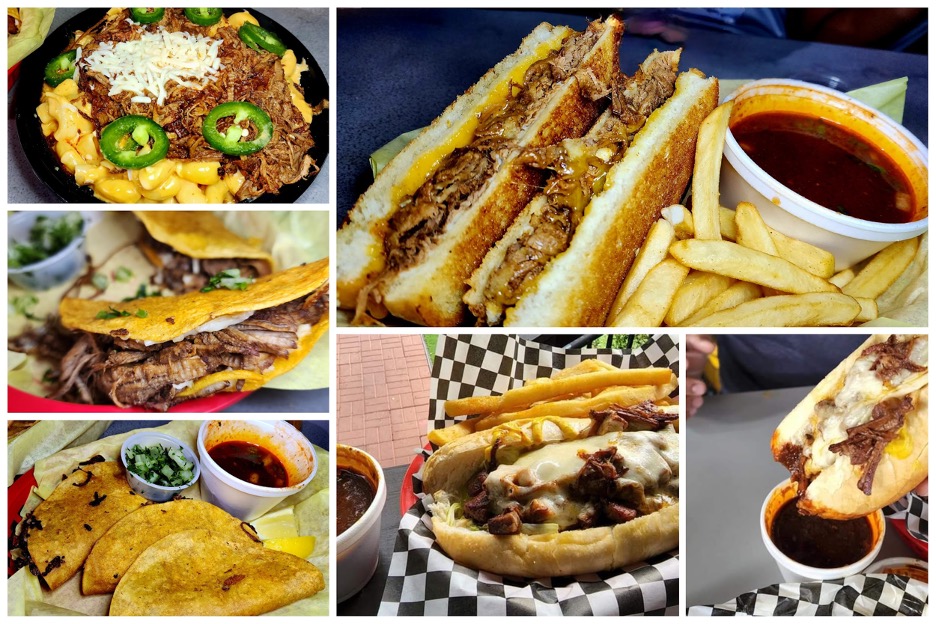 Mega Meltz food truck is taking birria to another level. Owner/operator Robert Diaz not only has regular birria tacos, but is also doing birria grilled cheese, slowly cooked beef in broth, with melted cheddar and Chihuahua cheese on grilled bread with a side of consomé to dip it in.
Mega Meltz serves two more fusion dishes. First up, mac and cheese and birria together in the chipotle birria mac & cheese – topped with beef birria, Oaxaca cheese, and jalapeños drizzled with a chipotle aioli sauce. Next up is the Cajun-mex po-boy – smoked tasso pork tenderloin, birria beef, pickles, shredded lettuce, mustard, mayo, and melted mozzarella and Swiss cheeses – all served on po-boy bread served with the Diaz grandma's consomé recipe and a side of fries.
According to Diaz, the secret to the consomé is "We use all fresh ingredients, beef chuck roast, garlic and onions, and Mexican herbs and seasonings cooked for 12 hours, and we carefully discard the fat by skimming, we toast all the chili peppers, all the chilis we use have seeds, so we discard the seeds and then add the chili to the broth by a strainer. It's very timely when you do it the right authentic way, even the chili paste is made of Mexican peppers. My wife's family recipe."
Red Salsa Tacos and More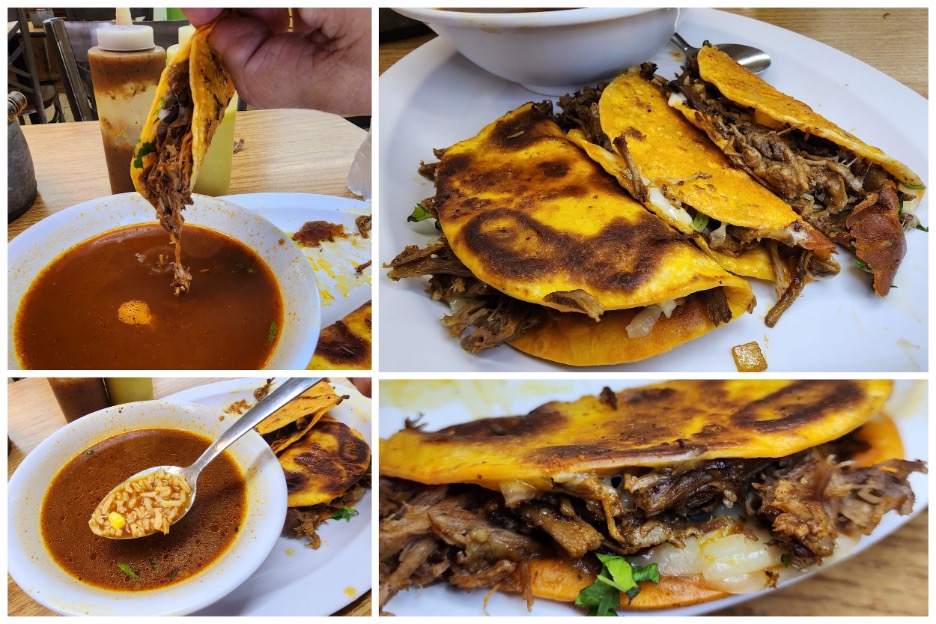 Red Salsa in the Spring/Woodlands area is making some very traditional birria tacos using lamb. The consomé is served as a generous portion, with a scoop of rice with corn at the bottom of the bowl.
Killen's BBQ – The Woodlands
Killen's BBQ is probably the last place you would think to find birria tacos, but sometimes you will find it as a special at Killen's BBQ – The Woodlands. Tacos de birria (Ronnie Killen style) is made using smoked beef brisket that is stewed in chicken stock, morita, guajillo and ancho chilies (classic adobo). then served with a pickled red onion, queso fresco, and micro cilantro, topped with a little avocado crema. Killen's version doesn't come with consomé, but it is definitely flavorful enough.
Taquería Dos Amigos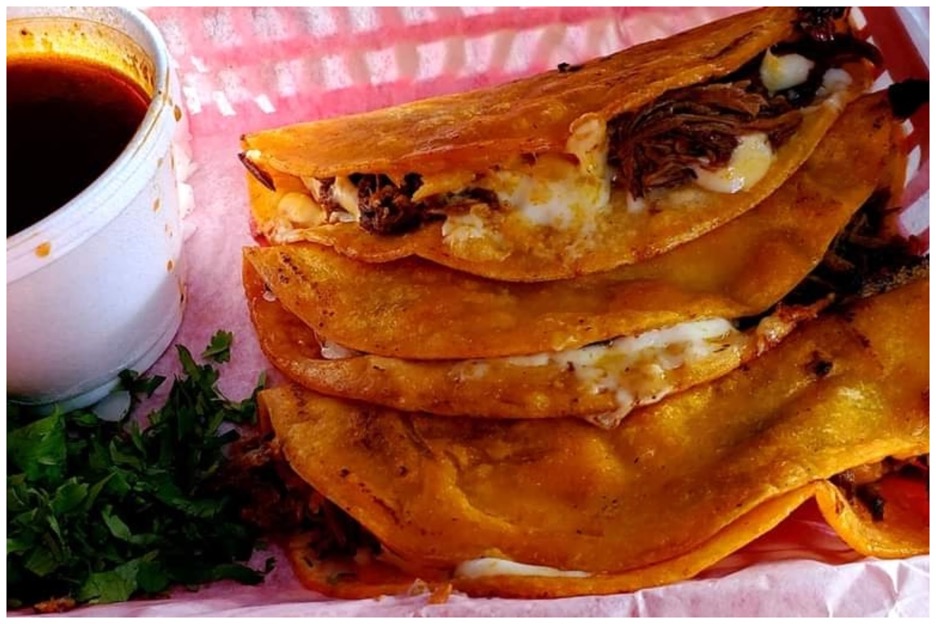 Taquería Dos Amigos (Taquería y Fruteria Dos Amigos Tortilleria), at Louetta and Kuykendahl, is where you will find quesabirria tacos (beef) served with spicy consomé and a side of onions, cilantro, and limes.
La Hacienda Taquerías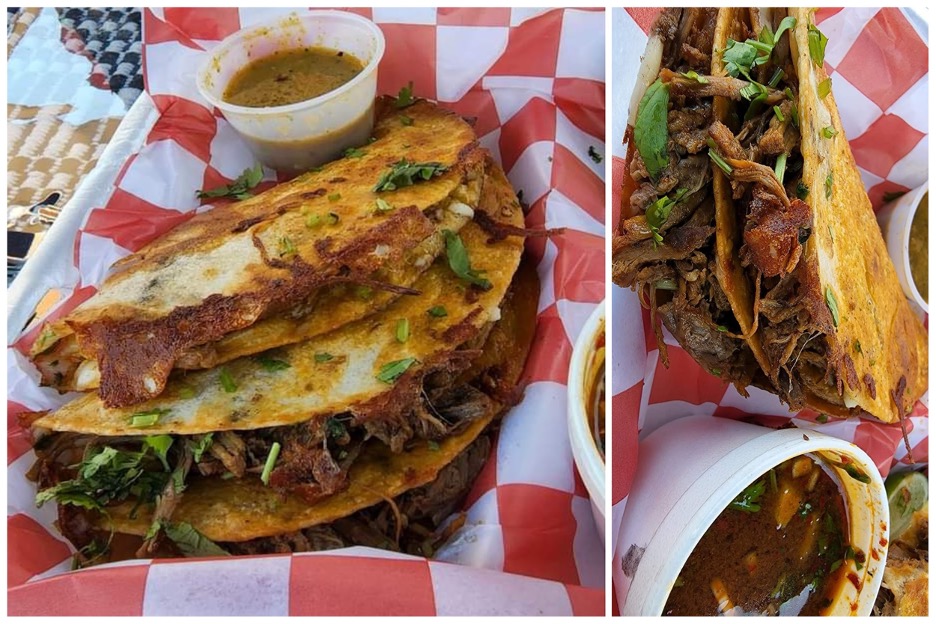 La Hacienda Taquerías is a small food trailer on Budde Rd near Sawdust. The menu description is "Famous Birria Tacos." What one will get here is flavorful tender birria beef, melty cheese, and authentic consomé. Pro-tip: the restaurant only accepts cash or Zelle.
Juanita's Mexican Restaurant Louetta Rd.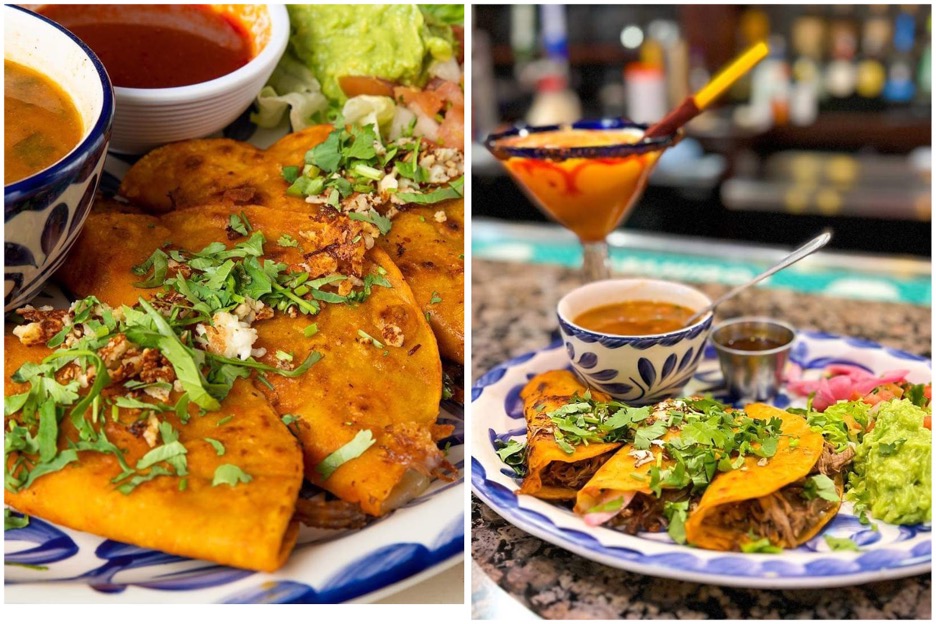 Juanita's Mexican Restaurant on Louetta Rd. is serving a delicious take on the Mexican classic with short ribs. The quesabirria is made with marinated short ribs, braised to perfection & shredded into quesatacos with Mexican cheese. The dish is served with pickled onions, guacamole, charro beans, and grilled Mexican cheese.
According to Miguel Nuñez, one of the owners of Juanita's Mexican Restaurant, "Using braised short ribs allows the meat to be more flavorful and tender due to the slow cooking process. It allows the meat to retain its flavor as some birria tacos may seem a bit dry."
Bigotes Street Tacos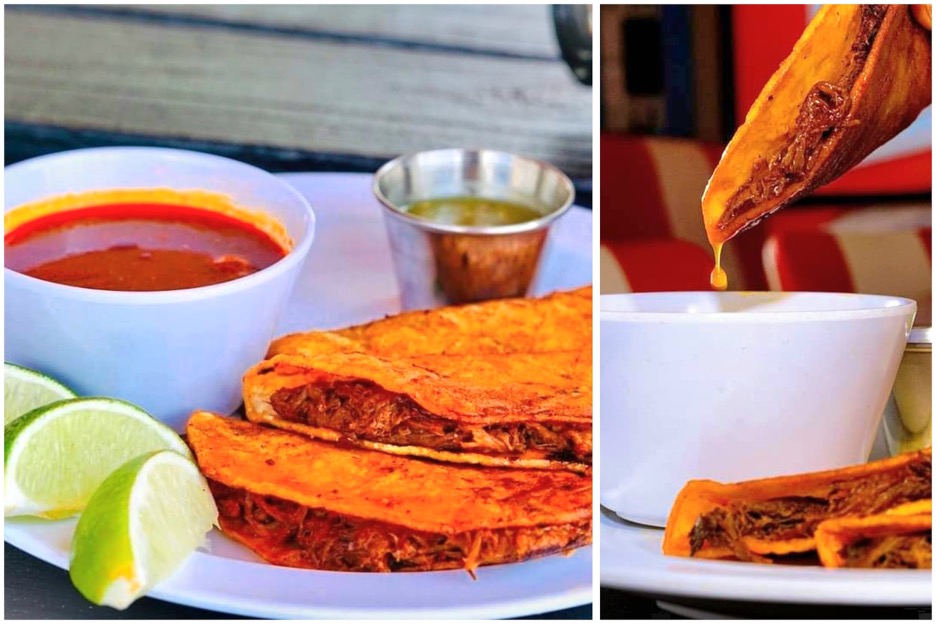 Bigotes Street Tacos, mainly known for all things tacos and their Mexico street style al pastor, has also entered the birria wars with traditional street style version. Their quesabirria is made with lamb folded into three corn tortillas with melted cheese and its exquisite consomé for dipping.
Black Walnut Cafe
Black Walnut Cafe – The Woodlands is now serving birria tacos. The tacos are made with slow-cooked chuck tender, mozzarella, tomatillo salsa verde, chili au jus, corn tortillas, cilantro, fresh lime, and served with street corn. It's definitely a unique take with the addition of tomatillo salsa verde and a serving of chili au jus.