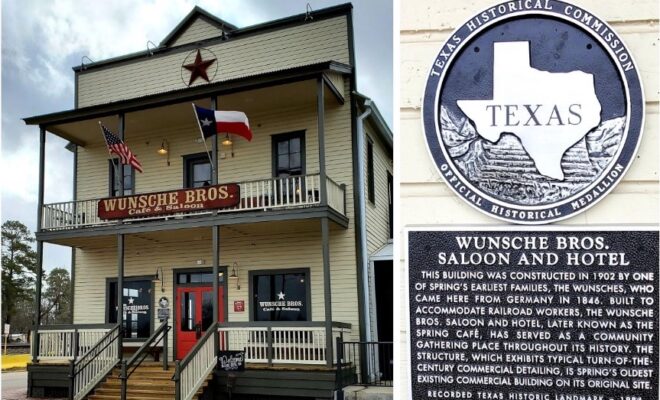 Photo Credit: Nick Rama
Food & Drink
Eat Local: Wunsche Bros. Cafe & Saloon in Old Town Spring
By |
The historic Wunsche Bros. Cafe & Saloon has been closed since 2015 due to fire damage, and is now open thanks to the new owners who bought it in March 2017. Husband and wife Casey and Nancy Kosh, who also own Amerigo's Grille in The Woodlands, are reinvigorating this historic spot. 
Built in 1902 by Dell and Charlie Wunsche, the café originally housed the Wunsche Brothers Saloon and Hotel and in 1949 turned into the legendary Texas eatery that we all know today. Wunsche Brothers is the oldest original building in Old Town Spring, filled with rich history of Spring, TX and of course well known for its southern hospitality and food.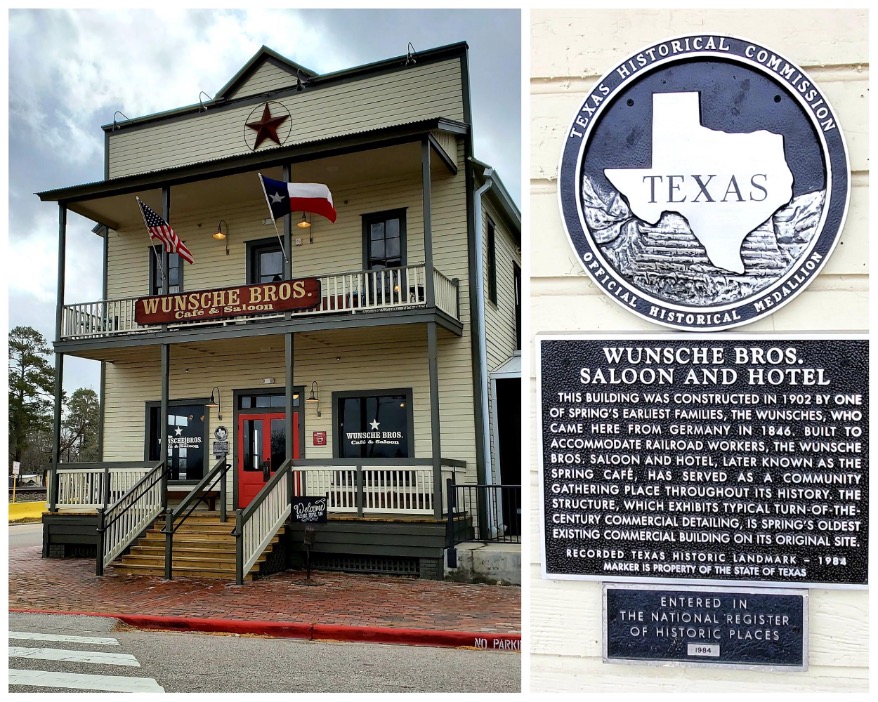 Brothers Saloon and Hotel and in 1949 turned into the legendary Texas eatery that we all know today. Wunsche Brothers is the oldest original building in Old Town Spring, filled with rich history of Spring, TX and of course well known for its southern hospitality and food.
The Spring community was devastated when such a beloved community staple wasn't going to open due to the severe fire damage of the historic building in 2015. The Kosh family came to save the day, to save this well loved southern restaurant. A condition of the sale required any potential purchasers of the historic building to retain the restaurant name, theme and exterior. The building was designated as a historic structure in 1984 by the state of Texas.
A beautiful upstairs, open deck has been added, but the main dining room will bring back memories of Wunsche Bros. in its hay days.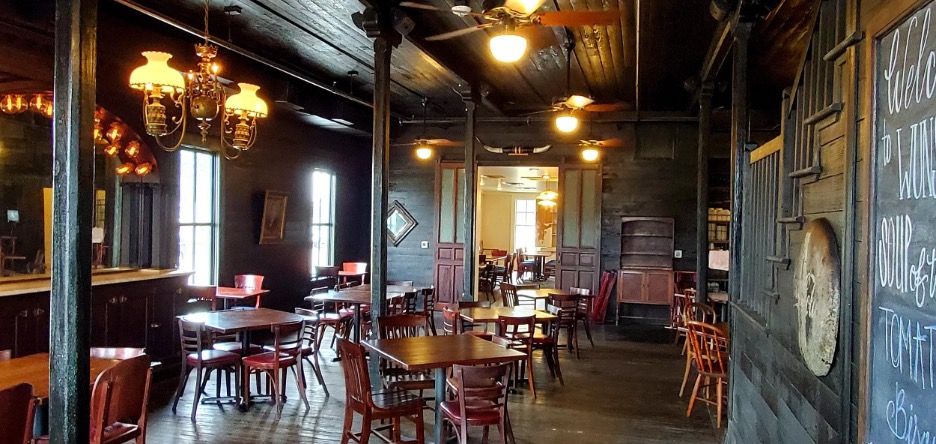 The new section has a full bar, open kitchen with a wood grill and is bright, welcoming and open. The second floor above the new section has another bar/lounge area (21 and up) and a beautiful balcony overlooking Midway St. and the train track intersection. Many private rooms are available for events above the original selection, where you will find many original artwork, photos, artifacts and antique furniture.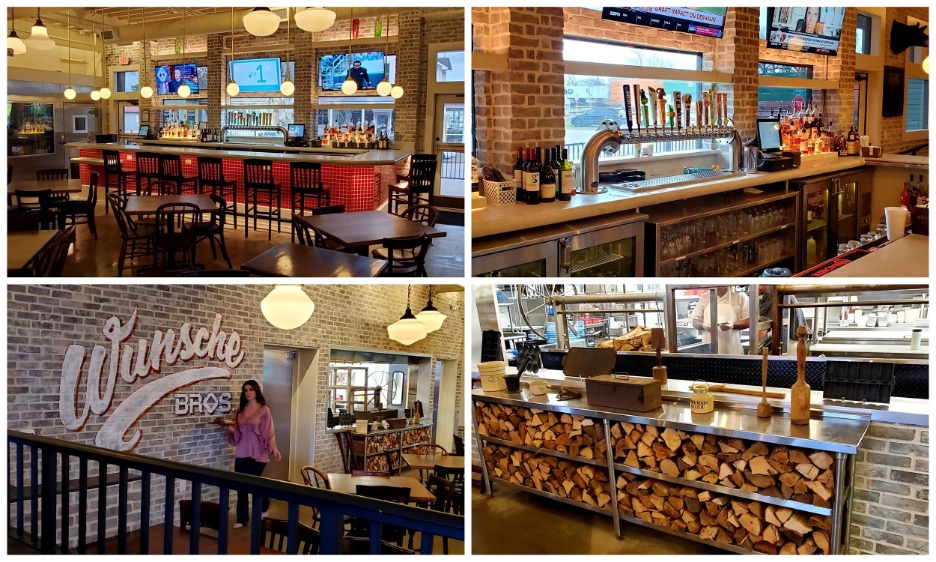 The menu is kicked up southern fare. The original appetizer favorites of beer bread, basket of onion rings and Wunsche's famous sausage and Sauerkraut Balls (Fried sausage, sauerkraut and cheese. Served with chipotle ranch).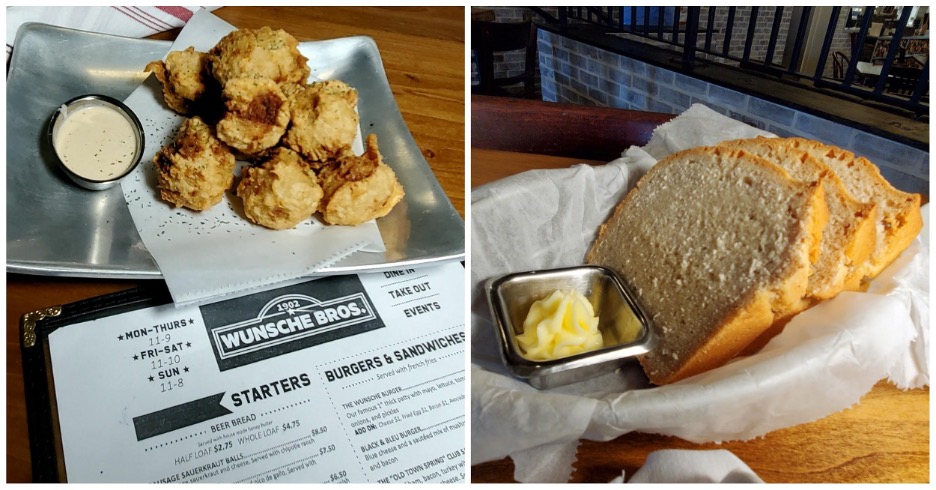 Big juicy Burgers and fork tender Chicken Fried Steaks are as good as I remembered, might have actually gotten better. Southern cooking is king here with staples like fried catfish and crispy chicken tenders, mashed potatoes and fried okra.
Some highlights from the menu include:
The Wunsche Burger – Their famous 1" thick patty with mayo, lettuce, tomato, onions, and pickles
Black & Bleu Burger – Blue cheese and a sautéed mix of mushrooms, onions, and bacon
Country Fried Steak – Generous portion of steak battered served with mashed potatoes and country style gravy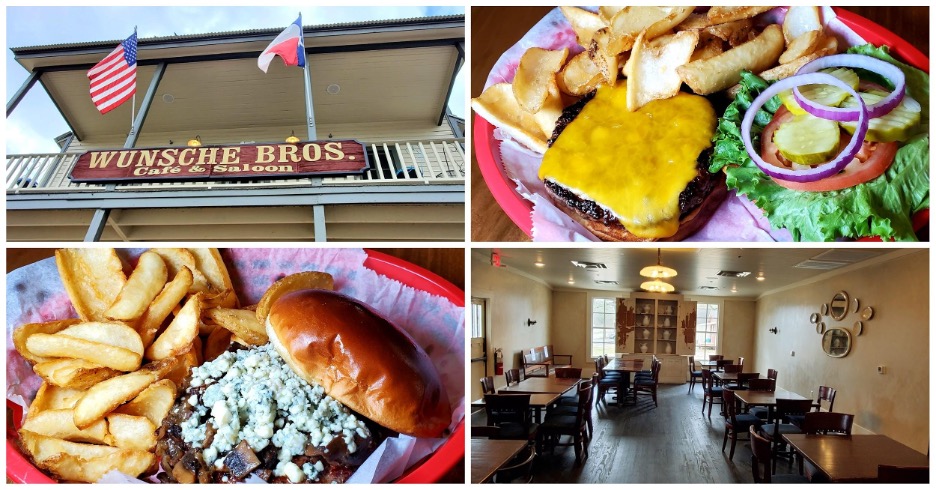 Newer fare added to the menu are on the "Campfire Fare" portion of the menu
Whole or Half Smoked Rotisserie Chicken
House Smoked Pulled Pork served with jalapeños, onions, and Texas toast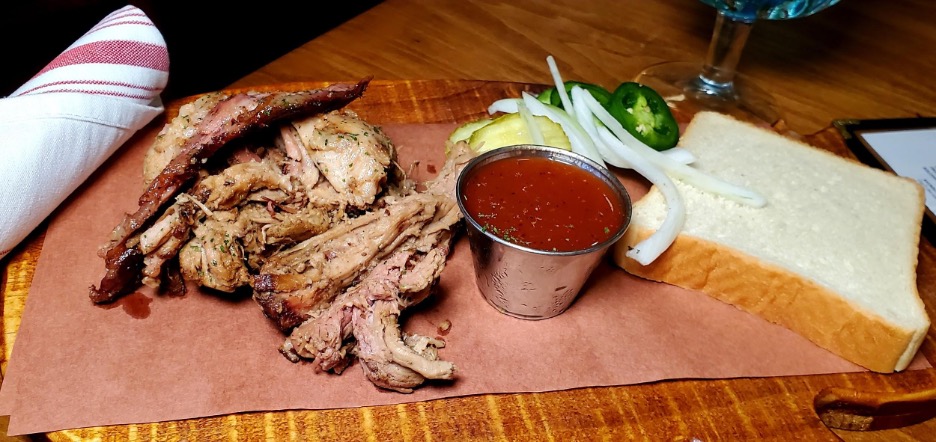 For dessert, no trip to Wunsche Brothers is complete without WB Chocolate Whiskey Cake – their famous chocolate and pecan cake with a salted whiskey caramel sauce and a kick of bourbon.
The bar offers, local beers, some fun and original cocktails like the…
Fantasma Margarita – Don Julio Reposado, Cointreau, Blue Curacao, simple syrup, Tajin rim.
Dell's Old Fashioned – Bulleit Rye, chocolate bitters, and brown sugar simple syrup with a luxardo cherry.
The Caboose – Captain Morgan Spiced Rum, lemon juice, and triple sec

Interview with General Manager Joe Quinn
How did the Kosh family come to the decision to buy Wunsche Bros. Cafe & Saloon?
"Wunsche Bros. is one of a kind and it was a unique opportunity, we are honored to bring back this local treasure."
How much of the original menu and recipes did you keep? Did you add any new menu items?
"We kept much of the original menu item and we added Campfire Fare. We believe in getting back into the fundamental style of cooking: using smoke and wood to bring out the best flavor of the meats."
What menu items have some of the original patrons been the most excited about to eat again?
"The chicken fried steak and the whiskey cake."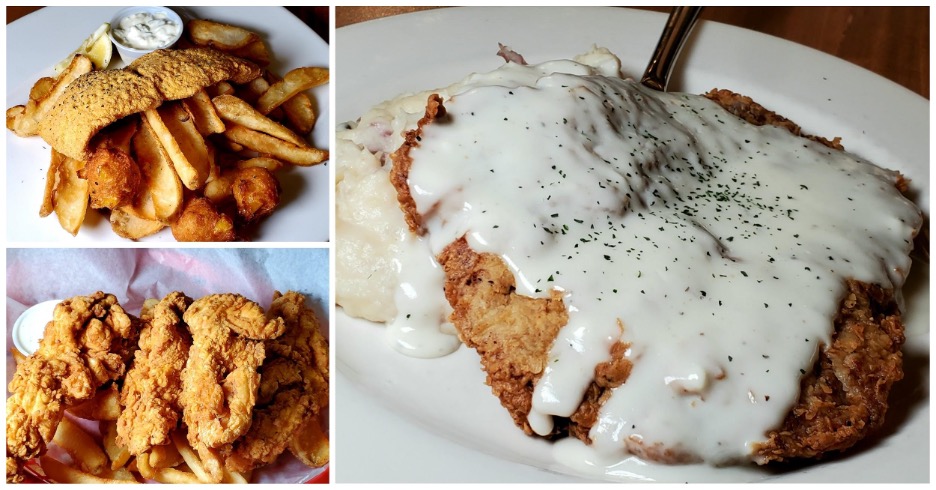 What would your favorite meal be here from start to finish?
"Every table should start with our house made beer bread and sausage sauerkraut balls. Our pulled pork is smoked for twelve hours and is so tender and juicy when it gets to the table, it is outstanding! For dessert we recommend the chocolate whiskey cake, topped with salted whiskey caramel sauce and with a kick of bourbon in the cake."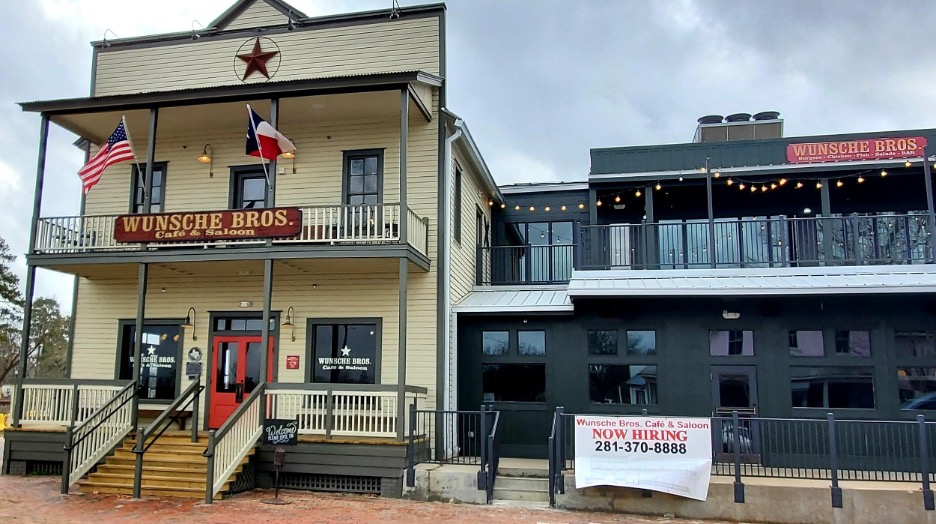 What makes the beer bread so special and loved?
"It is one of the more nostalgic original recipes on our menu. This simple 3 ingredient bread is comfort food at its finest. It has been on the menu for 40 years or so and people just love it!"
Most popular and requested Appetizer and Dessert from the original menu?
"Sauerkraut balls are a perennial favorite and everyone has been looking forward to having whiskey cake again."
Was it a challenge to work with such a historic building and the Texas State Historical Association?
"It was a remarkable challenge! It took 3 and a half years to restore and bring back this historic building. Not only did we have to comply with the conceptual design of the building, it had to be approved by the Texas Historical Commission, then we had to comply with the ADA and Harris County permitting department and Fire Marshall. We didn't even have water for our sprinkler system in case there was another fire and we had to bring water through the railroad from Aldine Westfield! The 2015 fire was not kind and ravaged the building and had substantial damage to the historical side and we had to reclaim the wood and artifacts to bring it back. The fire destroyed the electrical and mechanical systems and all of those are now brand new and state of the art. We are grateful the historical commission worked with us, and it was a challenge for our architect, mechanical engineers and structural engineers to complete this project. We had to comply with all regulations and the Texas Historical Commission had to approve all of the structural design."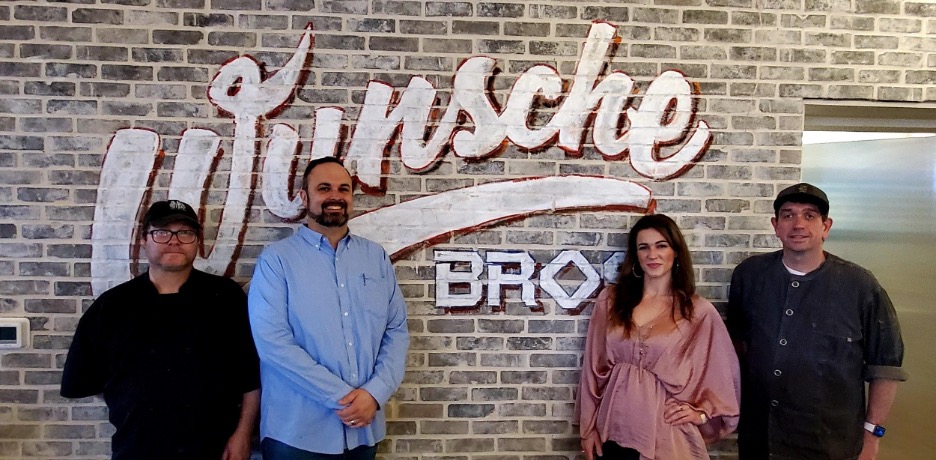 The restaurant and site is well known for being haunted, any stories during rebuilding or during the soft openings of ghosts?
"Mary Beth is one of our managers that has had the most experience with the ghosts sharing spaces with us at Wunsche Bros. The second day we were open, Mary Beth was at one of the computers and felt a tap on her shoulder. When Mary Beth turned around and asked 'Do you need to use the computer?' She realized there was no one anywhere near her!"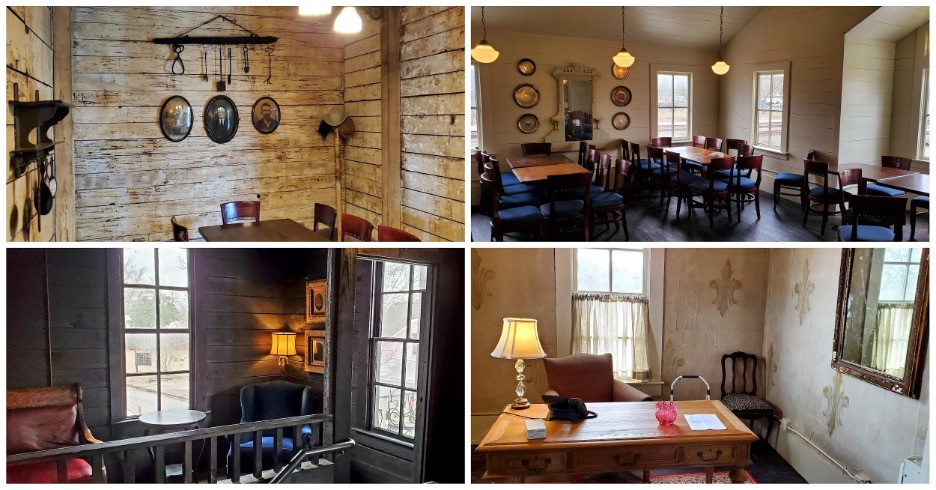 How cool was it to find a time capsule underneath the stairs, while renovating? What did you find?
"It was incredible and very exciting, the previous owners were The Woodlands developers Scott and Brenda Mitchell who owned the café during this time. In the time capsule they put a newspaper article from 1982, a handwritten menu, blueprints of the building, and photos of what life was like here 36 years ago. It was a blast from the past."
Any original employees, chefs, cooks, come back to work at Wunsche Bros.?
"Yes! Mary Beth Vincent was the manager for over a decade and we are so lucky to have her back with us, as well as two cooks, Alejandra and Jose. We gave priority to those who used to work here to come back again. They are very excited, very emotional, and happy to be back."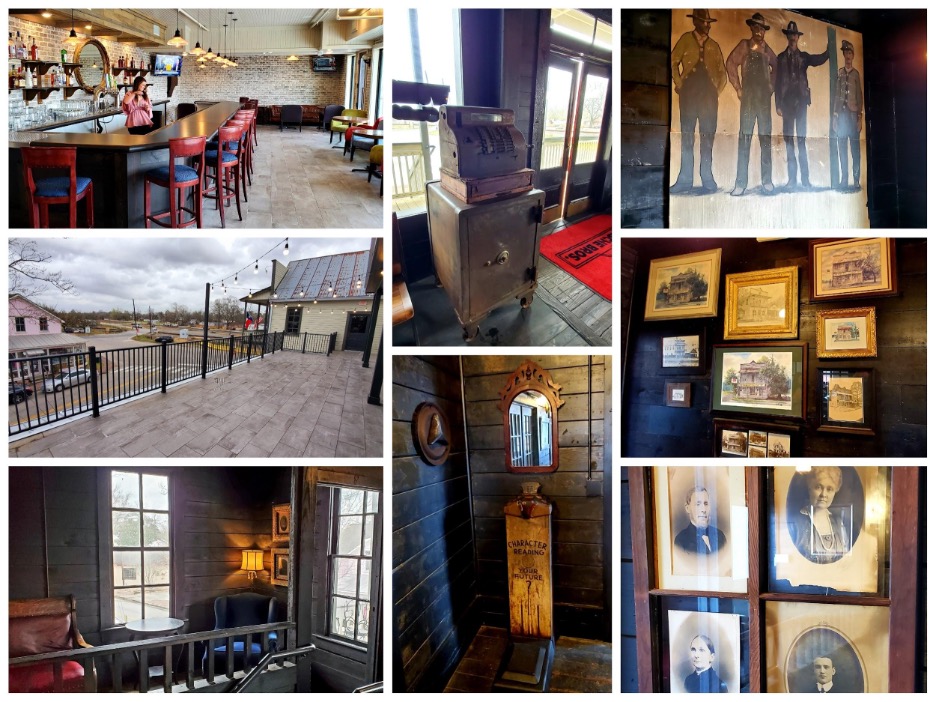 Five Words to describe Wunsche Bros. Cafe & Saloon?
"Nostalgic, Inviting, Comfort food, Fun, Friendly. It's the heartbeat of Old Town Spring!"
Learn more about Wunsche Bros. Cafe & Saloon by visiting their website at WunscheBros.com, following on Facebook at facebook.com/WunscheBros, and of course visit their location at 103 Midway St. in Spring, Texas.
Nick Rama is a food writer, contributor of Hello Woodlands, and shares his restaurant experiences on Nick's Local Eats at NicksLocalEats.com and the TX BBQ, Burgers and Brew Facebook page. Nick enjoys helping the small business owner, supporting his community with fundraising for food banks, and plans tasting events with locally owned mom and pop restaurants.