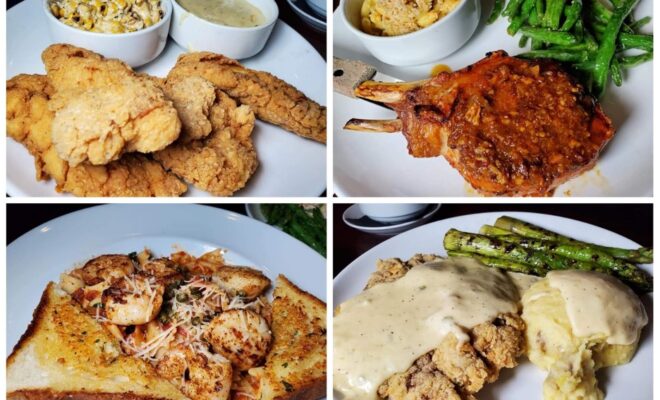 Photo Credit: Nick Rama
Food & Drink
Eat Local: Citizens Grill Americana Kitchen & Bar
By |
Already known for their high quality, scratch-made comfort food, Citizens Grill Americana Kitchen & Bar opened in June 2019 in the Marcel Town Center directly across the street from the Xscape Theatre in Conroe.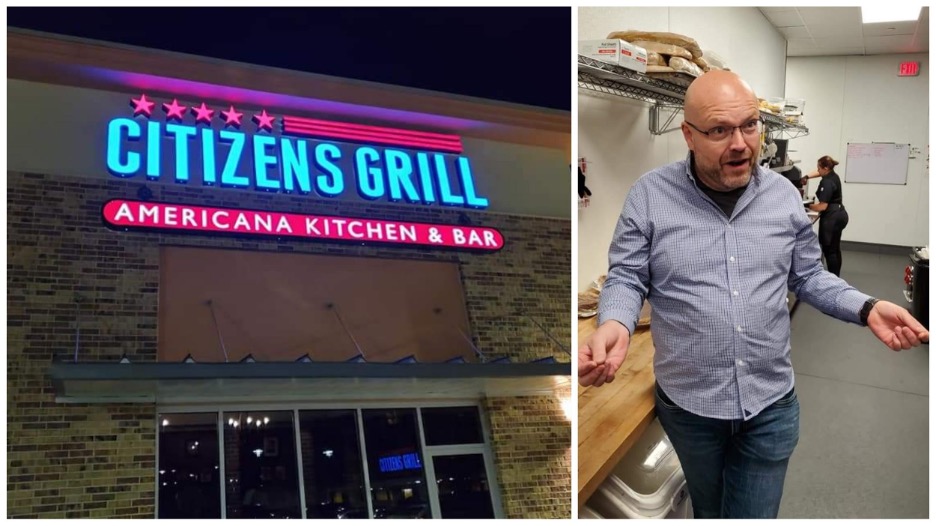 Jim Hallers, the managing partner, has thought of everything to ensure guests have a highly enjoyable experience in a relaxed yet semi-upscale atmosphere. Offering Southern comfort classics, craft cocktails, wine, and a fantastic selection of 40 beers on tap, the restaurant has two bars, enclosed patio for parties, a private dining area, a family dining area, and a strictly "adults" area with its own bar. Hallers even made sure our furry friends could enjoy themselves on the pet friendly patio area. The place is huge, however it flows nicely between the separations and is a truly thought out space, with a surprisingly large patio. Citizen Grill's spaces combined are 7,100 sq ft plus 3,800 sq ft patio, but it still feels like a cozy place to meet, drink, and eat with friends and family.
Hallers believes in local businesses supporting other local businesses and as a result, all draft beers on the menu are listed in order of proximity – local Conroe/Magnolia, followed by Houston, then Texas brews, followed by everything else. I appreciate that you can have craft beer from all four local surrounding breweries, in addition to the 23 wines by the glass, all at very reasonable prices.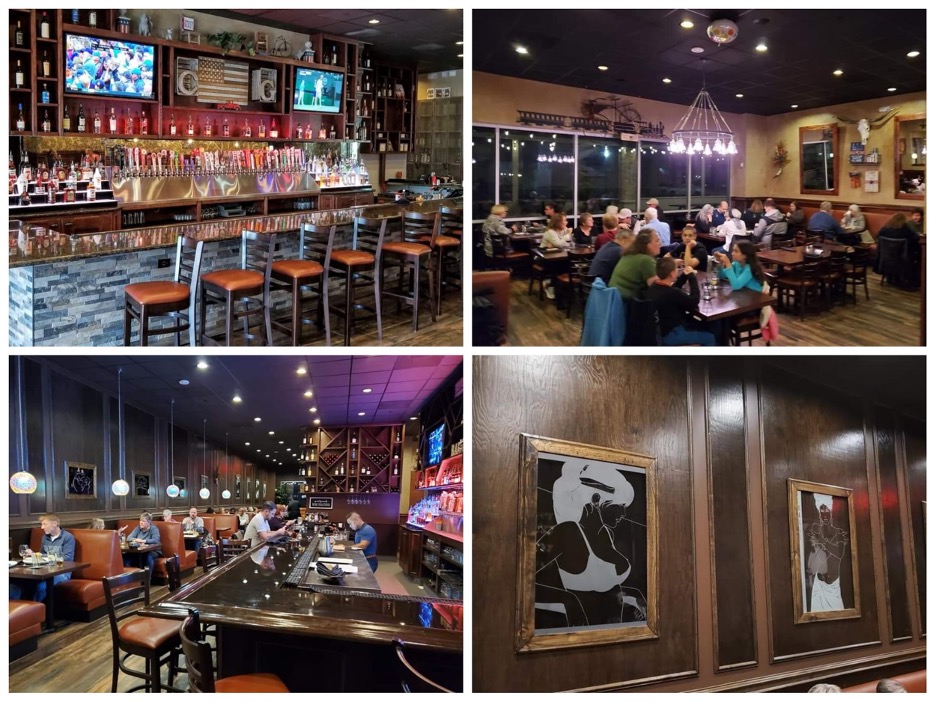 The menu promises something for everyone, from classic dishes, appetizers, sandwiches, salads, burgers, tacos, pastas to original recipes that can only be found at Citizens Grill. Citizens Grill even serves Sixty South: Pure Antarctic Salmon, which is the only premium sustainable salmon raised in the icy cold waters of the Antarctic. It operates the world's southernmost farms, over 10 hours away from any city, following strict environmental practices to raise salmon on nature's terms – free of antibiotics, added hormones, pesticides, antifouling chemicals, and in pure, ample, waters.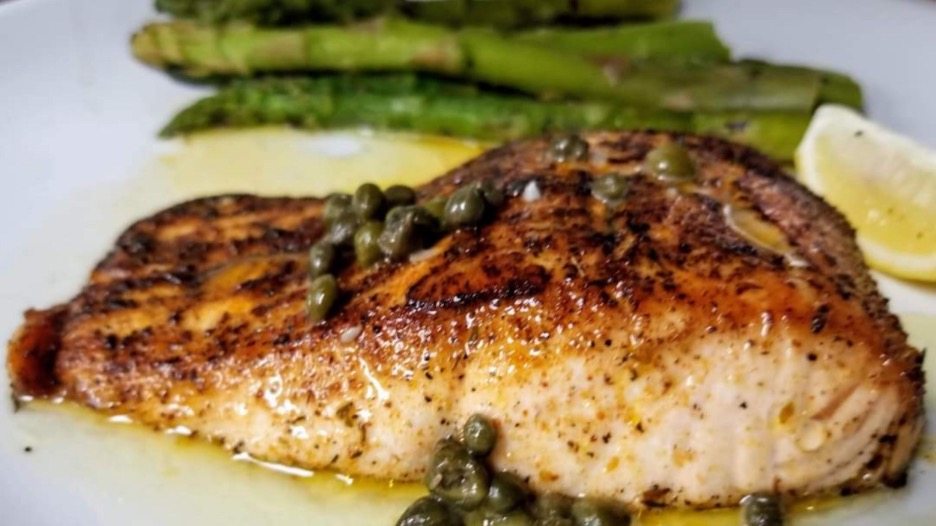 Recently, Citizen's Grill was voted best desserts for the 2021 Woodlands Taste of The Town for their Chocolate Cake and Bread Pudding, led by the very talented full time Pastry Chef Miranda Loveless.
Some highlights from the menu…
APPETIZERS:
The Spinach and Artichoke Dip – Spinach and Artichoke Dip topped with smoked gouda, served with fresh baked toasted crostini slices.
The Grilled Wings – Eight jumbo house peppered seasoned wings, grilled to perfection.
The Big American Meatball – a shareable size 12oz ground sirloin meatball, perfectly seasoned served with marinara sauce and accompanied by garlic toast.
SALAD:
Spring Harvest Salad – Spring Mix with goat cheese, grapes, cranberries, strawberries and candied pecans with a balsamic vinaigrette. Also available with your choice of chicken or fresh salmon.
BURGERS /TACOS:
Citizens Burger – 1/2lb Brisket, Short Rib and Sirloin blended patty, spinach, Red onion, tomato, topped with candied jalapeño cream cheese.
Blackened Shrimp Tacos – Corn Tortilla Tacos loaded with Blackened Shrimp, Cabbage, Queso Fresco and Cilantro Ranch. You can substitute lettuce wraps for the tortillas.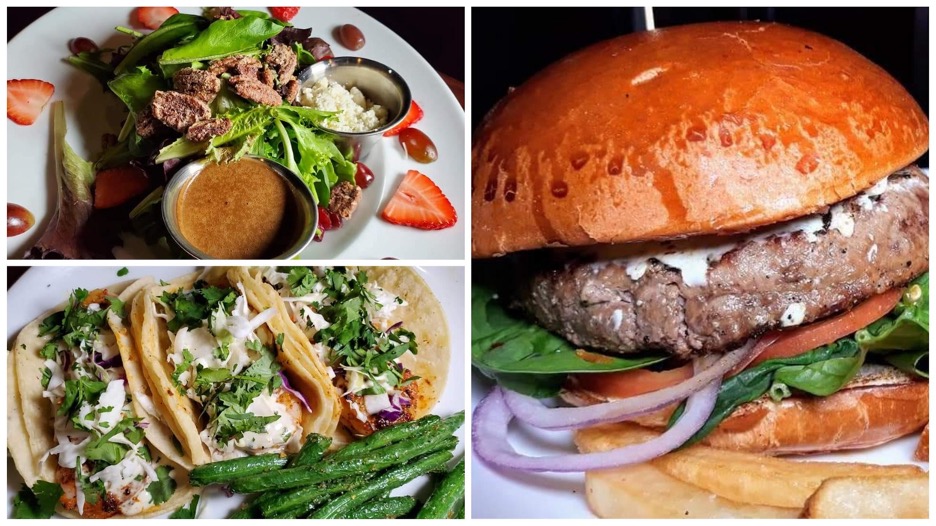 ENTREE:
Double Bone-in Pork Chop – Premium 14oz Double Bone-in Chop served with a Sweet n Spicy BBQ Bacon Glaze. Besides the burger, this was the winning Entree for me. This was one impeccable pork chop, superbly cooked and the glaze splendid!
Chicken Tender Dinner – Four Large Chicken Tenders, hand-breaded, served with choice of Spicy Jalapeno or Classic Lightly Peppered Cream Gravy.
Jumbo Scallop & Shrimp Pasta – Jumbo Scallops and Shrimp served with sauteed Garlic Spinach, Parmesan Cheese, Fried Capers and Marinara Sauce with Bow Tie Pasta.
Chicken Fried Steak – Premium hand-breaded Certified Angus Beef Steak, fried golden brown, served with choice of Spicy Jalapeno or Classic Peppered Cream Gravy and Texas Toast.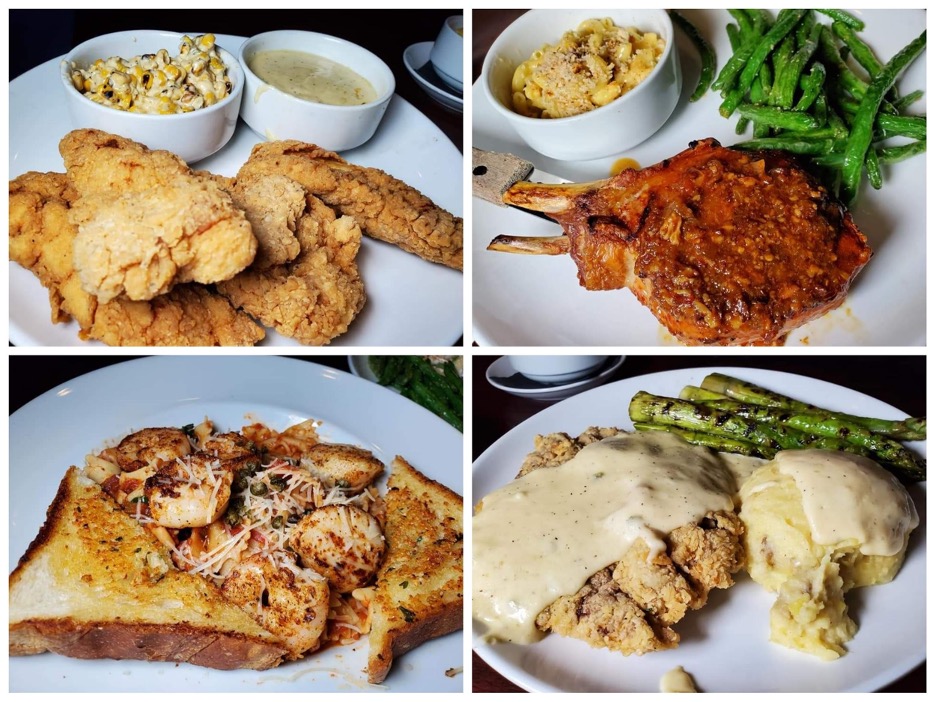 SIDES:
Jalapeño Cream Corn
Bacon Mac-n-Cheese,
Fresh Peppered Green Beans,
Fat barrel Asparagus
Mac and Cheese
DESSERTS:
Bread PUDDING – House Baked Bread Pudding smothered with a Praline Sauce topped with Pecans.
Pecan Fudge Brownie Sundae – topped with Blue Bell Vanilla
Six Layer Chocolate Cake – A Big Slice Perfect for Sharing!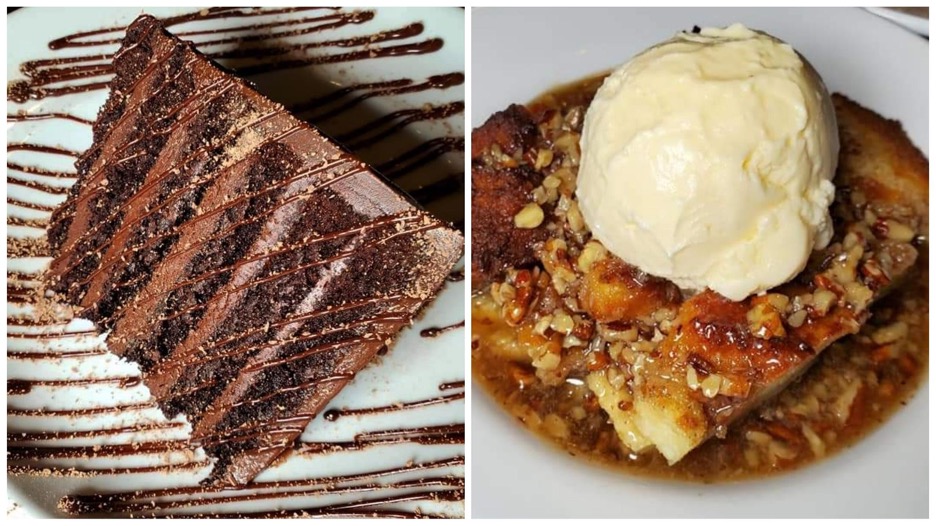 Check out the entire menu and follow their weekly live music on their Facebook page at www.facebook.com/citizensgrill/ or go to their website at www.CitizensGrill.com
The Interview
You have been part of many restaurant concepts and openings, what have you learned over the years in designing and rolling out a new restaurant concept?
"Citizens Grill is the end result of knowledge gained from opening and operating a dozen restaurants and bars over the last ten years in The Woodlands / Spring / Conroe area. With Citizens Grill we wanted a warm and inviting restaurant space where customers feel comfortable, with good service without being pretentious or snooty and with quality food made from scratch. And perhaps most important that everything is being done consistently. It is by paying attention to hundreds of details each and every day that one is successful in the restaurant business. Now this sounds like what everyone should be doing when they open a restaurant, but it is actually hard to do."
What was your inspiration for the menu here at Citizens Grill?
"We want a menu of Americana classics that customers know and love. While we don't want to call it comfort food, we certainly want the customer comfortable with ordering, knowing they are going to get a great meal for a reasonable price. You won't find a bunch of overly trendy frou-frou items on the menu at Citizens Grill."
Why did you decide in such a huge space with three different areas and a huge patio?
"While we are a large restaurant, we have divided it into distinct areas that appeal to specific groups of customers. There is a lounge with a rich wood decor that provides a more intimate area for those 21+ to dine or simply enjoy a quality cocktail or glass of wine. Our main dining area includes areas to accommodate larger parties in a private setting as well as bar seating perfect for those grabbing a quick bite to eat without the need to wait for a table. And then there is the huge enclosed patio with a public courtyard perfect for large family groups with enough space for the kids to even be able to play and not feel stuck in their seat for the entire meal. We also use the patio space to accommodate events and parties for groups up to 150 guests."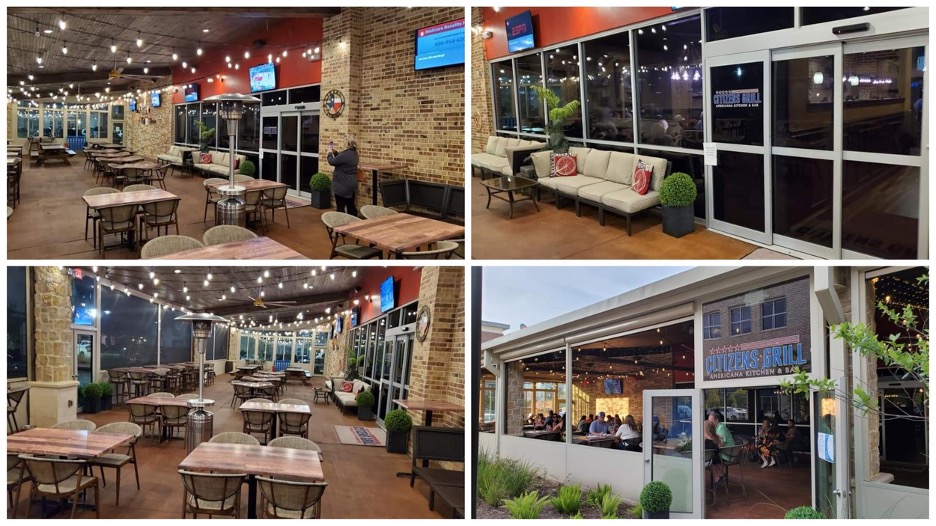 Tell us more about the patio area, is it dog friendly?
"We do allow leashed well-behaved dogs to enjoy our patio space along with their owners when we have space in our dog friendly area. We see a lot of four legged guests on weekends during the daytime."
Citizen's Grill prides themselves on scratch made cooking with fresh ingredients, tell us more about why that is so important to you?
"We learned ten years ago in our very first restaurant that if you want good food then you have to make everything from scratch. There really isn't a short cut. Customers can tell the difference."
What were your challenges in creating two separate bars in two different rooms with the keg cooler in the middle?
"With forty beers flowing there is a lot of beer to enjoy at Citizens. We learned early on that customers love to be able to see the beer tap handles – it's like window shopping, except for beer, so they are all designed to be easy to see from the bar seating. Since we have two separate bars we end up with double the taps (eighty taps in total). Having the keg cooler between the two bars also provides easy access for the bartenders to be able to change the kegs without having to walk a long distance."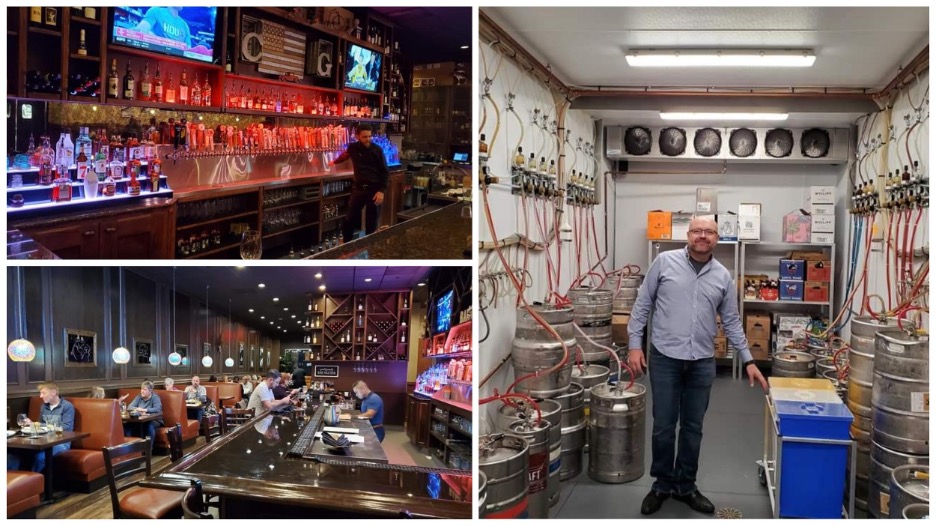 What are you the most proud of with the new Citizens Grill?
"We are most proud of having been able to attract a quality team who loves providing awesome service and preparing great food and drinks for our customers. In the end, any restaurant is really only as good as the staff they are able to retain."
Many bars, pubs, and restaurants have the same menu items. Wings, Chicken Fried Steaks, Burgers to name a few. What sets yours apart?
"You have to start with quality ingredients prepared fresh daily. You can't use frozen wings, you can't use frozen Salmon. Even the Mac & Cheese can't be from a powered mix. Customers can taste the difference. A restaurant doesn't have to strive to have dozens of unique menu items that you can't find anywhere else. Rather they should work hard to have menu items customers love to eat."
Recently you all rolled out a new craft cocktail menu, what are some drinks you would like to highlight for us?
"We have had great success with our cocktails that feature fresh berries, like our very popular Blackberry Whiskey Smash. But also with cocktail classics like the Citizens Old Fashioned made with a single large block of cocktail ice and the all important Luxardo cherry imported from Italy. We also feature twenty-five wines by the glass and a selection of popular wines by the bottle, along with forty beers on tap."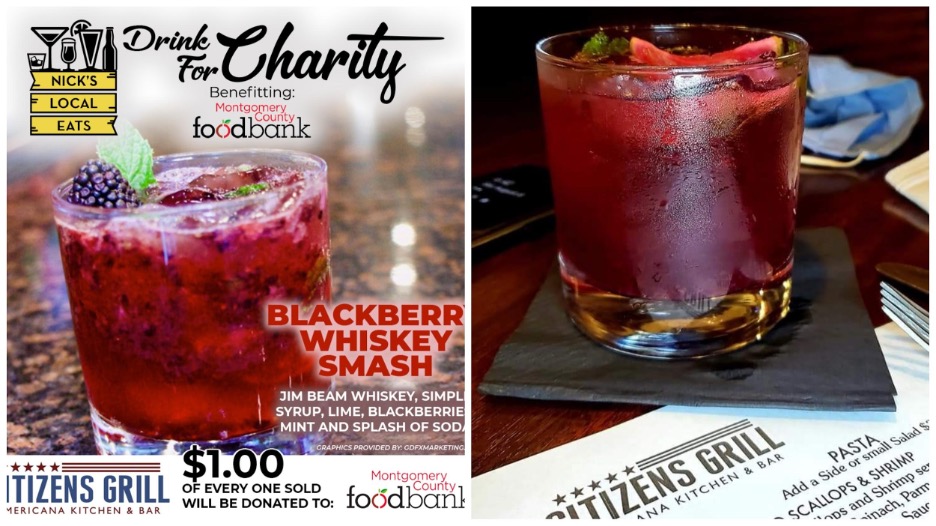 What have been the crowd favorites from the menu so far?
"The Double Bone-In Pork Chop with Spicy BBQ Bacon Glaze, anything served with our Jalapeño Cream Gravy, but in particular our Certified Angus Chicken Fried Steaks, and our Citizens Burger featuring Candied Jalapeño Cream Cheese and Spinach. We also take a lot of care in preparing the sides we serve with our meals. The Jalapeño Cream Corn is a crowd favorite, along with choices like Jumbo Asparagus. And of course our amazing made in house New Orleans style Bread Pudding topped with Pecan Praline sauce."
Recently, Citizen's Grill was voted best desserts for the 2021 Woodlands Taste of The Town for their Chocolate Cake and Bread Pudding. Tell us more about Citizen's Grill award winning Pastry Chef, Miranda Loveless.
"Miranda started off her culinary experience attending Houston Community College in 2014. She worked day and night to be the best student in her class. She graduated in 2016 with her Pastry Arts Degree, with high recommendations from her favorite Pastry Chef, Eddy Van Damne. During her last few months of Culinary School, she was invited by Pastry Chef Van Damne to take part in the helping of his new cookbook "On Baking 4th Edition." Together they worked diligently to create new recipes, try new foods, and were able to work with ingredients she had never seen or heard of before. In 2020 the cookbook was published; she was extremely excited and proud of herself, all of her hard work has paid-off. After this huge learning experience, Pastry Chef Loveless decided to take her Pastry Arts Degree to the next level."
"Growing up she constantly watched the Food Network Channel and Cooking Channel, trying to learn as much as possible. She has always had a passion for food and desserts. She finds it very interesting in seeing how there are different ingredients that go into multiple recipes to create something brand new. She began her professional culinary career once she graduated from Houston Community College in 2016 with a Degree in Pastry Arts. Once graduated she started at a Bakery making custom cakes, cookies; any and all kinds of desserts. After a while she was contacted to work at Citizens Grill when it was first under-construction. From the beginning she tried recipe after recipe to create Citizens dessert menu. After months of trial and error, she perfected her Peach Cobbler, Six Layer Chocolate Cake and Citizens famous New Orleans Style Bread Pudding."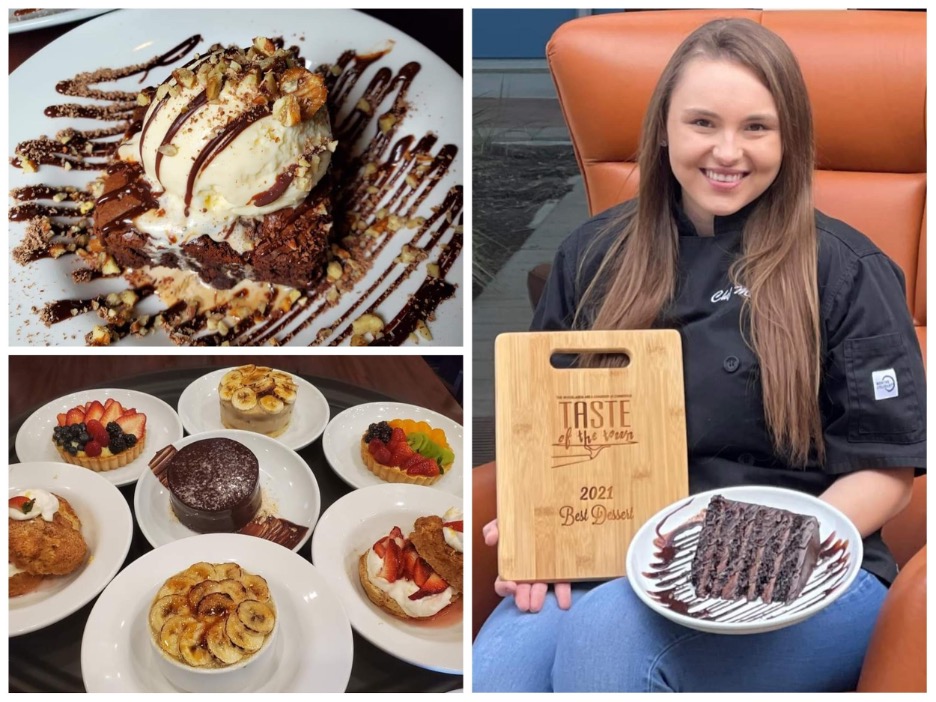 What do you say to a family that is hesitant to bring kids to a "Bar"?
"Citizens Grill is very much a restaurant first. And while we have a lounge for adults, it is isolated from the kid friendly areas. One trip to the patio (heated in the winter) where you will find several families kicking back and relaxing and spending extra time beyond what is needed just to eat will tell you Citizens Grill is very much a family friendly restaurant."
What would your personal meal be here from start to finish?
"Spinach and Artichoke Dip appetizer, Double Bone-In Pork Chop with the Spicy BBQ Bacon Glaze served with Peppered Green Beans and Mashed Potatoes. And as long as I had friends or family at the table to share it with, the New Orleans style Bread Pudding for dessert."
5 Words to describe Citizen's Grill?
"The Woodlands Best New Restaurant"
Visit Citizens Grill Americana Kitchen & Bar located at 315 Enclave Dr #300, Conroe, TX 77384 and learn more by visiting their website at www.CitizensGrill.com
Nick Rama is a food writer, contributor of Hello Woodlands, and shares his restaurant experiences on Nick's Local Eats at NicksLocalEats.com and the TX BBQ, Burgers and Brew Facebook page. Nick enjoys helping the small business owner, supporting his community with fundraising for food banks, and plans tasting events with locally owned mom and pop restaurants.