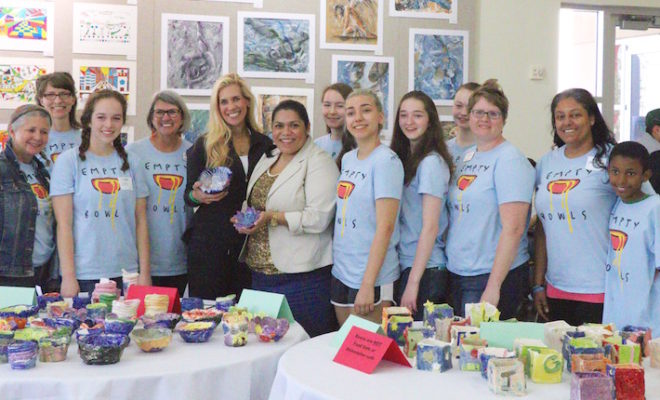 Calendar
Students Make Handmade Bowls for Food Pantry
By |
The John Cooper School National Art Honor Society (NAHS) and Cooper Art Society (CAS) students continued its tradition of raising funds to help fight hunger in our community by sponsoring the 12th Annual Empty Bowls Project on Saturday, February 25. The 2017 Empty Bowls event was held in Cooper's Student Center from 10:30 a.m. to 2 p.m. The public was invited to this annual event that has helped to raise over $75,000 for hunger relief in our community over the past 11 years.
Handmade bowls, created by Cooper students in grades PK through 12, as well as faculty, staff, parents and local artists, were available. Under the direction of Chef Roman Coley Davis, the school's Director of Food Service, a delicious meal of soup was served for the admission price of $10. "The handmade bowls come in all shapes, sizes and forms and are for people to take home as a reminder of the fight against hunger," said senior Gina Valderrama, who is the NAHS Service Chair.
Faculty advisors Jamila Musa and Emily Taylor continued to add new dimensions to the bowls they made for the event. "We are taking bowl making in new directions: from 3-D printed bowls, ceramic cups, and more traditional bowls to watercolor paintings and photographs of bowls at various states of emptiness," Taylor said. "With such diversity, visitors will be sure to leave with a unique work of art, whether from entry donation and/or the silent auction."
Proceeds from Empty Bowls were again designated for the Interfaith Food Pantry. Interfaith of The Woodland's President and CEO Missy Herndon, says the Interfaith Food Pantry, a beneficiary for the past eight years, is grateful for the support and says the outreach truly makes a difference in the lives of many.
"John Cooper students enrich their lives and the lives of others in need through a deep voluntary commitment to a number of outreach activities," said Visual Arts Department Chair Bob Mosier. " Empty Bowls is an annual project that is entirely student-led and involves the participation of the entire Cooper community. We are very proud of the commitment of our students to make this an annual event."
View photos from the event on the Hello Woodlands Facebook page!

To learn more, visit The John Cooper School website at www.johncooper.org.