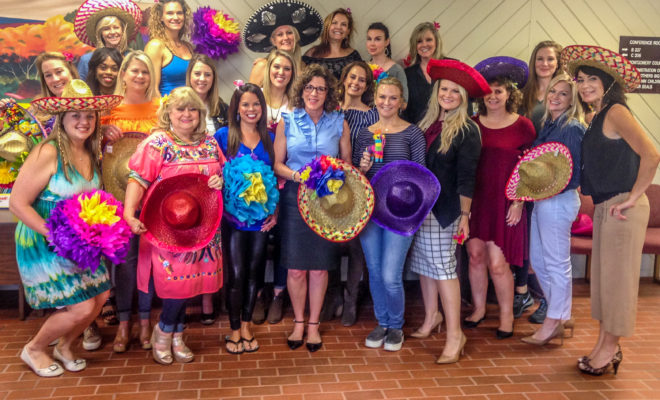 Calendar
MCYS "Fiesta For A Cause" Ladies Night Out
By |
Montgomery County Youth Services (MCYS) invites all ladies to attend their 19th Annual Ladies Night Out event. This year's theme is "Fiesta For A Cause". The event is set for Friday, May 5th, 2017 from 7:00 to 11 p.m. at The Woodlands Waterway Marriott.
This Year's Ladies Night Out Committee, led by Co-Chairs Kashay Mendes and Erin McDowell have created a "Fiesta" theme including sponsorships such as "Reina", "Caliente" and "Sombrero". This ladies-only evening features music from DJ, Damon Pampolina, a fun photo booth, silent auction, and a luxury jewelry raffle sponsored by IW Marks Jewelers and contests. All proceeds benefit MCYS.
The Silent auction items will feature items that have been donated by Elaine Turner, Kendra Scott, Truluck's Seafood, Steak, and Crab House, and many more.
"We are so honored to celebrate our 19th year of Ladies Night Out. The Ladies look forward to the different theme each year, and it gives them an opportunity to give back to the children of Montgomery County, while having fun." said Michelle O'Rourke, Chief Development Officer for MCYS. "This year's Fiesta theme encourages a lot of imagination from attendees as to the costumes they will wear".
Tickets are now available for purchase. Individual seated tickets for $200, dinner is included. Table prices start at $2000 and go up to $5000, all tables seat 10 and are available online at www.youthmc.org.
Current sponsors include: IW Marks Jewelers, STI, PR Luxury Media, WoodForest National Bank, Gold's Gym, Mirage Custom Pools, Royal Gunite, Vaquero Pipeline, Friends of MCYS, US Congressman Kevin Brady, GTIN Managed IT Services, KB Kasuals, Escalante's, BMW of the Woodlands, The Body Specialist, and Hello Woodlands.
For more information, please contact Adriana Richey at Adriana.richey@youthmc.org or call 281-292-6471 or buy tickets online at www.youthmc.org.