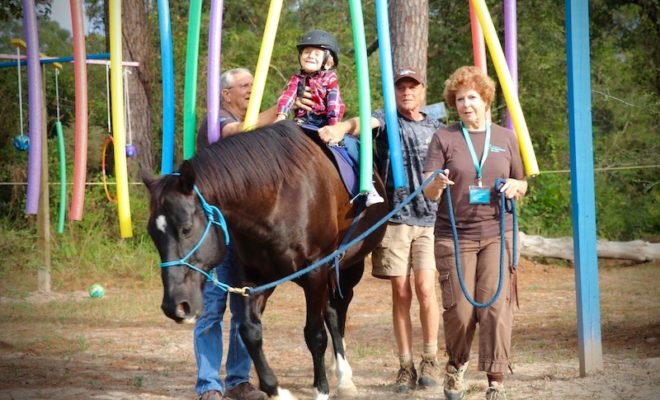 Health
Exclusive Look Inside Panther Creek Inspiration Ranch
By |
As your drive down the street of Glen Loch, you'll pass by local businesses, houses, trees, and may just miss the entrance of a very special place hidden amongst the towering pines. Residents know all too well that it's easy to hide even a 15-acre ranch named Panther Creek Inspiration Ranch where remarkable learning opportunities and personal victories are happening every day.
With a mission of partnering horses with people to transform lives and help them reach their highest ability, Inspiration Ranch provides unparalleled personal advancements and results for people with special needs. While riding, the client must repeatedly respond to the horses rhythmic movement, which stimulates the muscular and nervous system; promoting change in the riders strength, balance, coordination, flexibility, social, behavioral responsiveness, sensory processing and confidence.
No, it's not just another equestrian center or fancy newfangled form of therapy. Equine assisted activities and therapy at the ranch provide the tools for special individuals to achieve emotional, behavioral and physical milestones that may otherwise be unattainable.
Sheila Greaver, VP of Development & Communications at Inspiration Ranch, was kind enough to take us on a tour of the grounds with amazing facilities built and donated by local organizations and where 15 horses live outside 24/7 in a herd environment. We had the opportunity to meet clients, families, instructors, and the many volunteers it takes to run the ranch and lessons that are designed with the individual rider's goals and needs in mind.
Therapeutic Riding Classes are 30-45 minutes in length and serves people (mostly children and also adults) with, but are not limited to: Autism, Attention Deficit Disorder, Cerebral Palsy, Developmental Delay, Downs Syndrome, Hearing and Vision Impairment, Learning Disabilities, Multiple Sclerosis, Muscular Dystrophy, and Speech Delay.
But, does this form of therapy actually work? Mrs. Ellestad shared that at the age of three, her son Eli was diagnosed on the Autism spectrum…
"We had some success with the standard behavioral, speech and
occupational therapy, but these traditional routes did not, however, help much with Eli's expressive language or his stemming, pinching or his anxiety…[during the first session,] Eli said more words that day than he had ever said in an entire week…Since then his progress has continued, his pinching and anxiety has turned into jumping up and down with joy every time we get out of the car and put on his riding helmet." – Mrs. Ellestad, Mother of Eli, Client
It was absolutely incredible to watch numerous lessons actively in session, view the level of care given by highly trained Path International Registered Instructors and volunteers, witness client breakthroughs, and see heartwarming smiles as we walked through the ranch. Volunteers are a vital part of making their programs available to the community and each therapeutic riding class requires between 1-3 volunteers to assist each client during their lesson, and to ensure a safe environment.
With the support of the community and donors, Inspiration Ranch never turns a family away because of their inability to pay and can continue to provide exceptional programs. Every day they have a funding gap between the cost of a child participating and the actual direct cost to the Ranch which is filled with the help of donors, individuals, businesses, and organizations. To learn how you can get involved and make a difference, please visit inspirationranch.org/donate/giving-opportunities
The Hello Woodlands team wants to share a BIG thank you to Sheila Greaver, the staff and volunteers of Inspiration Ranch, and clients Tanner, Sam, Charlotte, Ryan and their families during our visit. We had an amazing experience and look forward to visiting again soon as well as showing our support as the Ranch is preparing to make future plans to move to a larger and – due to the floods – dryer location close by.
To learn more about Inspiration Ranch and how you can volunteer, take a tour or donate online, visit InspirationRanch.org
…and be sure to "take a tour" virtually of the ranch by viewing our photos on the Hello Woodlands Facebook page!