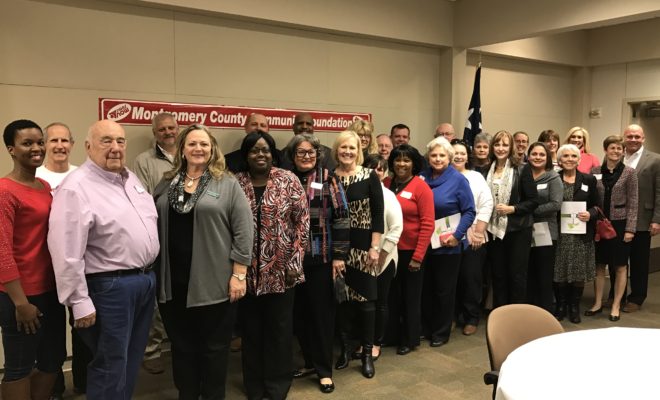 News
MCCF Awards $140,100 to 30 Montgomery County Charities
By |
Recently, 30 local non-profit organizations received a grant from the Montgomery County Community Foundation (MCCF). MCCF awards grants based on funding initiatives which are collaborative in nature and respond to major gaps in service in the Montgomery County community.
Funded projects must meet eligibility requirements and contribute to one of the listed interest groups: Health and Wellness, Environment, Youth, Education/Literacy, Crisis Assistance, Social Services, Public Safety, Senior Citizens, Civic, Cultural Activities, Recreation, Heritage of Montgomery County, and Animal Welfare.
"MCCF works year-round to maximize grants given to help local charities feed the hungry, provide crisis assistance, assist teachers and educational programs, promote cultural arts and county heritage, meet medical and dental needs, and support programs for youth, seniors and the disabled in our community," said Executive Director Shannon Kidd.
MCCF was established to create and build a permanent fund to provide for the present and future well-being of our community. Monies awarded by MCCF come from 37 permanently endowed charitable funds given by local donors wanting to establish lasting support for our county and its residents. The principal of these funds remains intact and working to generate income in perpetuity while the available earnings are used for annual grants and scholarships.
The Foundation administers individual funds contributed or bequeathed to it by individuals, corporations, foundations, and other sources. The majority of these funds are held in a permanent fund used to enrich and enhance the quality of life in Montgomery County in perpetuity. The ultimate goal of the Foundation is to match community resources with community needs.
MCCF Grants for 2016
Assistance League of Montgomery County $10,150
Operation School Bell & the Caring and Sharing Program
Bridgewood Farms $4,200
To upgrade security in residential homes of clients with special needs
Buckner Children & Family Services, Inc. $1,700
Support services for single mothers at Conroe Family Pathways
Conroe Live, Inc. $4,400
To benefit arts & culture in downtown Conroe
Conroe Noon Lions Club $1,000
Sight conservation program–eye exams & eye glasses for the under privileged
Coulson Tough PTO $500
Funding supplies for classrooms of 1st year teachers at Coulson Tough School
Crighton Theatre Foundation $2,100
Renovations to theater lobby
Crisis Assistance Center (formerly MCEA) $5,000
Temporary financial housing assistance for MC families in unexpected crisis
Family Promise of Montgomery County $5,000
Meals, clothing, hygiene items, and housing supplies for homeless families
First Baptist Church Conroe, Benevolent Fund $4,400
Rent, utility and other emergency assistance for people in financial need
Girls on the Run Greater Houston $5,000
To support new GOTR teams for grades 3-8 in MC Title I schools
Henry's Home Horse and Human Sanctuary $5,000
Certified equine therapy for MC veterans and their families
Heritage Museum of Montgomery County $3,500
Preservation of Strake Oil Co. superintendent's home & roughneck bunkhouse
Interfaith Community Clinic $4,300
Medical & dental supplies used in direct patient care of the uninsured in MC
Interfaith of The Woodlands $1,500
Funding for Interfaith's programs and services to help those in need
Lone Star Community Health Center, Inc. $4,300
New Baby Care Kits with baby essentials and educational materials
Meals on Wheels Montgomery County $12,000
To fund meals for disabled homebound senior adults in MC
Montgomery County Food Bank $4,900
To purchase food for distribution to food insecure individuals & families
Montgomery County Performing Arts Society $600
Support for Montgomery County's Got Talent Show
Montgomery County Homeless Coalition $5,700
Computer lab for skills training, job search, and resume writing for homeless
Montgomery County Women's Center $9,500
Child Enrichment Coordinator & programs for battered women and children
Montgomery County Youth Services $4,300
Medical supplies and training, RN medical exams, & crisis stabilization
Montgomery ISD $2,500
Funding for Fine Arts programs in MISD schools
New Caney New Horizons $5,026
Funding to expand organic garden production in efforts toward self sufficiency
Oscar Johnson Jr. Community Center Volunteers, Inc.  $ 4,400
To support after school programs, employee education & community events
Rotary Club of Lake Conroe $1,700
Upkeep & maintenance of Memory Park at the Charles B. Stewart Library
Society of Samaritans, Inc. $8,324
Rent, utility, medication and nutritional assistance to low income families
Tamina Community Center, Inc. $8,000
Food & activities for children and meals & wellness activities for seniors
Therapy Pet Pals of Texas, Inc. $2,000
Recruitment & training of Pet Pal volunteers to serve MC seniors & disabled
The Woodlands Christian Academy $9,100
To help with construction costs of new state of the art high school building
"We applaud the Montgomery County Community Foundation for their commitment toward ending domestic and sexual violence in our community.  MCCF has supported the Montgomery County Women's Center for many years.  We are excited to have recently received our first distribution from an MCCF designated agency endowment fund," said Vivian Cline, Director of Grants Administration for the Montgomery County Women's Center.
Over the years, MCCF has given 344 community grants and 102 scholarships totaling over $1,287,200.
Learn more about the Montgomery County Community Foundation by going to their webpage at www.MCCFoundation.org