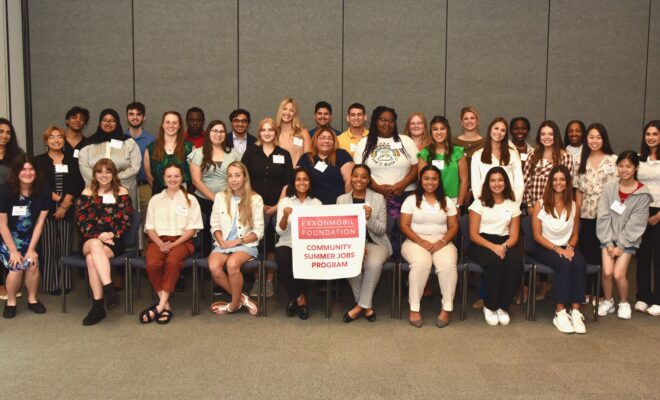 Business
ExxonMobil Foundation Supports Houston-Area Nonprofits with Community Summer Jobs Program
By |
SPRING, TX – The ExxonMobil Foundation is providing nearly $100,000 in grants to 36 select nonprofit organizations in Harris and Montgomery Counties as part of its Community Summer Jobs Program. The Foundation's grants will be used to hire paid college interns that fulfill critical needs at each organization for eight weeks through the summer.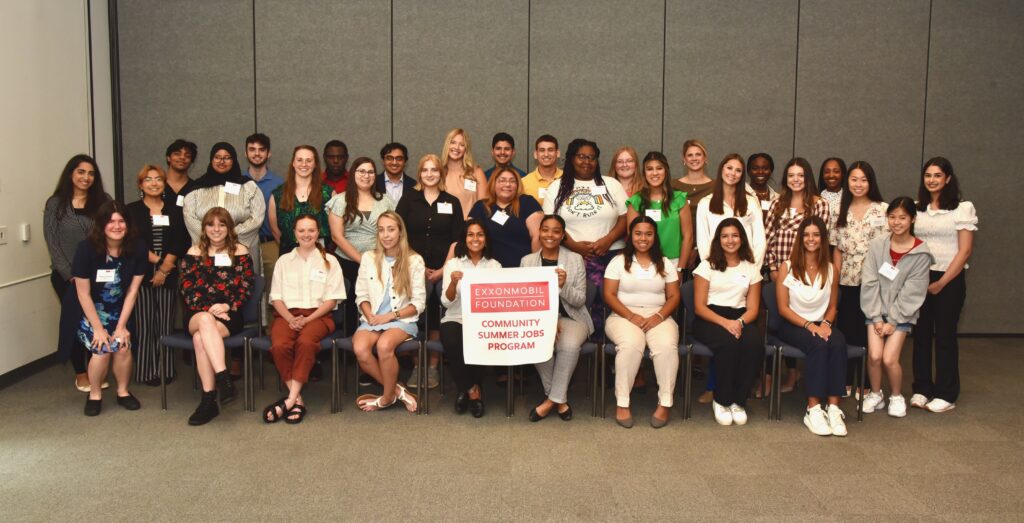 ExxonMobil Foundation's Community Summer Jobs Program provides participating students with opportunities to gain valuable work experience serving nonprofit organizations while also helping meet the needs of the Greater Houston community. The interns will complete a group service project benefiting one of the nonprofit agencies, and collectively participate in professional development sessions.
"Through this unique program, the ExxonMobil Foundation provides support to Houston-area nonprofits while engaging young adults with meaningful work opportunities," said Kevin Murphy, president of the ExxonMobil Foundation. "Students serve as an invaluable resource for nonprofits, and the experience often instills participants' desires to support local nonprofits throughout their lifetimes, whether through professional or personal commitments."
Paid internship positions feature a broad variety of activities from coordinating major fundraising initiatives and leading educational programs for youth to contributing to conservation and land management plans and rehabilitating wildlife. Participating students range from rising sophomores to seniors at universities across Texas and beyond, including Texas A&M University, University of Houston, Brown University, The College of William and Mary, and the University of Michigan.
"The ExxonMobil Foundation Community Summer Jobs Program is a powerful resource for the Greater Houston community, and we are so honored to participate this year," said Monica Bomkamp Enia, president of Education for Tomorrow Alliance. "We have worked with amazing students through this program in the past who have made lasting contributions to our organization and the community. I have no doubt we will see similar impacts this summer."
Since the program began, the ExxonMobil Foundation has sponsored more than 1,200 internships in the Greater Houston area.
For more information on the ExxonMobil Foundation Community Summer Jobs Program, visit www.csjphouston.org.
2022 Participating Nonprofit Agencies
| | |
| --- | --- |
| AIDS Foundation Houston | L.I.F.E. Houston |
| Amazing Place | Memorial Assistance Ministries |
| Asia Society Texas | Multicultural Education and Counseling through the Arts |
| Bay Area Rehabilitation Center | Nora's Home |
| Bel Inizio | PAIR |
| Camp for All | Project C.U.R.E. |
| Child Advocates | Recipe for Success Foundation |
| Chinese Community Center | Ronald McDonald House Houston |
| Christian Community Service Center | Santa Maria Hostel |
| Communities in Schools of Houston | SER |
| Cy-Hope | SIRE |
| Easter Seals Houston | Sunshine Kids Foundation |
| Education for Tomorrow Alliance | The Alliance |
| Hermann Park Conservancy | The H.E.A.R.T. Program |
| HomeAid Houston | The Periwinkle Foundation |
| Houston Minority Supplier Development Council | The Rose |
| Houston Wilderness | The Women's Home |
| Interfaith of the Woodlands | Wildlife Center of Texas |
The ExxonMobil Foundation is the primary philanthropic arm of Exxon Mobil Corporation in the United States. The foundation and corporation engage in a range of philanthropic activities that advance education (with a particular focus on math and science in the United States), promote women as catalysts for economic development and combat malaria. In 2021, the ExxonMobil Foundation, together with Exxon Mobil Corporation, its divisions and affiliates, along with employees and retirees, provided $163 million in contributions worldwide to address strategic local priorities.