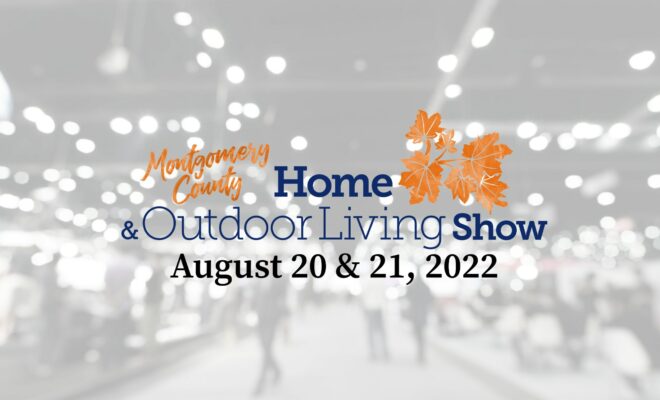 Events
Fall Home and Outdoor Living Show offers tips to prepare for Holidays
By |
CONROE, TX – Holiday preparation can be fun and stressful. The upcoming Montgomery County Home and Outdoor Living Show THIS WEEKEND offers both home improvement ideas and tips to plan for the arrival of guests at your home. Visit with both professional home improvement exhibitors and talk one on one with the speakers Saturday, August 20th 9:00am-6:00pm and Sunday, August 21 10:00am-5:00pm at the Lone Star Convention Center in Conroe.
The theme of the show is Fall and Holiday décor.
Ronda Carman, accomplished author, and speaker will be the highlighted speaker. "Sometimes we get in a rut because we see the same thing daily and can't visualize outside the box", said Carman. "I love to take everyday objects and find interesting uses for them. My hope is to inspire attendees to look at their objects in a new light finding new ways to use them when entertaining guests." Carman will show you how to elevate your table with objects around the home and easy dishes to prepare from your pantry.
Trish Buscemi, Color and Lighting expert, emphasizes the importance of lighting to set the mood. "Be the one in control when relatives enter your home. Change the lighting or the color to keep the conversation festive and positive. I will show you how!"
Some of the biggest frustrations develop when organizing your time prioritizing and simplifying the tasks. Ellen DeLap, Certified Professional Organizer (CPO) specializes in Attention Deficit Disorder (ADD) and Chronic Disorganization. She is also Past President of the National Association of Productivity and Organizing Professionals. "The best holiday celebrations give you the opportunity to enjoy your holiday celebrations as the host, also. By starting early with your holiday preparation, you will enjoy the holiday season. During the presentation, Ellen will share how to make the best of your time with priorities you can refer to as a checklist.
Don't miss the presentations from Houston Chronicle Architecture and Design Writer, Diane Cowen, Mary Scalli of Simple Elegance, Certified Interior Designer, Home Stager, and Hunter Douglas Window Treatments will speak on Fall Design Trends, and Bryson Janecek, President of Built Green Custom Homes, with valuable information on what to expect in the future with resources for your custom home.
New artisan exhibitors will give you a reason to leave with a purchase. Find an item to accent your home with Bluebird Interiors, Amazing Giant Flowers designs, builds, and demonstrates how to make Giant Flowers that look like sculptures, or get pedaled into the newest sports craze- the Electric Bike with Pedego Electric Bikes. My DIY Terrarium is easy to maintain, care for, and often never needs watering, it is the perfect solution to those with a black thumb. Don't throw away the empty bottles of wine! See the beautiful hand-crafted glassware created from recycled bottles from A Second Round Glass. Furnish your home with custom made furniture in wood, aluminum, or steel to achieve the look you desire for inside or outside your home with Olie's Fabrication. So many new ideas!
Purchase plants and trees wholesale from B&A Tree Farms, get advice from the Montgomery County Master Gardeners or Native Plant Society of Texas, and Meet Houston's Most Trusted Home Expert Tom Tynan from HomeShow Radio. Sign up to get Permanent Holiday Lighting before the schedule is filled from the outdoor lighting exhibitors: Astoria Lighting Co or Trimlight of Montgomery.
Everyone is welcome to participate in the DIY Home Décor Project by AR Workshop to make your own 18- inch canvas pillow cover both Saturday, August 20 and Sunday, August 21. Free classes throughout both days make it easy to drop by in between visiting the booths and hearing the presentations.
Nonprofit partners include Pride of America, The American Legion, Operation Pets Alive with items for your furry friends, Habitat for Humanity Montgomery County, Keep Us Fed Montgomery County – a food recovery program, Community Assistance Center (CAC), and the Kailee Mills Foundation. Kailee Mills was killed October 2017 at the age of 16 in a motor vehicle accident. She was one of four passengers that was killed and the only one not wearing a seat belt. The organization enforces Seat Belt Safety Awareness.
This year at the door, teachers receive half-off admission (with valid ID)! Frontline Sunday – all active Military personnel, Veterans, Fire, Police, and First responders receive a free admission with a valid ID. Simply present your valid ID at the Box Office for complimentary admission.
Show hours are Saturday August 20 (9:00am-6:00pm) and Sunday, August 21 (10:00am-5:00pm), Lone Star Convention Center, 9055 Airport Road, Conroe, 77303. Tickets for the show are $10 for adults, $9 for seniors, children 12 years and younger are free, $7 online prior to entry. Visit www.TexwoodShows.com for more information. Free parking is available at the Lone Star Convention Center.