Business
First Look and Taste of Churrascos Woodlands
By |
The Woodlands welcomes a new restaurant this month at 21 Waterway Avenue, Churrascos. Taking the place of Américas, another concept from the Cordúa Restaurant Group, Churrascos will be the sixth of its kind with other locations in Westchase, River Oaks, Sugar Land, Memorial City, and Champions.
The converted and newly renovated space no longer includes a top level bar or dining area, but instead a long hallway that takes you from the Waterway Avenue entrance to the same staircase down to the restaurant. Visitors will immediately notice the new beautiful bar that now takes center stage, surrounded with bar tables and will have 4 flat screen tv's, perfect for game day or happy hour. Dining areas are placed on either side of the bar with room for small parties of two up to large groups and gatherings.
Now onto the important part, the food! The restaurant's popular dishes and plantain chips will remain on the menu, but also feature new tastes and bold flavors of the South American parilla. Guest have the opportunity to enjoy appetizers like empanadas and ceviches to their signature chimichurri marinated center-cut tenderloin and famous Tres Leches.
Be sure to visit the Hello Woodlands Facebook page for photos and a video tour of our experience!
During our visit to the soft opening of Churrascos Woodlands, we opted for the "death by appetizer" strategy and sampled the flaky golden chicken empanadas, plantain crusted shrimp with french fries, and to-die-for ahi tuna ceviche. All three appetizers were cooked to perfection, bursting with flavors which included:
Empananadas: flaky golden savory latin pastries with roasted chicken (or beef), bail and candied pecans
Plantain Crusted Shrimp: fried shrimp with tamarind glaze and coconut tomatillo sauce with french fries
Ahi Tuna Ceviche: guacamole, jalapeño, onion, cilantro, toasted pumpkin seed and orange
Of course there were many other delicious dishes and desserts to choose from at the tasting such as: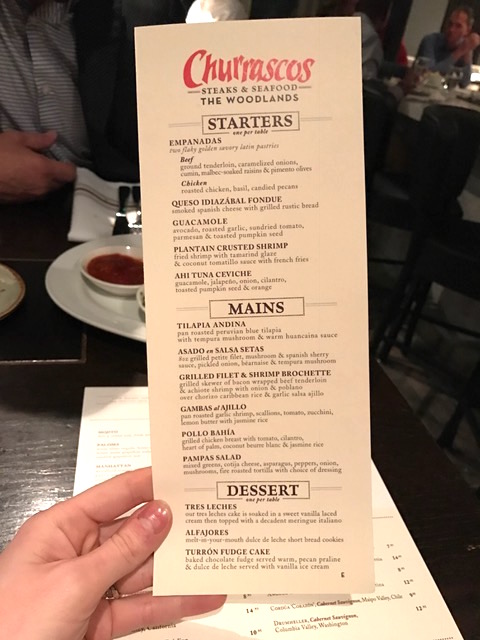 With numerous wines, cocktails, and beers, we randomly selected the Moscow Mule which honestly was one of the best Moscow Mules we've ever tasted and was perfectly created by one of the skilled bartenders. From past visits, we can also vouch for the mojitos, bloody mary's and other cocktails that seem to go down quite smoothly on a Sunday Funday.
And yes! They will still have their infamous brunch available in addition to dining at lunch and dinner.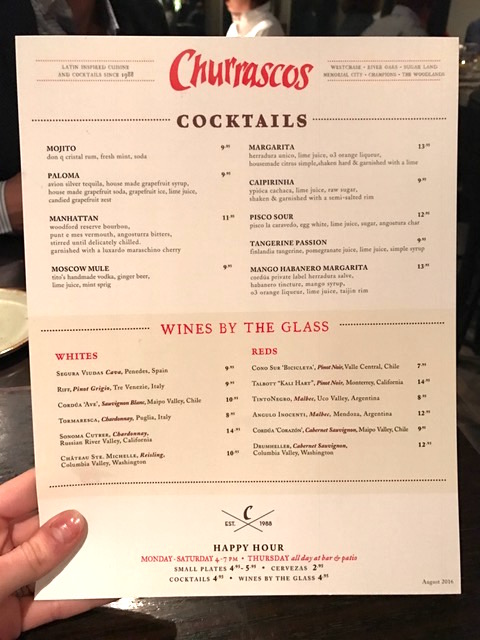 The staff was friendly, service was quick, meal was fantastic, and we loved the newly designed layout and atmosphere. Our team truly had an amazing first experience and look forward to many wonderful meals in the near future. A special thank you to Janine Jones and the Churrascos team for inviting us to enjoy the soft opening!
To learn more about Churrascos Woodlands and to book your reservation, please visit www.churrascos.com